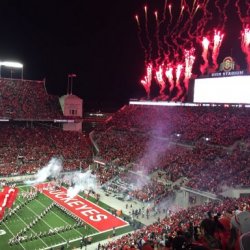 BuckeyeBred
---
Member since 19 August 2013 | Blog
Helmet Stickers: 569 | Leaderboard
Voting Record: 262 / 23
Favorites
SPORTS MOMENT: Going into work the next morning in South Florida after the Buckeyes beat the Hurricanes in the NC.
NFL TEAM: Browns
NBA TEAM: Cavs
Recent Activity
As did I. Upvotes all around!
Although I do secretly hope this thread elevates to Bucksfan changing his icon status. High hopes for sure.
Is this them getting their swag back?
Well said on #2. Our Brownies were three games over .500 at one point last year though (6-3, I think). Like most of the middling NFL teams, we are just one QB away from having a pretty good squad. Our division is murder, so that doesn't help either.
I think youre right on this forecast. There is a lot of land between Florida and Virginia. May be some showers, but the storm will weaken significantly once it gets through the SC/NC Piedmont and hits the mountains/highlands.
I would love to have seen concussion info from the old leather helmet days.
I think these new helmets have force suppression components where the impact is spread. Kinda like a bed of nails versus a single nail analogy.
Fair enough, not everyone is cool with being part of a trial, but I assume that UL or some other group has provided some type of product testing with data that at least points to the new helmets as a better alternative. That would be enough for me.
Why would anyone in their right mind wear anything other than the helmet built to help avoid concussions??? Further, why wouldn't the coaches mandate it?
Looking at his combine numbers, it says Philly ran a 4.51 40. I'm a fan of his, but not even in the ballpark as Teddy. Granted, we are talking about .2 of a second, but you know what I mean. haha
Watched a game at Strike City a few years back. It was one of our first night games in the Urban era (Nebraska, I think). The place was rocking. Definitely a helluva spot to catch a game. Would love something just like it south of town.
Cam was a great fantasy pick up his rookie year, but has never seemed to break through to a "good" QB in my eyes. Luckily for him and a bunch of others (looking at you Dalton), mediocre play at that position puts 9 figures in the bank.
I'm down here in the south burbs in Ballantyne.
It's not cheap to eat there, but having drinks at Fahrenheit is a good time (It's good enough where I now know how to spell fahrenheit). Great view of the skyline (although nothing compared to Chicago, I'm sure).
I live here in Charlotte and I'm becoming a little bit of a fan. The only reason I'm not a bigger fan is Cam. I just don't like him. Every time he did his whole first down "dance" against my Browns last year I wanted to vomit in my mouth.
I love that Philly is doing nice things here - although what's this talk that he is faster than Ginn?? They actually say that from time to time on the local news. It's crazy talk.
For realz! Major game changer there. Someone commented how that kid is still pads-catching in the scrimmage video. Infuriating.
Gene is pretty damn successful in his own right and even he looks like he is learning a ton from Urban's speech in the screen grab. His hair appears to be blown back (or what's left of it).
Well said. Braxton has the perfect size of an NFL WR (which Percy did not, obviously). I can definitely see him doing very well at the NFL level - even if he has just average hands. Could be a steal on draft day if he slips to second or later rounds.
Yeah, the quick blitzes by the Bear up the middle were a killer. I was all about max protect against those. Pinch the OL in and have the backs protect the edges on both sides of the shotgun QB with option routes to release if not needed. Hopefully your QB has a strong arm with accuracy and WRs who can get out of their breaks vs one on one coverage - pretty much everything we didn't do against VT last year - including the OL adjustments to be sure we had enough guys to block all the blitzers. I was pulling my hair out.
I used to run the 3-3 as a change of pace in NCAA online. Nice little defense in that realm on 3rd and long. In real life spread to run offense smacks it down.
I think I saw Dave Biddle report (via jbook) on twitter that Weber had almost 200yds of rushing on 15 carries in the scrimmage. I want to see the whole stat sheet!
Side note, was there anything more fun growing up than scrimmaging? Nice little break from drills.
I kept checking the time hoping it would never end. I feel the same when I watch Game of Thrones. It's over in ten minutes??? NOOOOOO!!!!
Urban did bring Percy up when discussing whether Braxton is his best athlete ever, so he is still in the Boss' mind too. Percy was a #1 overall recruit and did great things with Urban in the same position (now) as Brax, so I can see how he comes up from time to time. Wouldn't you say this is the first year we have had an "H" that can truly compare?
I want Braxton to get Heisman-type numbers - which means a lot of carries and receptions. I want to see 1000 rushing/1000 receiving yards and maybe a couple throws in there as well. All Braxton, all the time! The dude has been through hell and back with us. Let the man eat!
Is it against an NCAA bylaw to troll VT and put Billy Price or Collier as the QB starter?