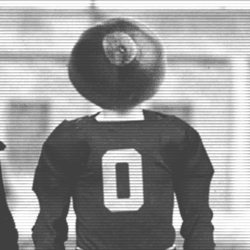 buckeyebowhunter
---
Member since 28 January 2014 | Blog
Helmet Stickers: 249 | Leaderboard
Recent Activity
Darius Slade, Gut-Feeling
Great news! I'm on board for a pint glass too.
Trucker Hat Sold Out already. Grrrrr. Will there be any more available???
I spent 18.99 and ordered off his site. Painful, but necessary. Couldn't find it on a newstand anywhere.
1. Ohio State
2. Florida State
3. Arizona State
4. Colorado
5. USC
Burger Bar at Mandalay's for sure
Tommy Stevens please. I'm a big fan!
How about Amir vs. Wet Paper Sack.
A Hurricane vs. Ditka? Da Bears
I like:
Solo gigolos
And.... Boob :)
BuckeyeJ, I respectfully disagree, he may not get an offer from OSU, but I believe Virginia Tech, Maryland, or Cincinnati are more likely landing spots than WV or OU.
Yes that is correct, so you know he knows the game.
Played the piano with Ken Johnson one night. That's the best I have.
He's bigger than Mauk, but yes similar styles. I agree with the above posters you don't let this kid get away. Offer him this weekend, hopefully get a commitment. Then you have a really good QB in this class regardless. Still go after Gibson, because he is an incredible talent. I still don't believe TG is a QB though. This way you could bring both of them in, let the cards plays out and redshirt one of them. Then you'd have 5 QB's on the roster for 15-16, you wouldn't have to sign one in the next class unless they were elite and wait for Danny Clark in 2017. Makes complete sense to me.
I upvoted you to help the balls along! lol
I watched Athens just once this year, when they beat Tri-Valley in the regional semis. I thought he was the best high school QB I had seen for quite a while and I never miss a friday. Word is that Michigan State could offer soon. It would be a real shame to lose a kid of this caliber in our own back yard. The nice thing about Burrow is that he is a polished passer. He's not an athlete learning to play QB. The only reason in my opinion it has taken him so long to "blow up" nationally is that he is from SE Ohio where very few national program coaches recruit.
Solid, not elite. Division 3 mostly. Played some good teams in the playoffs and it didn't slow him down. They lost to Marion Franklin in the Regional Finals.
This would be a huge get in a huge area of need. C'mon Urban close this deal!
Hale Yes on that!!! Sorry couldn't resist.
I'd Love to see an "Ohio Classic" basketball mini-tourney in the non conference. OSU, Cincy, Dayton, Xavier, OU, Akron, Toledo, BG, Kent State, Cleveland State, Miami, Wright State, Youngstown State. All teams guaranteed three games, you'd play each team every four years. It would be great for everyone involved.
Honestly Duke is a great program and I'm happy for Luke, but the Thad critiques are valid. His successes as legendary as they have been have in large part been from great recruiting and top notch talent. I don't believe Thad or his staff have proven they can develop talent at that same level. At least not at OSU. I believe the staff has some soul-searching to do. They need to get back to the basics and starting working with what they have and not be so reliant that they can land a superstar that will carry them. Honestly Ohio is loaded with talent in 2015 and 2016. We need to shore up the border. Also we really need to do a better job of talent evaluation. Too many Ohio kids leaving Ohio and becoming incredible talents elsewhere.