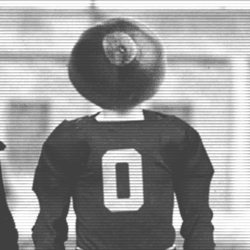 buckeyebowhunter
---
Member since 28 January 2014 | Blog
Helmet Stickers: 117 | Leaderboard
Recent Activity
I'm going off the radar a git, but how about Christian Slater and Casey Affleck
First time I've watched Scott's video. After watching it "wow", what took us so long?
I took the test and got a 29. It said It was as good as Golden Tate. Not sure if that's a good or bad score.
I think all Hyde goes first late 1st round. Roby and Shazier both early second.
I second that, I liked the old way much better.
Matta is one of the best coaches in the country and we should thank our lucky stars we have him. He has recruited some of the best players in the history of buckeye basketball. I think many have become spoiled by Thad and forget the shape we were in when he took over. With that said this is definitely not the best team in the Thad reign. He failed to recruit/develop shooters for the past two seasons and has struck out on a great deal of big men leaving us very undermanned underneath. I fully expect Thad to fix this problem. He's just too good of a coach and recruiter not to.
I like the new site. There are some bugs to be worked out to make it more user friendly, but overall I think it looks great.
I never thought I'd side with RichRod, but I'm with him on this one. Ridiculous.
Not sure on stats, but they are off the charts. Hunter Mohler WR/DB Dresden/Tri-Valley 6'1 200
I do think talent is the issue. Not athletic talent, or defensive talent, but scoring talent. We just don't have enough guys who can put it in the basket with regularity. I love Matta, and I hope he is at OSU as long as possible, but hopefully he learned a lesson this year and will start recruiting some shooters. It's great to have a Sam Thompson who can jump out of the gym and a Shannon Scott who is a defensive specialist, but you have to offset that by recruiting some Jon Diebler types too. We are a team of athletes and slashers, and that makes it way to easy for defenses to sit in a zone against us. You have to have the ability to shoot yourself out of the zone and we simply don't have the weapons to do that.
U.S. Men sweep slopestyle. Woot woot!
I am surprised we have not extended an offer to Kyle Ahrens out of Versailles. He has offers from Iowa, Michigan State, Cincinnati among others. He's a sharp shooting SF that can also take it to the rim.
Actually reminds me of a beefier Marc Loving.
He has to be a high priority for this class.
Thanks Birm! I should've known you guys were already on top of it!
I just can't believe we are this awful of a shooting team. It is unbearable to watch.
Loved his video. Ironic 11W releases the Tatum site, and the buckeyes seem to have found an assassin of their own. Coincidence?
I'd love to see it in Indy!!!
Also is Rashad Frazier on Scholarship as the grid indicates?