buckeye_baker
---
Member since 26 December 2012 | Blog
Helmet Stickers: 327 | Leaderboard
Voting Record: 0 / 0
Favorites
SPORTS MOMENT: Rushing the field after the 2006 Ohio State-Michigan game...and at some point this will be replaced with witnessing a Browns Super Bowl victory. (No, really...it can happen. One day.)
NFL TEAM: Browns
NHL TEAM: Capitals
NBA TEAM: Cavs
MLB TEAM: Reds
SOCCER TEAM: ...soccer?
Recent Activity
Nailed it, guys!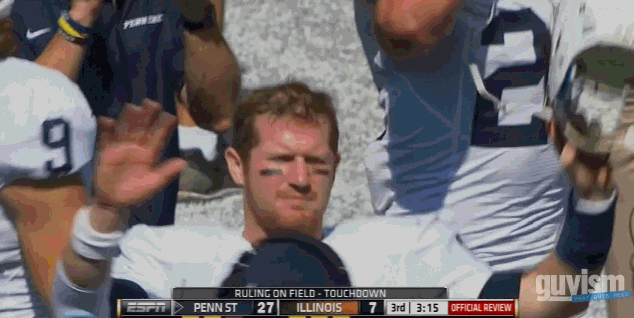 They've done it before - Bush spoke while he was president and it wasn't that terrible for traffic/security. I think most schools would have the current President on the top of their dream list for speakers so I think this is great for OSU.
That was mine as well! He was great...although I can still remember how miserable I was that day - mixing one of the hottest days on record in June and an all-night drinking fest the night before adds up to a bad time.
Do you think I can steal this to start getting out of weddings?
But really happy for him - always great to see a Buckeye succeed.
Same. If someone brought Taco Bell my reaction would be "Wow, thanks for all the effort you put in for that. That drive-thru line must've been a killer."
Agreed, they seem to pick and choose their standards. The reporting of Pryor taking tens of thousands for autographs comes to mind. The only thing they needed for that was a source who refused to go on record.
Only if it is followed by a second slideshow titled "5 Reasons Why Oregon is Alabama's Biggest Threat in 2013".
Which is then followed by "5 Reasons Why Indiana is Alabama's Biggest Threat in 2013".
It could be worse...
What I wouldn't give for Lighty on this team. He would bring some desperately needed leadership.
I suppose because the way I read is that the pricing system isn't so much unavoidable as well, we've decided we just could make more money. And I understand that college football is a business, and the purpose of business is to be profitable. But this practice and viewpoint being connected to a public university is always going to rub some people the wrong way.
The tone of the statements in print came across rather cold and "too bad for you, non-rich people" to me and some people I work with when we read it. But given your below statements I'm sure that isn't how it was meant.
"The consensus is we're leaving a lot of money on the table that other universities are taking advantage of."

"Frankly, there are going to be people who are not going to be able to afford it; that's too bad. But there also aren't people that can afford the $79. The demand for tickets far exceeds the number available."
Wow. I'm not sure this guy could have found a way to sound more like a dick.
I might watch to see if they can work up to a civil war brothers on opposite side of battle comparison.
I trust that the media will in no way overplay the brothers on opposite sides storyline.
Dakich called him out for being a tv attention whore when he called a sideline warning on OSU.
Haha Ted Valentine. Love he got called out.
Less than a stellar start...
But I will keep in mind the last time we played at MSU.
What? What does this situation have to do with the Texas case?
Agreed. Basically, anytime you have to start something with "at the risk of stereotyping" or "I don't mean to stereotype" just stop.
Grant, as a fellow native Circlevillian I expect at least one reference to the Pumpkin Show. Welcome!
I'm so glad I wasn't the only person whose first reaction on hearing this was wow, I have to get to Reddit.
Good point. If this was Braxton I think a lot of Buckeye fans would be begging for him to cut it out. But, we also fear the NCAA ban hammer, given our close and personal relationship with it.