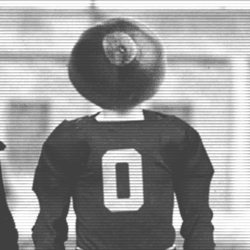 buckeye92
---
Member since 26 October 2012 | Blog
Helmet Stickers: 140 | Leaderboard
Favorites
COLLEGE FOOTBALL PLAYER: Archie Griffin
SOCCER TEAM: Manchester United
Recent Activity
My gut says ND....I hope I'm wrong
Both seem to be great young men on paper and I hope they both find success in college. Collier appears to be doing all the right things since he committed to tOSU on and off the field.
It says a lot that he always tries to match up against the top recievers at the camps
I'm concerned with the fast break basketball I've been seeing. I'd like to see a rule that when the ball changes posessesion the new team with the ball should have to pass the ball around for 10 secods before trying to score. Otherwise, the faster team has an advantage and the bigger slow guys need a chance to catch up.
I agree. I think you are gonna see some motivated and "angry" defensive players this spring and next fall. These guys have a chip on their shoulder. For the past year, they've heard the critics and their pride took a slap in the face. Spring ball is gonna produce some angry hits...their out to prove themselves.
Now tell me that man isn't under a little stress....
Depending on the weather and how windy it gets, it will be interesting to see the ratio of run plays to pass plays.
Considering how often you hear the media discuss how tOSU is overrated and how bad the BIG10 is this year, you would think the players would play with a chip on their shoulder....with the attitude that their angy and we are going to show the people how good we are.
Meyer said he likes an angry team. I would think this team would be a little mad...feel they get no respect and be motivated to pound other teams each week.
I think it would be different if everyone said how great they were and ESPN reported how great they were...then...I could see it go to their heads but well...All you hear in the sports media and social media is they would be a middle pack SEC team so I think they will stay motivated.
If Fickel does leave this year, it would be interesting to see what Vrabel would do as a DC. He certainly had a defensive minded coach in Belichek who he spent time with.
Speaking of MAC opportunities, what about Miami U. They fired their coach earlier this season. Are they in the market for a new HC?
I miss Bert...He added some enjoyment to the Big10.
That is just amazing. Congrats to TBDBITL!
That was just awkward to watch....
The Big needs to get into gear. tOSU, Michigan, Nebraska and Penn St should be top 20 teams on a regular basis.
In the next tier Wisconsin, Michigan St. and Rutgers should be able to put some teams into the top 20 off and on over a period of years.
Someone else should be able to surprise folks every so often....maybe....Iowa, Maryland, Illinois, Purdue ?
For tOSU schedule...throw in a MAC school and then one big name school would be a good start each year.
Exactly. According the the forums, play calling has been less than satisfactory so...What's up?
Would be much easier on my stress level to see them kick it out of endzone.
Not impressed with Herman play calling
Have OSU ever played press coverage in the past 2 seasons?
Braxton doesn't look like he would be ready to jump to NFL this year.
Wow! No excuse for that hit!
Missed part of game. Have any other running backs played much? how'd they look?
Good point above about not seeing the whole picture behind the scenes to know who would or should make captain. But...still interesting to make a guess.
I like the possibility of seeing Kenny G as a Captain.
BTW, when do they officially announce the Captains?
I'd be curious to if they are taking supplements...multivitamins, protein etc. Just interested to hear what tOSU staff opinion is on some of the supplements.
What an outstanding group of recruits in the class of 14.
Best of luck to this young man both on and off the field.
I can only imagine this program will grow exponentially. tOSU alumni, business leaders and former players, I believe would jump at a chance to meet players and give back to the university.
Congrats to Coach Meyer and everyone involved in getting this program off the ground!