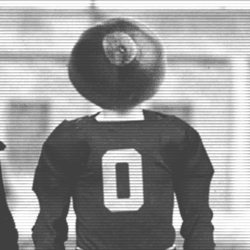 buckeye85
---
Member since 22 December 2012 | Blog
Helmet Stickers: 417 | Leaderboard
Recent Activity
Hilliard is a must get, that kid absolutely stands out on film.
That is because Coombs and Withers did not communicate well which led to total dysfunction in the secondary. Withers was a huge problem and having a proven DB's coach like Ash to teach these kids the fundamentals and where to be on the field will go miles in making the defense better. If the defense can improve by 10-14 points a game, I see this team having a chance to go undefeated again. Brax is a senior and there is a ton of young talent spread all over the field, so the offense should be just as good so long as they achieve better balance and the Oline holds up.
Yea, this is completely different. You are talking about an unproven coach and a coach who has a track record of not doing to well vs. a proven coach that puts a ton of player is the NFL and produced a lot of All-Americans on the DL.
I absolutely did that. Got married on 10/12, a bye week, and my Dad said in his opening speech, we want to thank you for scheduling this wedding on a bye week haha! My wife even had the DJ play the fight song as we came into the reception and my entire side stood up and went crazy, it still gives me chills!
I may be in the minority, but I am not going to be too upset it Brax leaves. I wish him all the best so he can do what he needs to do for his family. I think with all the changes next year, it might be beneficial to throw JT Barrett into the fire. This team is going to be so young next season and they are either going to scrape by the OoC schedule and get better as they go, or lose a tough one early and end up being a pretty good team by seasons end and be awesome in '15!
If MSU could lose earl, to a terrible ND team, and climb all the way back into the top 4 by seasons end, then I am far from worried about the perception of the B1G moving forward. tOSU will always be able to play itself into the playoff with the way other teams lose week in and week out.
The were close to .500 the year before and have beat in us in one big-time game since 1997. They had a good team this year, but we were poised to take that game over and our team stopped showing fight. MSU wanted it more and in the end it showed, but I am far from worried that they are going to become some type of power.
He is either going to take that job or take a paycut at tOSU when he gets demoted, so I don't think that will be the issue.
I think it was a combo, they knew the passing game would be open but elected to keep in on the ground. They knew they could run it at will and probably decided not to take any risks throwing it down the field.
I agree, with the way he has performed throwing the ball in his last three games outdoors, I do not see an NFL ready QB. If he wants to try and go out as a WR or Hybrid Back he would probably get more looks at this point in time. I know he has a child to think of and NFL money is hard to pass up, but if he comes back for another year, he will have a Troy Smith like senior season, especially if we can develop all the young speed we have at WR!
I mean, UM had a top 10 rushing defense coming into Saturday as did Iowa when we played them earlier in the year and not only did the Buckeyes gash them, they did it when both teams KNEW that we were going to be running the ball. The 2nd half of the game in AA featured a team that made no secret of the fact that they had all but abandoned the pass and UM couldn't do a thing about it. MSU has a good defense, but they couldn't stop our run game last year either.
I have a very hard time envisioning a game where one of our best Olines in memory with 4 seniors and a senior bulldozer HB that can make people miss and outrun DB's paired with an improved and healthy Miller gets stopped, especially with all the other bells and whistles that have been added to this offense.
If MSU plays man and blitzes they are basically one missed tackle away from Miller breaking contain and going for 20+ yds. If OSU runs the ball well and forces MSU to play tight and focus on the run, they are going to get caught on PA just like UM did when Heuerman(sp?) scored that TD. UM's LB's were so focused on the run that they all came up 5 yards before they realized what was going on.
On the flip side, their offense plays right into what we do best and that is stop the run. If this team was capable of slowing down Wisky, they should be able to get stops on MSU. I actually feel like this might be a better matchup then the one we just had with UM.
Yea, if everyone can talk about how good Georgia is and how they should still be ranked because they have had a bunch of injuries, then why is it not brought up that Ohio State was without their two starting LB's?
This thinking is flawed. NU forced those TO's, they stripped Brax and made the plays they needed to keep tOSU out of the endzone. Until Hyde took over, NU was playing sound D, they were keeping everything in front of them and making tOSU string together drives. They were giving up yards, but always seemed to get us in a third down situation. This is what Fickell is trying to do, key word trying, but the bend don't break is allowing teams to pick us apart. The only time they were successful on D was when they brought pressure with tight coverage on the outside.
How good is Cal's Oline? If we can play man press and get consistent pressure in the QB it will go a long way towards disrupting their rhythm and with that type of quick pass offense, its all about rhythm. I think we have the DB's to matchup with what they do. We will definitely see that 326 and 416 Dime formation we heard about.
IDK about one of the best movie ever hahah, just messin'
The Jalyn Holmes visit excites me. All you can ask for is that they are impressed, so now the Buckeyes will be on his mind throughout the year as the coaches keep pushing for him to commit. I think we have a real chance here!
Exactly. Also, how funny is it they are blaming Meyer for a kid being arrested over the weekend, when he has not been there for over 2 years LOL. Doesn't Muschamp have control over his team yet?!?!?!
Im with you on the Dline, I have to think they are going to try really hard to get a big DT and maybe another WSDE.
Lots of posters in 247 were saying that he was our scraps and that he got shut out of tOSU because he was our 5th option. scUM fans were running their mouths as usual so some Buckeye fans decided to try and troll them a little bit.
Personally, I am not really sure what happened because lots of people were calling him a heavy Buckeye lean, saying that if he did not commit to scUM on his visit then it was a very good chance he would be a Buckeye. Then he visits Pitt, rumors surface of him committing, he denies it, says he is going to back out and take his time, and two days later commits to scUM.
The whole thing seemed weird and I read somewhere that he did not want to compete with the depth we had at OLB, but who really knows. I know his film looked good, but it is hard to say just how high he was on the Buckeyes board and whether or not Booker committing swayed his decision.
Overall, I do not think he was that big of a loss, nothing in the neighborhood of losing Jamarco Jones or anything (he is a must get at this point in time IMHO.)
At the end of the year when the rankings are updated and final and we are looking over the signees for this years class, I think people will be singing a much different tune. I am of the belief that Webb, Berger, Thompson, Jones, Trout, Hubbard and Booker will all continue to rise in the rankings. Last year, Gareon Conley started off a 3 star and wound up in the top150 on almost every site.
Rivals has raved about Dylan Thompson, he will get a 4th star. Kyle Berger is quickly becoming on of the top LB prospects in the country. Booker is already highly regarded and Damon Webb will be a 5 star top 30 kid by the end, IMO. I think Meyer and the staff have a great eye for talent and know who they want and who they think will fit their systems. They recruit speed, and athletic versatility. Most kids they get usually have the potential to end up at 3 or 4 different positions which brings a lot of flexibility to our roster. We look at the early rankings and class ranking an think that they are underachieving when in reality they are getting a lot of the kids they want, kids that have not even begun to hit their full potential.
This kid brings a lot of intensity on the field. He is a great downhill rusher and always seems to be involved in the play. Another thing I really like, is when he gets taken out of the play he continues to pursue until he catches the ball-carrier. He looks very quick and is able to run people down from behind. I'm looking forward to seeing him in the S&G
The good news is that tOSU has had to play two fast paced, offensive oriented teams so they have experience against teams that like to run in transition. I think the main stat to watch is rebounding. If UA gets 2nd & 3rd chance points it will be a tough night.
He seems to play things pretty close to the vest, is there any chance he goes elsewhere or is he widely believed to be favoring the Buckeyes?
Come one now, the man brought tOSU football back to new heights. He lost 1 game against Michigan, won a Natty and played for 2 more, and went 5-3 in BCS bowls (I still count the Sugar Bowl, IDC what the records say) and 7 Big Ten titles. Pretty damn good.
Im sorry but this couldn't be further from reality. None of these guys are anywhere close to some of the greats that have played this game and Russel Wilson?!?! He won't be the 50th best QB to play in he NFL. I think we have a tendancy to forget how good some of the earlier guys really were. Ill give you Brady, he is great, but he has lost his momentum and is seemingly stuck behind a hump when it comes to getting another title.