Buckeye80
Tuppers Plains, Ohio
Member since 24 September 2012 | Blog
Helmet Stickers: 1,439 | Leaderboard
Voting Record: 271 / 19
Favorites
SPORTS MOMENT: Beating TSUN for the right to play for the 2002 National Championship!
Being at The Game to see the Buckeyes go 12-0 in 2012!
COLLEGE FOOTBALL PLAYER: Troy Smith
COLLEGE BASKETBALL PLAYER: Sam Thompson
NFL TEAM: Kansas City Chiefs
NBA TEAM: Cleveland Cavaliers
MLB TEAM: Cincinnati Reds
SOCCER TEAM: WHO CARES!
Recent Activity
I know! Can't wait until next season!
Outstanding! Thanks for sharing!
Not trolling for upvotes, but thank you all the same. Just bored, excited, and wishing this season wasn't over! What a ride this last month!
You know that posts in "italics" are meant to be sarcasm, right? Well, you do now.
I see a Flea Flicker coming....
DJ....this is by far your finest piece of work to date! Reading this morning's skully has put me in an amazing mood. I may take some wise man's advice today: "You can't drink all day if you don't start in the morning".
I'm going out on a limb here, but I say things get ugly tonight. We have the same D-Coordinator that shut them down the last time we faced off, but our athletes are much better now. I say when the smoke clears the scoreboard reads 54-19 Buckeyes. To quote DJ: "get dumped then, Oregon".
with top ESPN college football analyst Todd Blackledge,
How could you type that with a straight face?
Sorry if I missed this in the rest of the comments, but this has been bothering me. WTF is up with the score box ESPN is using now? I swear it takes up 1/4 of the screen. What happened to the thin one that was at the bottom of the screen? Does this bother anybody else, or am I running out of things to care about before tomorrow night?
I'm assuming that this would be a hypothetical "if all things were equal" question. Obviously if JT had played 10 games straight, you wouldn't bench him for no reason.
Otherwise, I'm still shocked that anybody would pick somebody other than Braxton Miller. One of the best QB's in the country coming in to this season. A Heisman favorite. The past few years, he was the best athlete on the field hands down. I know everybody is going to say: "Barrett is a better passer". Look at the dropped passes Braxton has thrown! *Looks at Corey Smith in the Clemson game* Can anybody say that Braxton has ever had more weapons than Barrett had this year? Receivers couldn't get open! Urban called them a clown show! Now, we have playmakers everywhere! Even Devin Smith, who everybody has said was just a deep threat, is getting open underneath. The WR are making plays! Just like Cardale's first TD against Wisconsin, was that really a great pass? It was a good pass, but it was one hell of a play by Devin Smith to go over the defender and catch the ball.
I love all 3 QB's. We are truly blessed at that position. At the end of each of their careers, we can have a fairer comparison,but right now for me, give me #5 all day.
I have to admit, I was reading this comment (in my half asleep state) and I thought to myself: "What is this idiot talking abou.........oh....sarcasm!" Upvote for you sir!
Are you crazy? No doubt in my mind we would have won it all!
Great post! My only suggestion would be to maybe change "monarch" to "emperor", or maybe even "dictator".
I actually saw Herbie defend us during Gameday on Saturday. They were talking about the call, and he reminded them that if there would have been instant replay that the 3rd down pass to Gamble would have been a completion and there wouldn't have been overtime. He basically said he didn't want to hear anymore about a bad call in that game!
The stats aren't a lot different, that I agree with, except for doubling the TD's his senior year. My main point is Braxton has improved each year, like most players do. There is no reason to believe he couldn't do it again, especially with the development of the talent around him
I think Bar43 made a good point above. Troy Smith was a different player from his junior to senior year. Braxton could possibly do the same. Not to mention the amount of talent around the QB position next year (and this year) is the best its been in a long time. I just hope Braxton is healthy. He is a great Buckeye, and I think some have forgotten just how talented he is.
I don't care if we wear home or away uniforms. Scarlet would be nice, but we've always done OK in our whites.....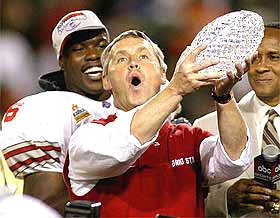 Brutus should be posing beside a dead elephant with a "12 Gauge" in his hands.
Good job!
Somebody please tell me how Cameron Johnston isn't a finalist for the Ray Guy award?
Unbelievably, Finebaum was actually saying how impressed he was with the Buckeyes and said there was no way we could be left out!
No way Braxton is ready. He is almost cleared to throw a nerf ball, but no way he'll be cleared to play next week.
Agreed. Injuries are unfortunately part of the game. It's not like we were up 50 and he was still in the game.