Buckeye419er
---
Member since 17 August 2013 | Blog
Helmet Stickers: 802 | Leaderboard
Favorites
SPORTS MOMENT: 2002 National Title Game. Best game EVER!!!!
COLLEGE FOOTBALL PLAYER: Braxton Miller
COLLEGE BASKETBALL PLAYER: Aaron Craft
NFL TEAM: Oakland Raiders
NHL TEAM: None
NBA TEAM: Chicago Bulls
MLB TEAM: None
SOCCER TEAM: USA/Netherlands National Football Team
Recent Activity
UV for Princess Bride Ref.
Don't forget to wear your Scarlet today ladies.
I'm sure that is about a %200 chance
This DJ be Warren G. Keep it gangster.
You don't recognize sarcasm well. I believe that is the true reason you "take a lot of crap here". Haha.
Me likes...me likes a lot.
I love the way Urban says he'll have to wait till Thursday to see if they are ready. As if they won't play if they "aren't ready" lol. Sorry that just struck me as funny. I understand his thinking and the fact that he wants the guys to continue working and not to think they have this thing won already but still funny.
I had flashbacks of that Clowney hit against ttun. Could Lee end up being a diamond in the rough? I think it's possible.
They were looking for the "big play". Not sure if that was before or after the fumble recovery or not but either way they were looking for a similar result, possibly a pick six. Bosa was in position to steal the pitch. But I agree after that they weren't in a great position. However you can't look 3 (what if's) down the road. In order to be aggressive on defense you have to take some chances. Hopefully this shows against VT.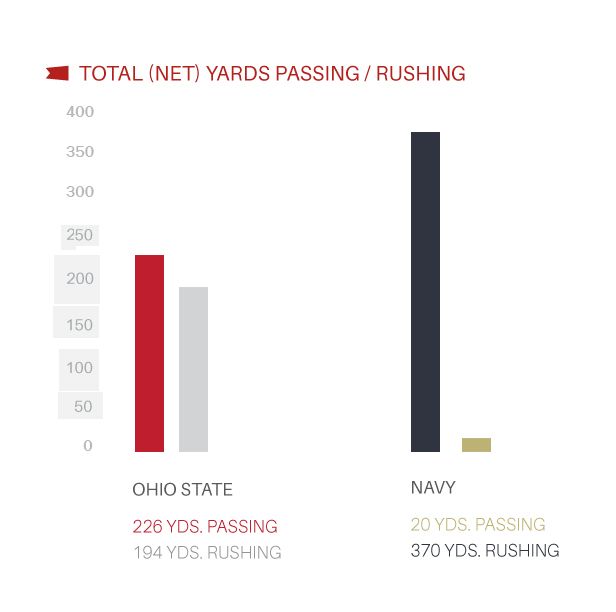 We will take the win indeed. I don't know if I can handle another game like that. Here's to hoping VT doesn't learn the triple option and cut blocking. smh.
Boom goes the dyn-o-mite! I am still cheering for the fact that no one was seriously injured due to cut block hell...err.. I mean voodoo and sorcery and stuffs.
The best part about this win is that it felt like a team effort and not just a few individuals. Love it. Great game against a worthy opponent.
Subscribed to ULIVE this morning. Gotta do what I gotta do. Best $10 Bucks I ever spent.
I normally wake up at 5 am on Saturdays that I have to work, with a mind to throw my alarm (my phone) out the window. However today I was up by 4:18 impatiently waiting for my alarm to go off like "c'mon alarm wtf?". Yes, my favorite time of year has finally arrived. For the next few months we will bask in the glory of Buckeye football. Here's to a unbelievable season! Go Bucks!!
Growing up in a household with a Marine father, Marine brother, and a niece that is currently serving in the Navy I have nothing but the utmost respect for our service men and women. Although our favorite team to cheer for on Saturdays this fall may be wearing scarlet and grey a small part of my heart will be with the men across the trenches this particular Saturday.
2) Franklin: "Whenever you're the furthest from the ball, you have the best chance of getting on the field early." - Ummm what? What am I missing here? Maybe it's the beer in me, but I don't get it.
He's saying that the WR group has the fastest chance at getting early playing time as a freshman and each position as you move closer to the ball has less of a chance. Or at least that's how I read it.
I don't thing any of us (well, the realists) believe that anyone will "house it every down" but we do expect him to hit short routes repeatedly which leads to first downs which eventually leads to housing it as you say. I look for it to be much more of a fast paced march down the field not really a quick strike. With that said, if any of the guys (and by any I mean all of them hopefully) can show elusiveness and get down the field after the catch, I will be all for it.