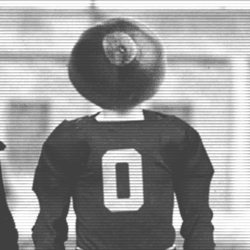 Buckeye414
Washington, D.C.
Member since 17 January 2012 | Blog
Helmet Stickers: 32 | Leaderboard
Favorites
SPORTS MOMENT: HOLY BUCKEYE!
COLLEGE FOOTBALL PLAYER: Mike Doss
NFL TEAM: Lions
NHL TEAM: Red Wings
Recent Activity
Edit: ~~two guys that roam this Earth solely "to" protect student-athletes –
http://www.npr.org/blogs/parallels/2013/11/01/241895965/how-one-kenyan-tribe-produces-the-worlds-best-runners
Great read on why the kenyan runners are so great. Scroll down to The Initiation Ceremony and think about how coaches preach "mental toughness" Yowza!
BAT DAD SAYS SOUTH PARK IS GOING DOWN!
If this young man continues to live his life the way he has outlined then the sky is the limit for him. Luck is when preparation meets opportunity.
I really enjoy these articles, and wish that there was a "hot" button I could access to get a list of all of them for reference. I suppose we could link each as favorites, but what about new members of the site? These types of articles set this site apart. It might be pretty labor intensive for the team though.
Nice Game Genie Battletoads reference
Nick Mangold was a 2* I believe. Considering his NFL career I would throw him up near the top.
Agreed. I think he will work harder since this is clearly where he was dying to go.
For those that are curious, Ann Arbor has a Moody's rating of Aa2, which is two slots lower than Aaa.
http://www.moodys.com/research/MOODYS-ASSIGNS-Aa2-ENHANCED-RATING-WITH-STABLE-OUTLOOK-TO-ANN--PR_242830
Ratings:
Aaa

Aa1
Aa2
Aa3
A1
A2
A3
Etc....
If you looked at Urban, Fickell, and Vrabel's wives during the town hall you realized that the Blonde Mafia may have come to town. On the flipside Brady Hoke only hires assistants that have D1 deep fryer talent. What can you say, the man loves his deep fried hams!
Not to mention... He opened holes for Marshall Faulk and made it so that "The Greatest Show on Turf" could operate. Horrid... just horrid.
Kegs and eggs beat you to this story a week ago. SIMPSONSSSSSSS DID IT!
"The offensive line was average, playing well on running plays, but allowing the quarterbacks to get sacked multiple times, especially in the second half."
Walrus Ball:
http://www.ourhonordefend.com/wp-content/uploads/walrus-ball.jpg
Windows phone is where it's at. Don't knock it till you've tried it.
I was going to block for Braxton, but then I got high. I was going to memorize the snap count, but then I got high. I was going to work my bench press, but then I got high. Then I got high, then I got high, then I got highhhhhhh.
Agreed. Bosa is Simon 2.0.
Another key point is that Fragel Rock is over 300 pounds now. Excited to see him at Otackle.
I might be master of the obvious, but where is Cardale Jones?
Sidenote.
Has anyone ever looked at Google Maps definition of Ohio Stadium, or as google has it "Columbus Crew Stadium" and when you scroll over it the description is "Looks like a giant toilet bowl. Also a den of cheaters."
WTF!?!?
Excellent addition to the team
I love the Meg shoutout.
Moreau not only looks fast, but it looks like he has great hands. I like it.