Buckeye Scottie
---
Member since 11 October 2010 | Blog
Favorites
SPORTS MOMENT: 1st Ever Undisputed Champion! Also, One night in Glendale...
COLLEGE FOOTBALL PLAYER: Move over Bobby Olive & Carlos Snow, Hello EzE and DLee
COLLEGE BASKETBALL PLAYER: Jimmy Jackson
NFL TEAM: Philadelphia Eagles
NHL TEAM: CBJ
NBA TEAM: meh
MLB TEAM: Cincinnati Reds
SOCCER TEAM: No thank you
Recent Activity
Obligatory....
Perhaps such a pejorative view due to the fact that many of said 'workers' did not freely choose to be said 'workers'.
so much burglary and larceny....
As a leader of young men and in a position of authority, sorry, you only get one chance. He blew his right through that Breathalyzer....not to say you still can't offer to get him professional help if needed, but you are no longer a leader and authority figure for those young men.
That hair was almost as bad as his accent....but I watch that damn movie every other weekend it is on TBS or whatever!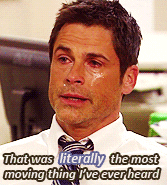 While I agree with your sentiment regarding Kelly being nonsense, Schiano proves it has been done.
I see what you did there...
Anyone else wishing Warinner would accept a demotion and go back to the OL coach? Was it what, 2 years ago, we were praising him as the best OL coach in America? Maybe he just isn't cut out to be an OC? Not sure what that would do with Coach Stud, but the OL was not up to par with the last few years.
I am sure Fernando is an Admin Assistant, as the 'group' for Michelle is Coach's and Admin's Spouses. My guess is it is for media requests etc so that they flow through the school not just directly to the spouses.
thanks for the MEMORIE5
Serious troll job, there Ramzy. Well played good sir.
After seeing the replay, my only reaction is, "What a little bitch". It may sound harsh, but I don't buy all the psychological BS. He is an entitled spoiled brat. Plain and simple. And the fact he stared at his hands like, they had some magic pixie dust that made him trip the dude? WTF? I agree with OSU_Alum, he needs to have a teammate kick his ass in practice and settle that stuff right down.
Truth! And in basketball, moreso than any other 'team'sport, 1 stud can really elevate a team. The 'any given night' mantra is so true with basketball.
I am sorry, I love TP as much as the next guy, but "awesome" and "man bun" should never, ever, ever, ever, ever be in the same sentence.
Top Notch Photoshop skills there KBonay! It's funny, cause I am totally jealous of those skills!
"But that was cheating, you're not allowed to have a QB that can truck a safety like that "
- Landon Collins
Patiently waiting for Cardale's reply...
Yuck at that entire comment. It sounds like you're ok with just being mediocre. That's sad.
So by this logic, if we aren't Duke or Kentucky we're mediocre? No in between there? So a second tier team is mediocre? The Michigan States, Wisconsins, Villanovas, all mediocre? Then yes, I will be happy with those mediocre programs.
My point about the Ohio kids was in regards to the #FireThad haters last year that said we had to keep the Ohio kids home. Now he keeps the Ohio kids home, and people want him out for not bringing in National recruits.
I agree with your last point about raising the stakes and falling short lately, though.
Although, I think this is CLOSE to being done...Isn't Browning planning to early enroll in January? That would only give him like 2-3 weeks to change his mind.
Not to mention everyone freaking out that Thad wasn't recruiting Ohio enough. Now we get #1,#4 &,#5 in the state and they aren't good enough. You can't have it both ways. Ohio isn't a national prep basketball power like football. So do you want highly ranked national players or the top in-state kids? You can't have it both ways. I think Thad has done a decent job of both (last year's class notwithstanding). Regardless of our scarlet colored glasses, OSU is a football school and we are in that second tier in Basketball. We aren't on the UNC, UK, Duke level in BBall.