Buckeye Scottie
---
Member since 11 October 2010 | Blog
Favorites
SPORTS MOMENT: 1st Ever Undisputed Champion! Also, One night in Glendale...
COLLEGE FOOTBALL PLAYER: Move over Bobby Olive & Carlos Snow, Hello EzE and DLee
COLLEGE BASKETBALL PLAYER: Jimmy Jackson
NFL TEAM: Philadelphia Eagles
NHL TEAM: CBJ
NBA TEAM: meh
MLB TEAM: Cincinnati Reds
SOCCER TEAM: No thank you
Recent Activity
Dat Boy Good....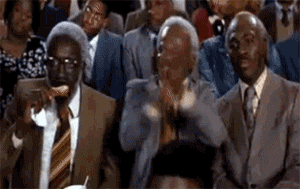 Penn State is losing between now and Nov. 26, but the Purdue game is impossible to read. No result would surprise me.
I said this exact same thing to my wife on Saturday night. F'ing Penn State, knock us off, and then watch, they will turn around a lose to Purdue. Hell at that point I didn't even know if they played Purdue, but that is what PSU is. Knock us off for a field rushing epic victory for them, and then lose 9-6 to Purdue the next week. I am damn near ready to bet the farm on the Boilers...
I am not positive, but I think the Nike apparel etc falls under the 'other pay' as well.
Damn, Walt. The 'C' hat AND the goat! Subliminal message overload!
Can a steaming pile of poo actually be a spirit animal? Somehow, some way, 11W has GOT to secure an interview one of these days with Wilner. Maybe a behind the scenes type of documentary as he is filling out his poll. I am just fascinated by how his mind works (or doesn't work). I also just want him to make sure he knows that there is a large group of people that are seeing his asshattery and calling him out on it on a weekly basis.
Need to keep it under 5, or something tells me Craig James is going to get angry and show up in Columbus.
Stacy Ezekial is an awesome name! It def sounds better than Elliott.
obligatory... My first mention by an 11W writer....
Just think, at most the pudgy kicker may only be on the field for one play, either opening kickoff, or to start the 2nd half. After that, methinks he isn't going to be on the field much! No way a dude named Trace "McShirley" is finding the endzone against our D.
How did I miss the 'Nature' video. That is one one of the most hilarious edits I have ever seen! Berrrrt eating up to 10 lbs of cheese curds a day!
That hype video is trash, I think my 4th grader is now doing that level of video in school. Anywho, wanted to send a special FU to PSU for totally f'ing up my night last night. Got the kids to bed, pulled up the DVR to find The Journey, clicked play. Only to find that got-dam PSU soccer game go to 2 got-dam OTs against Akron and I got to see literally 2 mins of The Journey. Based on the attendance at the game, my viewership MAY have put the total number of eyeballs into double digits.
Luckily BTN replays my show, but pissed me off nonetheless. FU State Penn. FU straight to hell.
41-17and Franklin actually cries real tears on the sideline.
"Recent research has shown the empirical evidence for globalization of corporate innovation is very limited. And as a corollary, the market for technologies is shrinking.

As a world leader, it is important for America to provide systematic research grants for our scientists. I believe there will always be a need for us to have a well-articulated innovation policy with emphasis on human resource development. Thank you."
Follow up question, over/under on the lion roar at 327 times...
Penn State in a landslide. Overall #1 seed of #1 seeds ever. Like ever, ever. They STILL want Paterno's statue returned. Like the whole saga will never go away because THEY won't let it go away.
Being that James Franklin has publicly stated that he only hires coaches with hot wives/GF's, what does Jimmy's wife actually look like?
Hate to see Luigi Villain's name next to Michigan. That is such a badass name. And Chuba Hubbard for the other OSU might be my next favorite on the All-Name team.
Should it not be wine instead of brewskies? Regardless, love that Buckey is serving us!