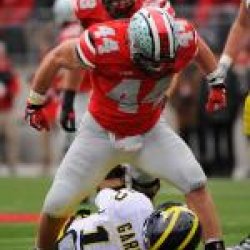 Buckeye Rocket Sci
---
Port Orange, FL (via Hobe Sound, FL)
Member since 17 June 2013 | Blog
Helmet Stickers: 1,033 | Leaderboard
Buckeye fan born and raised in the South with Midwestern cooking and values! It's been hard at times in the past decade, but I am looking forward to many successful years under Urban F'ing Meyer. Despite attending a southern university (tOSU just too expensive out of state), I will ALWAYS be faithful to the Scarlet and Gray of THE Ohio State University!
Favorites
SPORTS MOMENT: Cheering "Goodbye" to TTUN in The 'Shoe after our 2010 beat-down of them
COLLEGE FOOTBALL PLAYER: Braxton Miller, Joey Bosa, Entire Class of 2014
COLLEGE BASKETBALL PLAYER: Aaron Craft
NFL TEAM: The team with the most Buckeyes
NHL TEAM: Detroit Red Wings
NBA TEAM: Lebron James
MLB TEAM: Cleveland Indians
SOCCER TEAM: United States
Recent Activity
You rang?
You should start a petition on Charge.org
Same here. I was scrolling down, got to the first gif and was just like "Come on, mannn!" (bad, bad memories). Understood where he was going by the time I got to the second gif, but still didn't relieve the dread.
Is that really a surprise? There aren't even many in this house!
At 5 o'clock in the morning, you sir just made my day!
Agreed. Unless I have missed something, all I've seen retweeted or spoken from him about it is that he will for sure be there (getting there Thursday night) but isn't sure if he will workout. So no real decision one way or the other, but he'll be there and that's what is important.
OooOOOhHH but they haven't changed them since the Grant administration!!! Who gives a shit? They're boring.
And this is why I entrust my early mornings to the Skully. Simply Glorious (and true)!
I agree that it will make for more interesting football and will happen someday. I have nothing against the move to a new division, as you mentioned. I just don't see how moving the mid majors to the spring will necessarily help them. If it were to happen, it would have to be by their own accord if they find that it would benefit them financially, which it may or may not depending on their other Spring sports. Division II schools aren't playing in the Spring, so why would the mid majors? I think a truly great way for great football would be a European soccer-esque system that would see the Power 5 only playing other Power 5 while annually the weakest of the Power 5 drop to the mid-major division while the strongest mid-majors move up. This will ensure the best football is played and keep interest in the mid-majors as they fight for a shot at the big dogs.
I'm not a fan. As stated above, there are plenty of mid-major teams that compete with and, oftentimes, are better than some "Power Five" teams. Also, in the era of conference expansion, how is a "mid-major" team expected to perform its way into one of the more prestigious "Power Five," if there is no direct competition or comparison? Furthermore, how many of these mid-major teams have Spring sports that are actually just as big if not bigger than their football, in which case they could lose support for one or more team by throwing another wrench into the mix? We may want this because we want football 24/7, but many of these schools may just use football as their way of wasting time until lacrosse, or baseball, or whatever Spring sports there are (not very fluent in that area). All-in-all, IMO, this is not the answer to anything and would just generate more problems.
I have been here for quite sometime and didn't know about those middle two. Thanks!
Perhaps explaining the use of cold, hard facts font, to prevent the accidental downvote to oblivion.
Also, point out/explain buckshots vs. cover stories, similar to the search feature so that the new users know to look out for both (sometimes, depending on device, buckshots can get lost amongst the forums and covers).
Might not hurt, either, to provide a place for how to support the site (e.g., explaining the Amazon link, 11W dry goods, advertisements, etc.).
Not sure if this was inferred, but definitely explaining the 100 HS threshold as well.
As a fellow IB grad, I wish him the best of luck!! Nothing prepares you for college like IB!
Nick Bosa. Seriously though, any of the three you mentioned. I am personally pulling for Tyquan to make his name known, or to see Jalyn get an early shot (or both due to the rotation).
Having grown up in this glorious state (Florida) and having to be constantly smothered with praise for the guy like was a God-incarnate gifted to UF, I enjoyed and still do watching that scene. Not because I hate the guy; everything I have ever heard or seen would say that he is a very stand-up gentleman who I respect. Instead, I enjoy it because it symbolizes the end of some of the most annoying few years ever in this state, and that, to me, is extremely rewarding to watch.
He may not have even seen it. One thing I'll say, although he is extremely well kept with keeping everything under wraps, he sure did light up in his interview from the Opening when talking about LJ and Ohio State.
I belive he's a JUSTIN
As has been mentioned, Alex Smith (along with Chris Leak) is considered to be the prototypical QB that Meyer wants: one that can and will throw first, but has the athleticism to escape for a gain if needed.
In our current offense, it seems like it is much more predicated upon a running QB only because Meyer is often perfers putting the ball in the hands of who he thinks is his best player (Miller) and does so using his best abilities (running, rather than passing). This can be seen last year when Kenny G. was playing, and all of a sudden it wasn't as necessary for the QB to run, though he did make some great breaks.
That's why I always go with FaceTime; it's far less creepy!
Having noticed it live, along with all his other means of getting in nearly every camera angle, I would say yes; I thought it was freaking hilarious!
I believe there are similar restrictions, as I believe was the case with Russell, on SAT/ACT scores. So a kid could be passing (legitimately or not) but not have the prerequisite standardized test scores.
Thanks for the link! I am surprised I never saw that before. It definitely looks like the guys have the physical part down; if only they can get the mental consistency, any if them could be really special!
I believe that was a mix of sarcasm and taunting the guy who loves to prove people wrong. If you say he won't do all of that, and he is as competitive as he seems, then maybe he will? Or maybe I'm crazy for trying to decipher the mystery of Bass lol
Always nice to catch a glimpse at him in a non-drill format, though it obviously wasn't a real game either. He had some nice touch on some of the balls, fitting them into tight pockets or over multiple defenders before dropping it in there. I don't pretend to know much about QB fundamentals, but there seemed like a few times he lost the proper mechanics in his throw, though usually still made the pass.
Also, as KN stated above, I'm sure he wants that throw back. It looked like he almost threw it but was looking for something better and came back to the checkdown too late.
tl;dr: He shows some great potential, and I'm exciting to see him grow.