Buckeye Knight
---
Member since 27 July 2013 | Blog
Helmet Stickers: 6,592 | Leaderboard
Favorites
SPORTS MOMENT: 1997 Rose Bowl
COLLEGE FOOTBALL PLAYER: Eddie George
Recent Activity
Michael Jordan and probably LeBron on the sideline for The Game? I like it!
Stop right there, man. A man goes into a restaurant. You listenin'? A man goes into a restaurant, and he sits down, he's having a bowl of soup and he says to the waiter, waiter come taste the soup. Waiter says: Is something wrong with the soup? He says: Taste the soup. He says: Is there something wrong with the soup? Is the soup too hot? He says: Will you taste the soup? What's wrong, is the soup too cold? Will you just taste the soup?! Alright, I'll taste the soup - where's the spoon?? Aha. Aha!
As long as he keeps his nose clean off of the field, this kid will have a very bright future here!
FSU, Oregon, UGA, VaTech? "I don't sweat you."
Was hoping this was the cheerleaders. Nevermind, carry on.
This guy
We won!
Purdue went from almost nothing to close to a million? LOL. Hacked?
Maybe he'll announce it via a Twitter massage?
I thought it was Taylor Lewan?
Iowa shot up 1,000 votes in about 3 minutes, LOL.
Hmm, not even close.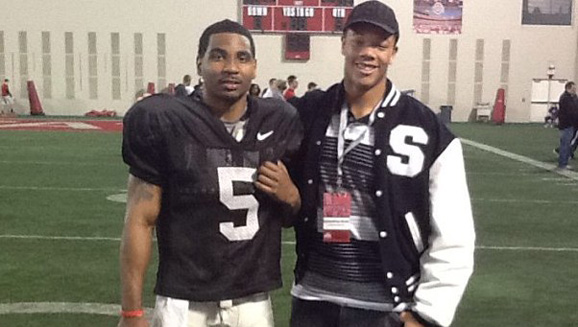 LOL showing up decked out in his "M" letter jacket and hat.
If Hoke is not feeling pressure, does this mean that TTUN program has come to accept and expect mediocrity?
If anyone else was on the ESPiN message boards before they shutdown, there was a dude there who supposedly had hundreds of screen names over the course of years. Many of which acted differently and he replied to himself in threads. I think his name was Stevie. Personally, I think it was a cover for Mark May.
Fly that sucker over some opponents' practice fields.
Indiana and Rutgers look cool. What the hell are Purdue and Wisconsin doing?