Buckeye in Illini country
---
Urbana, Illinois (via Cincinnati, Ohio)
Member since 27 July 2011 | Blog
Helmet Stickers: 3,144 | Leaderboard
The Ohio State University Class of 2010.

Currently a grad student in materials science and engineering at the University of Illinois.

Do not live in a van down by the river.
Favorites
SPORTS MOMENT: 2006: #1Ohio State vs. #2Michigan in the 'Shoe! I have never seen a better game in person.

Close 2nd = 2010 Rose Bowl: Ohio State vs. Oregon, 35 hour drive straight through was well worth it.

Close 3rd = 2011 Sugar Bowl: Ohio State vs. Arkansas, yelling F*%K you to Mark May made my life
COLLEGE FOOTBALL PLAYER: Troy Smith, Beanie Wells, Chris Spielman, James Laurinaitis, Orlando Pace, Nick Mangold
COLLEGE BASKETBALL PLAYER: Aaron Craft, Jon 3Bler, David Lighty, Mike Conley Jr., Mark Titus
NFL TEAM: Bengals
NHL TEAM: Blue Jackets
NBA TEAM: Spurs
MLB TEAM: Reds
SOCCER TEAM: 'Merica
Recent Activity
I was wondering what about his statement as currently read would earn him the DVs.
The Ohio State University. Otherwise, I'm happy he is joining the family.
And I am bouncing into the weekend.
Despite the rockiness of the past couple of day, they are still The Best DAMN BAND in the Land!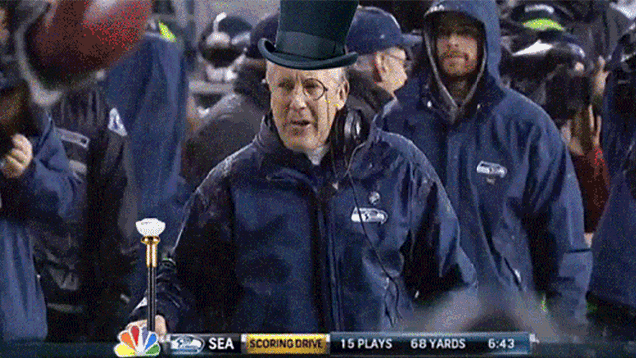 Guess I'm going for a stroll around the block. (And based on today's poll, the majority of the 11W community joined me; only 46% agree 100% that he should be canned).
He said bad words. He did not call the kid bad words though. Pretty important distinction.
I wish I could upvote you Michael. My mom and uncle were coaches for various sports mainly for my sister (soccer, volleyball, softball). They always made the distinction that they were not yelling "at" the player but yelling "to" the player, if that makes any sense. Giving them constructive criticism and instruction to improve, not berating them (though they never cussed since they coached high school and younger, and in view of the "public" and their younger son/ nephew - me - on the sideline).
I'd assume hypothetical, but it could also be referring to the "touching of his plume" to the ground. Who knows.
It's ok because it's a cat.
That is how I feel.
Suspend, dock pay, etc. and have oversight to see that this stuff comes to an end, and if it doesn't in soon enough fashion, then fire him.
Nick Mangold and ... JB Shugarts
Very true. By reprimand, I more mean a suspension, reduced pay, etc. I shouldn't have put the "and/or" there; it should be just "and",
Let me be clear, I'm not condoning the culture. I just think he should be given a chance to improve the culture after a warning, reprimand, suspension, pay-cut, etc. Within a certain time frame, if things don't improve, then fire him. Firing him straight up is too severe in my opinion.
I didn't see anything horribly wrong except for the "tricks" and maybe some of the conduct on the buses. However, I've also read that this sort of thing has been tempered down recently under Waters. I was never in the band, but based on what I read, it didn't seem worthy of him being fired; reprimanded and given a warning to improve the culture, sure, but not fired.
The slippery slope argument isn't necessarily fair. You could apply that to a lot of things. Anyways, I'm just of the opinion that a reprimand, dock in pay, and/ or warning to improve the culture or we will fire you is more warranted for this type of stuff. If he was warned previously, then sure I am ok with him being fired, but I don't know if that is the case.
Orders of magnitude difference between rape/ child molestation and in general, friendly hazing that is occasionally taken a little too far.
The one thing in the report that I could see needing to end would be the "tricks" part. Nothing else seemed at all "fire-able" especially when things were not mandatory to do.
Couldn't the university have told him to stop this conduct once and for all/ get more involved instead of just firing him?
Tits McGee must be on vacation.
He must be assuming a normal distribution.
You could easily say the same thing for Calipari at Kentucky.
It's not like his actual daughter (in red) is hideous. She's not bad.
It would have to be. No other reason to do it. One-ish night games a year is not enough to warrant permanent lights. But 2-3 or more is. Also concerts and other things?
Maintenance/ cost is the biggest reason for them installing field turf. My freshman year, 2006, they replaced the turf four times in one season. You can imagine the cost. Then it was removed in one fell swoop after The Game by many people. I got a piece of the sod but accidentally left it in my dorm room over break and it was subsequently thrown out.
They market it a lot because if a building the size of Ohio Stadium with the number of people they have can go near zero waste, so can Jack and Jill six-pack at their home. Ohio Stadium and the Scarlet Gray and Green initiative are serving as examples.
I have no problem with the implementation or the marketing of it.
He could be in the Mechanical Engineering Department and doing research with respect to biomechanics. Just as a person in the materials science and engineering department can do research on biomaterials. Neither of which have to be in the biomedical engineering department.