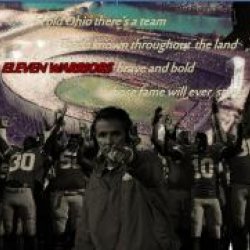 Buckeye Elite
---
Member since 27 May 2013 | Blog
Helmet Stickers: 108 | Leaderboard
Favorites
SPORTS MOMENT: Kenny Guiton's game tying drive against Purdue in the 2012 season.
COLLEGE FOOTBALL PLAYER: A.J. Hawk
COLLEGE BASKETBALL PLAYER: Aaron Craft
NFL TEAM: Cincinnati Bengals
MLB TEAM: Cincinnati Reds
Recent Activity
Should we be on GREY BOX watch this weekend!!
Would love to see Mewhort get drafted by the Bengal and for that matter any Buckeye get drafted by any of the 32 teams this May.
Someone who has coached under Urban like a Zach Smith, Vabrel, Warriner, Herman. I would love to see Zach Smith it would be pretty cool to have him be the head coach at tOSU like his Grandfather.
This is the dumbest rule anyone could ever come up with. Saban is just mad because he has had trouble with up tempo offenses and Brett is jus Brett. If he wants 10 seconds go to the NFL and leave college football alone. The next thing we know football will become a no contact sport. The faster the better. Go Bucks, Bama Sucks!
Urban all most always gets the guys he wants to part of the greatest university in American. Great get if he commits.
Lock could be the second QB taken in this class. I can see Urban and Co. taking Gibson or Wimbush and a second tier guy like Lock who is more of a passer but with ability to run if need be. This could be the best class for Urban at tOSU.
I expect him to get an offer at FNL and commit on the spot. He plays football in Urban's backyard basically so I do not think Urban will let him get away.
I can definitely see him get an offer from tOSU . He is big and fast and high points the ball well, the perfect red zone threat we lack. Urban loves big receivers who can catch, run and block. Would love to see St. Brown in S&G.
They need a center, depth at DB and S, trade the law firm for draft picks, get a new QB and head coach then they will be a real threat. Dalton is the most inconstant QB I have ever since and Marvin Lewis has been given 11 years to do something with the Bengals and has not. Green-Ellis is an ok RB but lacks elite speed to break long runs and Gio is not big enough for even every down back. The DB's are old 3 of them are over 30 and Dre Kirkpatrick has not lived up to the hype.
1st- Hyde/Shazier/Roby in that order. 2nd- DB 3rd-7th best avalible player
He has great speed off the edge. He also causes a lot of turnovers. He reminds of RDS and he said that if he were to come to tOSU he would fill the RDS role but it sounds like Auburn will be tough to beat for Holland.
He sounds like a very down to earth kid with a great attitude and work ethic. I hope he choices the buckeyes but if not you can't help but to wish him luck because of how well rounded he is.
I think if all 6 of the players from the Bucks have a good combine and good interviews they all could be drafted or at least be on a team going in to fall camp.
I hope it is a long and successful marriage for Johnson and The Ohio State University. GO BUCKS!!! We got a great teacher and recruiter and legend. I can not wait to see the things and improvement that he will bring to the good guys!
Thank you. Sorry for the repeat topic I posted from my phone
I can't wait until the spring game to see the look of our defense. I really like how Ash said "You play fast, you play with reckless abandon, you're physical, you throw your body around," Ash said. "There's no hesitation, there's no confusion. You know exactly what you're doing. You can react to your key and there's only one speed – it's full speed. That's the way we have to play." This is how you play defense! Go Bucks!!!!
Welcome to the family. He hits like a ton of bricks. This is a great pick up.
Catches the ball very well. Could he play LB at the college level. With his size I believe he could play on either side of the ball. Can not wait to see how his recruitment goes. Someone will be getting a good player.
He is a good athlete and runs hard. I would of like to have seen him catch the ball especially if he is going to be a TE. He has good speed for someone his size. I hope he gets an invite to camp at TOSU. If we offer he would commit on spot I think.
One of the greatest Ohio High School coaches ever. He has changed and impacted so many lives in Cleveland.
Cole has good size and speed. Great ball skills to locate and break up passes and can tackle in the open field. Very impressed with his tape and he has the size we are looking for at CB at 5'11" and 170lbs. He could easily at 15-20 pounds to his frame.
Has to be very smart to get interest from Ivy League schools. If he walks on he could be a kid to watch to be put on scholarship later in his career.
Very impressive tape on this kid, could be moved to Wide Out or Safety in college.
I agree with you. Hubbard will probably RS and also I believe Berger will RS coming of an ACL tear. I can see him doing what JT Barrett did this year. I think the LB competition will be wild open this spring and going into fall camp I think Kwon is running first team MIKE, with Mitchell moving to Will or SAM and play the RDS role with Johnson or Perry playing the other OLB spot. I also see Booker in the two deep at OLB along with Lee.