Buckeye On Elba
---
Member since 03 February 2014 | Blog
Favorites
NFL TEAM: Cleveland Browns
MLB TEAM: Cincinnati Reds
SOCCER TEAM: Columbus Crew, Bayern Munich
Recent Activity
I bet it really puts a chip on his shoulder that Bovada gave him such long odds. That's okay, he relishes the underdog role. He'll take the job five times just to show them.
Bosa mauls All-fenses. Equal Opportunity Mauling.
I don't have any idea what that show is, but I immediately feel happy that I've cut the cord. Is this "The View" of sports?
And he's always telling stories about this really big drum he has and picking up and replacing all the rolls before finally choosing one. Just move through the line, man.
I had a similar thought, but said, "dammit, Purdue..."
In my hometown, I knew a guy who, while trying to be a good neighbor, went ahead and fertilized his neighbors lawn after he did his own. Except that it wasn't fertilizer, it was roundup, and then neither of them had any grass for the rest of the summer. I always wondered how I would have reacted if I were his neighbor. The guy tried a solid bro move, but it really backfired. I think this kind of thing happens more often than we think.
I like it when DJ decrees these things. The Marionaire has spoken, and so it shall be.
Oh I agree. I was more commenting that, in a vacuum, the comment about not grading receivers on drops struck me as odd. I think Run Fido Run below me makes a great point below on the way Urban wants to motivate the players rather than scare them. I was very impressed with Campbell's performance overall, and had been hoping he'd get a chance to play this year after hearing great things about him last year on the scout team.
He's been my avatar for too long. I'm so bad at golf.
I wondered about that, too... That seems like one of the main parts of being a receiver. Regardless, I'm still happy to hear that because Parris seems to block like a mini-Evan Spencer and is blazing fast. Hopefully he'll make the most of his chances against Hawaii. Good to hear about his off-field traits, too.
We'll find out when they run out for the first snap.
As is tradition, I predict South Carolina gives rise to this year's three week phenomenon: Marquise Trilliams.
Some skills can't be taught.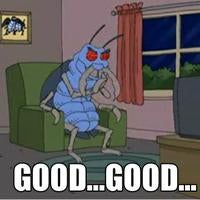 I always forget that Tim Beckman exists somewhere over in Illinois. I was supremely worried this post was about Tim Beck, man, the OSU QB coach. Deep exhale.
It's great to hear about this young man's character and leadership aside from traumatizing backfields as well. Who knows what kind of an impact he will play in the coming class, but I did notice one Rashan Gary (#91), Cooper's roommate for the week, was one of the first to congratulate him after that last move on Onwenu. Obviously I should temper expectations and not read into that, but man this offseason is dragging and the world is so dull...
Congratulations to Mr. Cooper on this ratings recognition and honor.
I agree, and to add a point of comparison - Indianapolis. I drive through Indy all the time and it has this alternative rock station (103.3?) I always end up listening to because there is nothing else on. That station, while not actually bad, generally reflects my view of the differences between Columbus (young, vibrant, more in tune with new developments) and Indianapolis (older, kind of stale, Mumford and Sons on repeat). CD101 may not seem like a particularly important piece of Columbus' art scene, but I would argue it does for music what the Short North was intended to do for art and local business and is a valuable part of a growing and up-and-coming city.
Though also I generally dislike Indy and that may skew my viewpoint. Blast the speed limits on 70. /end rant
I'm glad you liked it, too, Brutus. I hadn't really seen any football highlights from this year before I stumbled across this one today. I agree we need to just get him on the field so he can get to terrorizing.
Wow. Watching those basketball highlights he's just a man among boys, swatting off defenders like gnats. Then I watched his football highlights from this year and he did the exact same thing. Yikes. Glad he's coming to the good guys.
Here are some tantalizing gridiron highlights.
Or you could get a over-excited and wake up Sunday to realize you don't remember the second half of the game. Poof - The mythical Buckeyes on a Sunday. Sunday is saved.
I'm so glad this has become a recurring meme on this site. It's too good to be relegated to its original post only.
The Jurkovic issue confuses me so I'll sit and ponder it quietly to myself.