Buckeye On Elba
---
Member since 03 February 2014 | Blog
Helmet Stickers: 456 | Leaderboard
Voting Record: 826 / 4
Favorites
NFL TEAM: Cleveland Browns
MLB TEAM: Cincinnati Reds
SOCCER TEAM: Columbus Crew, Bayern Munich
Recent Activity
Some skills can't be taught.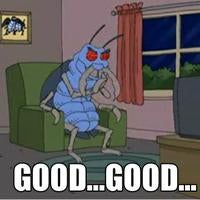 I always forget that Tim Beckman exists somewhere over in Illinois. I was supremely worried this post was about Tim Beck, man, the OSU QB coach. Deep exhale.
It's great to hear about this young man's character and leadership aside from traumatizing backfields as well. Who knows what kind of an impact he will play in the coming class, but I did notice one Rashan Gary (#91), Cooper's roommate for the week, was one of the first to congratulate him after that last move on Onwenu. Obviously I should temper expectations and not read into that, but man this offseason is dragging and the world is so dull...
Congratulations to Mr. Cooper on this ratings recognition and honor.
I agree, and to add a point of comparison - Indianapolis. I drive through Indy all the time and it has this alternative rock station (103.3?) I always end up listening to because there is nothing else on. That station, while not actually bad, generally reflects my view of the differences between Columbus (young, vibrant, more in tune with new developments) and Indianapolis (older, kind of stale, Mumford and Sons on repeat). CD101 may not seem like a particularly important piece of Columbus' art scene, but I would argue it does for music what the Short North was intended to do for art and local business and is a valuable part of a growing and up-and-coming city.
Though also I generally dislike Indy and that may skew my viewpoint. Blast the speed limits on 70. /end rant
I'm glad you liked it, too, Brutus. I hadn't really seen any football highlights from this year before I stumbled across this one today. I agree we need to just get him on the field so he can get to terrorizing.
Wow. Watching those basketball highlights he's just a man among boys, swatting off defenders like gnats. Then I watched his football highlights from this year and he did the exact same thing. Yikes. Glad he's coming to the good guys.
Here are some tantalizing gridiron highlights.
Or you could get a over-excited and wake up Sunday to realize you don't remember the second half of the game. Poof - The mythical Buckeyes on a Sunday. Sunday is saved.
I'm so glad this has become a recurring meme on this site. It's too good to be relegated to its original post only.
The Jurkovic issue confuses me so I'll sit and ponder it quietly to myself.
So the baby's name is "Evin"? Or "Devan"?
This makes me so happy that Urban chose the golf cart pizza. Saban's resulting picture would scorch retinas.
Hoss "four uhn oh savuhn."
I actually don't mind this kind of thing. It's been a long offseason for us all, buddy, and the dog days of baseball make us all go a little cross-eyed and long for better days.
Both had lovable Aussies on the good guys' team.
Back to the drawing board, everyone.
I watched it for far too long and turned up my speakers far too loud. RIP my eardrums when I changed back to Spotify.
If you're into British comedy, Peep Show is phenomenal. I've watched every episode multiple times. Just hilariously good, though really quirky and will occasionally give you anxious dreams if you watch too much of it before bed.
Thanks. It seems like an interesting sport, especially so far...
I have very little idea what's going on so far, but I like the looks of the scoreboard. Let's go Buckeyes!
There have been many times I've wanted to upvote the writers here, but this has jumped to the top of my list of said times,
Glad to see Spencer get picked up, too. Great team player and hell of a blocker.
As long as it doesn't disrupt MACtion...
"Salmon Right In The Potus!
Go home, Jameis. Not here.
This is a brilliant bit of perspective. +1 to you, sir.
Maybe she had just ordered a really big spinach and kale salad, sans dressing? I will imagine it was so. In this imaginary world, I apologize to heart surgeons for the lack of business.