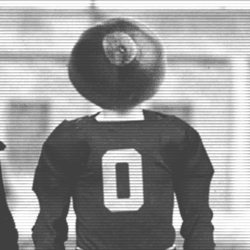 Buckeye-in-DC
---
Washington, DC (via Cincinnati, Ohio)
Member since 04 June 2013 | Blog
Helmet Stickers: 145 | Leaderboard
Favorites
SPORTS MOMENT: a few best moments: beating Criami for the title; being in the Shoe for the win over scUM in 06 (#1 v. #2) and for Braxton's coming out party in the win over Wisconsin in 2011
Recent Activity
i agree. but to clarify, we haven't been able to fix the secondary over the past two years. not hating, just observing.
"six games into the season"? heck, after the Michigan game *one* week ago, folks were still in denial about the defense (and echoing LF's "we won, didn't we?" line and sentiment).
seriously. i thought he was gonna get canned based on this season (and the last several) even before he dared them to fire him. how on earth do you not fire a coach with his body of work and who dares the school to fire him? shows that NB either has no balls or, as the title of this post implies, has no options! too bad for NB (and the B1G)!
+1. i'm a big "delay" guy for the same reasons -- two sons at home, a 3.5 yr old and a 15 month old -- and frequently try to avoid seeing the score until i sit down to watch (which sometimes means avoiding my phone, the computer and all TV until sunday evening!)...
BTW, i wasn't assuming Baylor jumping the Bucks - I was just commenting on the odds that Baylor wins out, which I assumed were pretty low until they throttled Oklahoma...
makes sense.
i too assumed there was no way Baylor was going to win out. but, i thought they looked pretty legit in dismantling then-#10 (but overrated) oklahoma...
i agree.
that said, and for what it's worth, anyone else bothered by the fact that per those stats, baylor has a better shot of playing for the title than osu?
for more comedic value, check out this thread on mgoblow where they're talking about wanting to hire tressel!!
http://umgoblue.com/talk/Official-UMNebraska-Game-Day-Thread-m238775-p11.aspx
ha, worth watching (for some comedic relief since it looks like bama is about to roll):
http://deadspin.com/what-1461654747?utm_campaign=socialflow_deadspin_twitter&utm_source=deadspin_twitter&utm_medium=socialflow
did anyone else hear him (or Vern) say "roll tide!"? imagine if an announcer said "go bucks!" while calling an OSU game?! would never happen...
hopefully that catch is a sign of good things to come!
anyone else see how many empty seats there are at Miami tonight? primetime game on a saturday night and there are a ton of empty seats. rain or no rain, that is WEAK...
yep. you obviously worry about saban's halftime adjustments, but then again, miles could make some too. but, if it's a repeat of the first half, LSU's definitely got a chance...
argh, bracing for another late night!
anyone else still really nervous? argh!
i was stoked when i saw that free bulletin board material! looks like karma might indeed be a beotch!
fumble and Mariota hurt. hard to imagine a better combo on one player (other than a pick six i suppose)!
beat me to it. this way he can issue what looks like a denial that is technically true but misleading (e.g., the report is that he already interviewed for the job when in fact he is only scheduled to, hence the report is technically "inaccurate") but is, in fact, a non-denial.
I might be losing my mind, but I thought I heard/read recently that Michael Hill had been suffering through some injury that was going to lead to a redshirt (or medical redshirt)? In any event, good news that he's climbed into the two-deep.
Unrelated to the DL, but what ever happened to Corey Smith, the WR JUCO transfer who as I recall flipped from Mississippi to OSU? Wasn't he supposed to step in right away to help with the WRs? Not that the WRs need any help this year, which may be why Smith hasn't made any noise this season. That said, I haven't even heard his name mentioned a single time since the season started...
FWIW, I think the answer is (technically) yes, and here's why.
The rule, based on the limited research I've been able to do at work :-), uses the word "player," not "defensive player."
For example, rule 9-1-3 says "no player shall target" using the crown of the helmet, and rule 9-1-4 says "no player shall target and initiate contact to the head or neck area of a defenseless opponent..." (this per the american football coaches association, whatever that is; see http://www.afca.com/article/article.php?id=2342)
Assuming that website correctly quotes the rules (which I'm still trying to track down), and they do indeed say "no player" may target (and reference "a defenseless opponent" as opposed to "defensive offensive player" or something similar), then I believe the answer is anyone can be flagged for this foul...