buckdubbs007
Member since 22 July 2013 | Blog
Helmet Stickers: 136 | Leaderboard
Favorites
SPORTS MOMENT: 1. Cie Grant pressure on Ken Dorsey for the final play to win the 2003 Tostitos Fiesta Bowl
2. Braxton Miller to Devon Smith, Wisconsin @ tOSU October 29 2011 TD to win the game
3. Kenny Guiton, Purdue @ tOSU October 20 2012
COLLEGE FOOTBALL PLAYER: Joey Bosa
COLLEGE BASKETBALL PLAYER: LaQuinton Ross
NFL TEAM: Miami Dolphins
MLB TEAM: Cincinnati Reds
SOCCER TEAM: US National
Recent Activity
This is not Vegas, and is in fact the internet.
Appreciate it but I am still not changing it. I am not here for the hits, just here to help anyone out that does not have access to watch the games live, mostly service men and women overseas as it was one of the things that I personally missed most when I was in their shoes.
I always list Ohio State first, as that is the natural progression of all things.

1. Ohio State

2. Everything Else
There was virtually 0 run defense in that game from Cincinnati.
unrelated to the bad play, lol that is my game capture the youtube user uploaded to their channel... audio was out of sync until I fixed it. here is the proper file with synced audio, uploaded by me ;)


How long did it take you to find the game and where? FYI, I do the torrents over on buckeyeplanet and I usually get the game posted on the site in HD within a day of it airing (the only limitation being me actually at the game in which case it may be the full day's wait). Just letting you know that in case you did not.
https://www.change.org/p/ncaa-return-the-vacated-wins-to-ohio-state-football-for-year-2010-11
probably worthless but what the hell.
This was good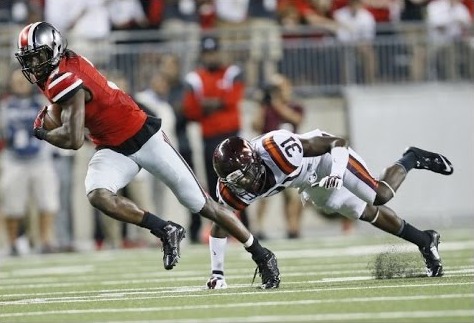 It is hard not to play Frank Gore... but when you have Hyde as the backup it makes it a whole lot easier for sure :)
Roll Hyde!


Neither of which hold a candle to the powerful Dan Smith
Comical... until its not after it materializes into reality. :) Good luck with that.
So you join an Ohio State forum to roam around and troll it's members posts... that's cute. I can't wait to make you eat the [Mark May] out of your words Sunday morning. GO BUCKEYES!
Dude... you played william and freaking mary. I enjoy your enthusiasm but I still think we are going to beat the f*ck out of you. Have fun.
The one time i actually bought B deck tickets hooray for me
Yeah I am in the same boat as you, all my UC fan friends just WISH that tOSU would make a rivalry with UC.... they would quickly reverse their stance on that desire after the second or third trouncing I think.
Damn missed it, is there a link somewhere that has this?
Hell I would want it if not for anything else, just for the SWAG factor