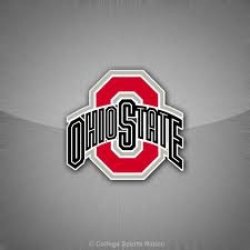 BuckAlum09
---
Columbus Ohio (via BuckeyeNation)
Member since 25 February 2013 | Blog
Helmet Stickers: 131 | Leaderboard
I love Ohio State. The tradition, the school, the sports. All my input is for the betterment of our great University and Athletic Program. I put no 1 man above the success and betterment of The Ohio State University.
Favorites
SPORTS MOMENT: The Game 06... Me and my piece of turf and 100,000 crazy buckeyes singing Carmen Ohio on the field.
COLLEGE FOOTBALL PLAYER: Anthony Gonzalez
COLLEGE BASKETBALL PLAYER: Aaron Craft
NFL TEAM: Quality Character Quality Player
NHL TEAM: Columbus Blue Jackets
NBA TEAM: No Thank You
MLB TEAM: Red Legs
SOCCER TEAM: CREW
Recent Activity
I would recommend driving in Friday night.
Espn and the tag alongs blew 2.5 sentences regarding Braxton way out of proportion. He never committed to Braxton starting at QB in 2015. Watch the presser. It was a loaded question and a baited controversial response. People need to chillax.
My opinion? If Urban cares for Braxton and Braxton cares about his future they'll play him in his best position... A position that he'll actually play in the NFL.
Anyone else watching this and relieved that there wasn't instant replay back then for that touchback interception and a couple fumbles?? Haha just a purer game back then! Loved the defense.
He has 14 followers... total... Sooooooo I'll just go on about my life now.
When we rebound I think the credit will go to (in this order):
1.) Added pressure from Urban demanding an overhaul or bust.
2.) Luke Fickell answering the call and putting his best plan to the test under the spotlight of #1
3.) New staff additions bolstering the already quality staff and years of top 5 recruiting classes. Young ones will step up this year.
Great topic, great question and some great answers in this thread. Happy to see there are still worth while discussions here. I got worried for a couple months! Go Bucks!
Clearly just another topic created for the sake of a helmet sticker...
Hey so just a thought, but what if Braxton decided to just sit out his senior year and be the OC for us? He knows the offense really well and his experience will really resonate with the younger QB's. Not saying it could happen, but it could happen.
One of 100 questions that's been answered 100 times in the past 3 months... also easily answered using www.google.com
Some guys just like the sound of their own... uh... fingers
Saban is a joke?
Yea I bet he laughs real loud every time he walks past his trophy case.
Choice words my man.... Go Bucks.
Torrance Gibson is having a blast on twitter retweeting fans from various colleges that are stroking his ego.
He'll be a great addition for 2015! If you have twitter and some free time, shoot some love his way. I've read that this is Urban's #1 project for next years class.
You can't be serious. That's just a ridiculous statement.
Placing Braxton above Vrabel is placing 1 player for 1 year over the future betterment of the program. This topic is insane.
Oh so Braxton will be favored over Winston for the Heisman next year?
Yea I kept my mouth shut on your overrated comment but now I just have to ask you if you're on drugs.
MSU will be back in zone immediately after that back door to Smith
He's definitely visibly uncomfortable
Sam Thompson is terrified if he gets the ball anywhere besides midair on the way to a dunk... Watch him.
That was Lenzelle being lost on defense due to waiting on a foul to be called on the other end.
Yes... Dakich just used Carte Blanche in relation to pressure defense.
Here's how you don't wear a shirt and tie combo - Dan Dakich
Gonna be one of those "All Lenzelle" type of evenings
That might be the first 5 second violation in Thad's tenure... I'm dead serious I can't remember that ever happening.