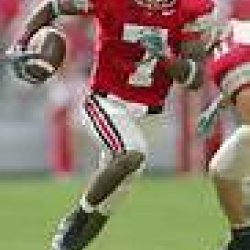 Buckabroad
---
Member since 15 March 2013 | Blog
Helmet Stickers: 1,245 | Leaderboard
Favorites
SPORTS MOMENT: Holy Buckeye
COLLEGE FOOTBALL PLAYER: Ted Ginn, Jr.
COLLEGE BASKETBALL PLAYER: Jim Jackson
NFL TEAM: Tennessee Titans
NHL TEAM: Nashville Predators
SOCCER TEAM: Hannover 96
Recent Activity
Love this kid's potential. Definitely one of my favorite recruits from 2014.
Thanks for posting! Really like seeing two very highly ranked OL-men from Ohio that seem to be early OSU leans. We really need to make sure both join Buckeye Nation.
Just my 2 cents worth, but I think we need him in any case. Most of the great talent we are looking at seem to be OLBs. Conner would tend to be more of an ILB who would be great against the run. I think we need at least one more LB in that mold.
Just so. Don't get me wrong, I give MSU a lot of credit for a good B1G championship game. But an OSU defense should never give up 30+ pts. to that offense. Our lack of pass coverage gave them too many easy points. I think we have the speed on both sides of the ball. Once the coverage issue gets fixed, we should be able to extend the time our O is on the field and wear opposing Ds down. Then the culture of speed should really show.
I agree with Mr. Schutt's assessment of the D-Line.
To me either one would be in trouble in real action, because the O-Line really seems to be a work in progress. I would tend to go with Barrett though, as I feel he is the better all-around QB and has the bigger upside.
Would love to see one of these e-tough guys say that to RDS' face.
Saban is a fantastic coach and recruiter, but given the choice, I would always prefer our Coach Meyer. Intelligent, charismatic, driven, disciplined and dedicated. Coach Meyer has it all.
Viel Glück und Erfolg wünsche ich Dir!
Horrible news. My heart goes out to her and her family. KeithMC is right to say that we should be conscious and appreciative of all we have.
Damn, that is awful News. Loved this guy when I was a kid growing up.
That is a pretty good point, too. Still, for this year at least, I think 4 would be justifiable. The LB play has not been up to OSU standards lately imo and with RDS gone (and Curtis Grant soon to be gone), an injury bug could leave us short. Adding Conner would give us another good ILB prospect in the future. It indeed will be interesting to see if we use a 4-3 base or more of a 4-2-5 on D this year. If the latter prevails, I have to agree that it would be hard to argue your point.
Those would be the three to watch out for imo as well. Maybe we will be lucky and welcome one (or more) of them to Buckeye Nation soon.
This is a good point. We must make sure that our LB issues get fixed. Four LBs in this class would not be unreasonable imo. If we take four, I feel that we should try and sign Conner quickly. Also, we should try to bring Sh'mar Kilby-Lane and Jerome Baker (both extremely talented guys) on board as soon as we can. These ships otherwise could sail for other harbors. As so often with 5-star guys, we will have to grind it out for Hilliard and hope for the best.
Agree with this. Conner seems like a great pick-up at ILB. Would hate to see him sign with the competition and blow-up.
Eze: "My first pair" [emphasis supplied]
Love it!
I think McMillan will be the next Bosa. I also think Samuel will find time in the Slot and returning kick-offs. Knox probably will make the 2-deep on the OL. I think he will be a good one.
A good day for the game of football.
Don't we have a final game against some Team up North? Oh right, you said big games.
Great write-up. Damn am I going to miss El Guapo.
If van Jefferson really is trending our way that would be incredible news. Hard to understand why he is not rated higher. He seems to have it all to me.
Gotta get me one of those Swagcopters (in S&G, of course).
Really happy to see Lewis name us his leader (for now). Great speed and a malevolent hitter. He belongs in OSU's secondary.