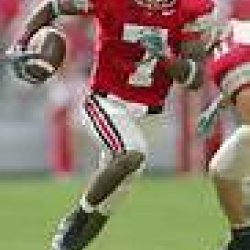 Buckabroad
---
Member since 15 March 2013 | Blog
Helmet Stickers: 4,662 | Leaderboard
Voting Record: 1013 / 1
Favorites
SPORTS MOMENT: Holy Buckeye
COLLEGE FOOTBALL PLAYER: Ted Ginn, Jr.; Vonn Bell
COLLEGE BASKETBALL PLAYER: Jim Jackson
NFL TEAM: Tennessee Titans
NHL TEAM: Nashville Predators
SOCCER TEAM: Hannover 96
Recent Activity
Thanks guys. I'm a frustrated playwright I suppose.
If you're right, you're right. And I'm only doing it behind my screen name. I hope that anonymity saves me from the worst of the fallout.
That's just it. TTUN's "resurgence" is nothing more than a transient glimmer of hope based on insubstantial assumptions and fleeting illusion at this point. Ultimately, even for TTUN, success will have to be measured in hardware. Ohio State has an NC, wins over top teams and an undefeated season after three seasons with Meyer at the helm. What will JH have other than his well-documented insanity I wonder?
I agree with FitzBuck and I have been thinking about this for a while. I hope Coach Meyer sees that he has a historic chance to decimate TTUN for a very long time. If Meyer puts down "savior" JB now, TTUN will have no tangible hope left to focus on.
Better late than never where Bosa and Barrow are concerned.
Love nos. 23, 24 and 25. TTUN's total wins are not so important as long as they lose the Game.
Sure, but my comment involved character development as well. On this point, most D1 programs are not the same imo.
My advice to Gibson? Just kick ass.
I agree with this sentiment. For recruits, it really is a simple question of priority. If the first priority is to become the best person and player you can be, then go to Ohio State. If you want to kick back, go somewhere else.
It breaks my heart to see Noah like this. But Noah is a strong kid, both physically and psychologically. He has the support of the greatest teammates and Coaching staff one can have. There is no question his star will rise in the 2016 season. Get well soon, Noah. My thoughts and prayers are with you.
Agree with you. Brown was poised to become a very important player. It hurts to see this after all the work he put in.
Love both guys and we really cannot make a poor decision at the QB spot. Still, I wonder if Cardale's ability to blow the top off of a D isn't just what the doctor ordered against VT... Probably a foolish question, but any chance JT starts in some games, Cardale in others?
At least where TTUN is concerned, I never let the hate go to begin with. Until they die in obscurity and mediocrity, the hate will be there.
Liberal amounts of alcohol in the locker room? Sounds like a plan for success!
That's right. I was beginning to think the pundits look away when Bell is on the field. Why does it take everyone else years to see what we at OSU saw in his first year?
That's it, man.
Our honor defend
So we'll fight to the end
For O-HI-O!
Well, at Rutgers he may finally not have to worry about the depth chart anymore ...
Phi, I concur with the above comments. This post is excellent, easily one of the best I have seen in a long time. I look forward to reading your assessment of the VT offense.
Anytme I even glimpse that USC logo or hear that "fight on" cry I can feel hate encroach upon me until it fills every part of my conscious mind. We have owed those dudes a serious butt-kickin' for sometime now. Maybe this year will be pay-back time.
You are right about wire-to-wire being difficult. So is repeating. But do not fear, Ohio State will do both this year.
We begin as no. 1. Now let us end as no. 1.
Agree with you fully on Perry. Still, not having Lee in the top 3?
I am not sure, but I think some rating services effectively "freeze" ratings of players with bad injuries. If they simply play less, however, I think they tend to get dropped. In Sammons' case, I think he used to be rated no. 4 in Ohio by 247.
Man, Meyer really does have an uncanny ability to find the great ones. Could be (another) rating hike for Mack in the near future.