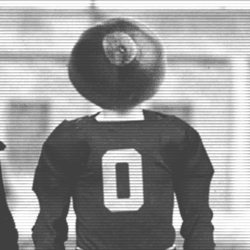 Buck my Nuts
---
from Coshocton
Member since 07 July 2014 | Blog
Helmet Stickers: 132 | Leaderboard
Favorites
SPORTS MOMENT: 2002 Natty
COLLEGE FOOTBALL PLAYER: Eddie George
NFL TEAM: Cowboys
NHL TEAM: Blue Jackets
MLB TEAM: Red Sox
Recent Activity
Sucks to lose LJ, but his teammate that we have for 2016 looks to be the superior talent.
Other than Josh Sweat, Malik is the one player remaining I would love to have. Throw in Kirk too, lol...
I hope 14 is the best, but every year after just keeps getting better! I want an OSU dynasty...
Weathering all the drama with this kid...Step 1
Getting him on campus for a visit...Step 2
Weather more drama until signing day, regardless if he verbals early...Step 3
Have his signature on signing day...INEVITABLE!!!
It's one thing to lose a recruit to Bama or LSU. But to Kentucky? Say it ain't so...
Who is this Torrance Gibson character everyone seems to be talking about?
If Wiggins can be as good as Scottie Pippen, then the Cavs are going to be great for the next 5-7 years
Just curious if anyone on here wanted to sell before I went to one of those sites. But thank you for the heads up!
I think your list is possible. Sweat and Gallimore will be tough, but if we pull that off, the opposition is screwed!
For 2.3 billion, you'd think Dallas could win more than 8 games a year. I'm miserable for being a Cowboy fan!
Name a #1 overall recruit that wasn't talented? I agree that figuring out the most talented players regardless of stars is the name of the game. When these kids become freshman, the stars become irrelevant. But to say name recognition isn't important is ridiculous. Other recruits want to go where other top recruits go. I'm pretty sure every kid who was at the Opening know who Josh Sweat is. Do you think everyone knew who Cornell was (I'm thrilled we have him by the way!)?
I think he was implying there is still a little racism there, lol
I get that we've had highly ranked recruits like the ones you listed. I'm talking in terms of just overall name recognition that would really make a splash. Getting the top recruit is always a big thing.
If we can get Sweat, but that be our biggest get in recruiting since Pryor? I tend to believe it would. Kwon was huge, as was Vonn Bell, but we're talking about the consensus #1 player in the nation who people compare to Clowney!
If Nick is just as good as Joey, I will be more than thrilled. Expecting him to be even better is asking almost too much considering Joey is borderline All-American already...
This looks like Charlie Murphy slapping Rick James! Extensions were flying everywhere!
Heisenberg is the man. Hilliard is such a stud, he may recruit him to play at OSU
Of course they recruit well, but the initial statement was about Vanderbilt and comparing the Big Ten and SEC. Of course our top tier teams need to recruit better to compete with LSU, Bama, Auburn and A&M. Michigan, Penn St and Nebraska usually recruit better than Wisky and MSU but don't do nearly as good cause of COACHING.
And of course I don't believe in the BIg Ten rankings myth, lol.
I like your optimism, but that's asking a lot. Hope your prediction comes true buddy!
Agreed...it still hurts to miss out on Baker, but getting a stud like Malik would ease the pain quite a bit!
But if you look at teams like like Wisconsin and Michigan State, they may not recruit well as far as rankings go, but they get kids who fit their system well.
Besides, people on here say it all the time. If you commit to a Big Ten school, you drop to a 2 or 3 star which screws up the rankings.
1. We will have 5 special teams tds this year...speed kills!
2. Huerman will have 40+ catches...finally a major TE threat
3. Defense gets back to old fashioned smash mouth football...#1 in the conference
4. We beat Va Tech by at least 35
5. Braxton lives up to lofty expectations by winning the Heisman