BTBuckeye
---
Chagrin Falls, OH (via Bainbridge, OH)
Member since 06 April 2012 | Blog
Fisher College of Business grad
Favorites
COLLEGE FOOTBALL PLAYER: AJ Hawk
NFL TEAM: Browns
NBA TEAM: Cavs
MLB TEAM: Indians
Recent Activity
What a time to be alive!
::kermit sippin that tea::
I was trying to post a link, but my 13 month old son had a different idea for use of my time! thx
"There will be blood on my transfer paperwork...but it wont be mine"
His read option game is deadly
His read option game is deadly
Lastest ESPN Power Rankings for the State of Indiana:

Ball State
Purdue
Indiana
Notre Dame
He's tweeting & trending towards the Bucks!
From a Bama writer
Last week everybody was saying star linebacker Baron Browning was headed to Alabama. At that time, due to Browning's scheduled visit to Ohio State for the Michigan game, we were a bit leery of those reports. I knew Urban Meyer wasn't going down easy. Meyer and several Ohio State staff members visited Browning at his home in Kennedale, TX last night. Tide assistant Tosh Lupoi followed up with a late night meeting with Browning. This morning the word is that Browning might announce for Ohio State today. Not sugarcoating that at all, but Alabama already has a very impressive linebacker class. So I feel like if Browning picked Alabama that it would be a bonus of sorts.

I'll remind everyone that Browning's recruitment has taken several twists and turns. But, again, as of now the word is that he'll pick the Buckeyes.
What was harder, studying for TTUN or FIN 620?
Trust in Urbz. Support our kids. Go win the damn thing.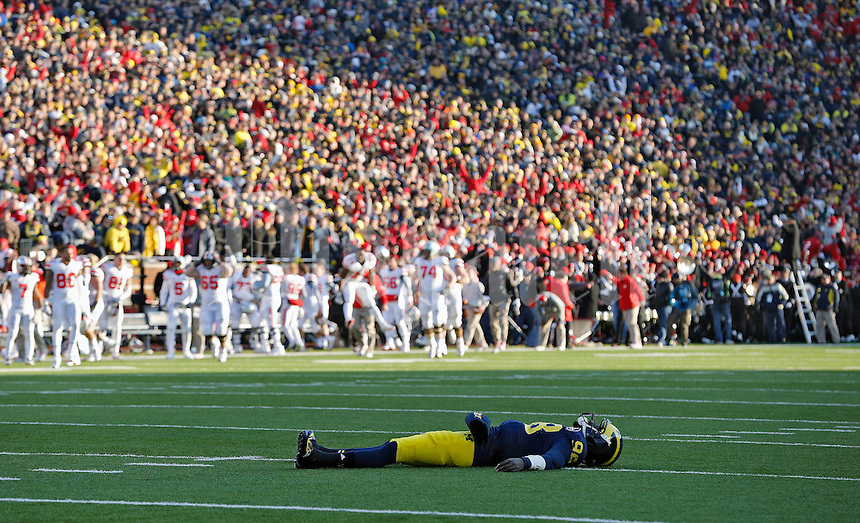 They are a good team no matter how you slice it up.
Alabama leads the SEC in the following:

Total Offense
Scoring Offense
Total Defense
Scoring Defense
Rushing Defense
Punting Average
PAT Kicking
Sacks
3rd Down Conversion Percentage
Plays of 20+
Plays of 30+
Plays of 40+
Plays of 50+
Plays of 60+
Rushes of 20+
Rushes of 30+
Rushes of 40+
Passes of 30+
Passes of 40+
Passes of 50+
Opponent First Downs
Kicks/Punts Blocked
Opponent 4th Down Conv. Percentage
ROLL THAT OKLAHOMA HIGHLIGHT TAPE, Sir.
I know. Man.
Trust in Urbz. Support our Kids. Let's Fucking do this shit.
Also, get ready for that Michig@n grad from the Dayton whatever paper who will run another column on how much an OSU President makes compared to other public universities. Like clockwork. Set your watch to it.
Good for Drake, but Long Live the KING!
I just retried the 10/11 ZD batch and it's still pretty MEH. Maybe it's more than the hops. They recently expanded. Still doesn't taste dialed in. I won't try again until 2017 now.
Let me guess....
Hey coach, I gotta question about Dontre Wil ::click::