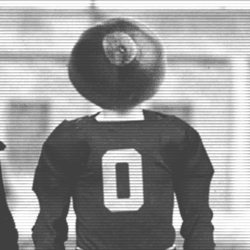 BSTP DeCon
---
Southwest Asia (via Gahanna, OH)
Member since 17 May 2012 | Blog
Helmet Stickers: 1,314 | Leaderboard
What's the cheapest kind of meat?

Deer nuts, it's under a buck!
Favorites
SPORTS MOMENT: Holy Buckeye!
COLLEGE FOOTBALL PLAYER: A.J. Hawk
COLLEGE BASKETBALL PLAYER: Evan Turner
NFL TEAM: Cincinnati Bengals
MLB TEAM: Cincinnati Reds
SOCCER TEAM: Columbus Crew
Recent Activity
It has been a long time since I've seen a high school basketball game. Almost glad I broke that spell.
Eh, this game is over. Got out played, out coached, and didn't prepare well enough for one of the WORST teams in the B1G.
He's not good at all. Why was he the fan favorite again?
Thompson can't move his feet, precisely when craft is 1 on 3. Every time Della Valle shoots, I consider it a wasted possession. Is that bad?
I'm sick of Della Valle. None of our players can even make a free throw. What's going on?!
The stadium better bring extra bags of Cheetos because you know it's going to packed full of potheads. Weed Bowl 2014 (Washington and Colorado being the only states to legalize marijuana)!!
The yards that mediocre quarterbacks would throw for facing our defense.
The woman on the far right, third row up looks like she just pushed out a nice fart. Solid push lol
1 "#BERT" for every Ohio State National Championship!
Really happy to have this kid suiting up in the S&G. Seems like a class act.
We love and will surely miss you, Coach Vrabs! Thanks for the 3 wonderful years teaching our guys how to take off someone's head and best of luck to you!!
I'd have a better idea if I were to know who the coaches would be come next season. If they stay the same, I don't have high hopes for much of an improvement, sadly. If we actually get a defense that attacks QB's and our DB's actually learn to jam the opposing receivers at the LOS and can stay with them, we could be great. Lord knows we have the talent for it, but it's the coaches and their horrible schemes of 2013 that scare me the most...
Your answer is, Buck and your wager is Futter. So there you have it, Buck Futter LMAO!!!
you can... forgot the sarcasm font?
So happy I made that bet with my Chief afterall!!
Winston looks mad scared. Ugh, I shouldn't have made the bet with my Chief claiming the SEC wouldn't win the title again this year... How foolish I am!
Did anyone else when Oklahoma recovered their squib kick at the end? I almost died laughing watching Saban's reaction!
Agree with your statement, 777.
I'd also like to add, that being in the military, there is numerous lists' of banned supplements and banned locations/premises you can be at. If Ohio State doesn't already have such a listing, I think it'd be wise of them to start one in hang it on every corner in the locker rooms..
Fuck Penn State fans.
BOB is a beast.
I still don't understand why people say, "I could care less..."
and people thought preparing Thanksgiving dinner was difficult..
6 month dry spell. Deployments suck. Almost anything looks great right about now lol.
I noticed the blonde in the bottom right picture first.