Brutusbuck6115
---
Member since 03 July 2013 | Blog
Helmet Stickers: 106 | Leaderboard
Recent Activity
55-16 the good guys win in a dominating beat down.
This rule makes no sense to me at all. If they win enough games they should be able to play in a bowl game. Isn't the whole point of bowl games to reward the players for their season? I mean if they didn't switch to FBS then they would have been able to make they playoffs for their hard work. This is just plain stupid.
Perhap he was trying to say weiner.
That's great. Now if they can figure out how to block the correct person they might have a chance at beating fsu.
Those who can't do, coach. Those who can't coach, clap. - brady hoke.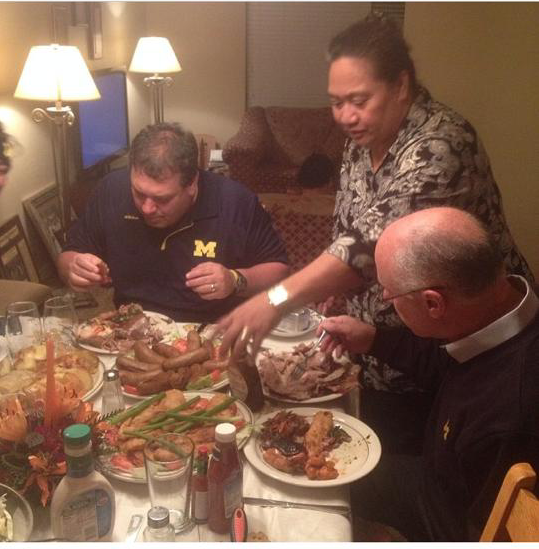 I predict hoke doesn't arrive at the ga_e due to prior obilgations.
True that. This scene is actual footage of a fight Troy vs 0-4 hart. In fact this is the entire fight. ttun tried to doctor more footage that hart had a co_e back but we all know thats not true. In a unquestioned decision Troy kept his title of wolverine Slayer!
Troy being honored with the other Greats is aweso_e. He will always be one of my favorite players. Especially after putting that tea_ in its place 3 years in a row. Congrats, Troy (The wolverine Killer)!!!
Urban is a _aster flipper. _ake it happen.
It wasn't pretty but I'm proud of this team for coming back for the win.
Gotta love Marshall's fight today.
Pick!!! That's what we needed!
Marshall is playing with some fire.
Congrats Eze!!!
I don't know if this would really count but if they win the national championship and you include the spring "game" they will have played 16 live games.
My thought on that is haters are gonna hate and I don't think bama is gonna go away for a few years. So with all of that hopefully that will put a chip on their shoulders and we crush bama next year. Eventually they will have to except reality if we keep beating them on the field.
I found this great tidbit on 247 sports from a tenn fan. about his commitment. I thought it was quite hilarious how delusional they are. bwoods 1744 posts12 hours ago via Mobile We haven't been actively recruiting the guy from what the mods been saying over the past couple months. Heard he is projecting to be a guard at the next level, we need tackles. Only reason he was considering us was because of Khalil McKenzie made him his bitch at the opening and he said he didn't want to play against him. But it feels good knowing how much UT is in you guys head
Going off your question. I saw that you recently crystal balled Harris to kentucky. Do you think Burrells could impact that now or do you think he is gone?
It's just sad that there are fans out there that will do this to a player on a team they claim to support. Jalin is out there working his *as off to become a better player and help his team to win championships. I have no doubt that every beloved player from the past has had an off day and made a mistake. But what those players did was go back to work and become the player they are. I proud of Jalin of what he has done so far this year and I have even more respect for him to ignore those so called fan and go back to work to improve himself. Hopefully Jalin will take one to house against the hoosiers and gains the confidence to become one of the best return man in Buckeye history. Go Bucks!
The obvious bias shown here.
http://www.elevenwarriors.com/forum/ohio-state-football/2014/11/43898/expecting-espns-selection-committee-to-punish-ohio-state
Well let me start with the good guys and OSU and overcome turnovers and win the game. TCU is not as good as advertised against a crappy Kansas team. Kansas is no where near Minnesota. Neb is not that good unless their Rb has an awesome game. Wisc. Is kinda scary with their run game but they once again crushed the huskers. Both msu and bama are fruads. Good teams but frauds. And right now Miami is beating a team that it should not be in but I guess ​breaking laws is not against the NCAA just selling your own items. last but not least is any nd loss is super awesome and should be celebrated everytime.