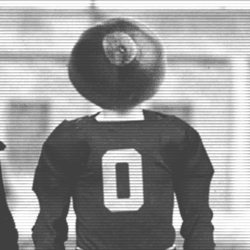 Brutus1972
---
Member since 08 January 2013 | Blog
Helmet Stickers: 648 | Leaderboard
Favorites
SPORTS MOMENT: 2003 National Championship vs Cryami. I was stationed in Germany and was up all night to watch it.
COLLEGE FOOTBALL PLAYER: Antoine Winfield
COLLEGE BASKETBALL PLAYER: Big O
NFL TEAM: Bungles
NHL TEAM: Married to a Canadian, I have no choice but to lik
NBA TEAM: Sixers
MLB TEAM: Reds
SOCCER TEAM: As soon as they get rid of that silly "off side" p
Recent Activity
OSU- Home team, USC, Ole Miss, Fl State, Texas.
I think that Aaron Craft is a terrible offensive basketball player and only an average defensive player. 4 years to develop a jump shot is not too much to ask of a basketball player and he couldn't do it. Hes not fast enough to guard an NBA point guard and not long enough or athletic enough to defend a 2 guard. Great underdog story but certainly not a great. He got away with a lot of contact in the B1G but not in the NCAA tourney.
I wanted to replace Jim Tressel 3 years after the Championship (Before the Florida game). He is a great man and mentor but not the guy I want coaching my favorite football team. I don't like politicians as coaches. Coaches need to be brutally honest individuals that are willing to set and enforce equal standards to all players. Tress was weak when it came to enforcing standards on kids he thought grew up challenged for any of a bunch of reasons. Bad news, they're all on the same team at the same university. If you treat them special, they will act special.
I love college football and I have a favorite team to root for in every college football rivalry. Michigan is never a team I root for even in bowl games when theyre playing a SEC team and im surrounded by SEC homers. I don't care, I don't like them.
There have been a lot of great athletes to leave the high school football fields of Ohio to play at the University of Michigan and it pisses me off. However, I am only actually jealous of two players that left our border. Charles Woodson and Mario Manningham. Woodson was a college god and Manningham looked like he didn't gain an ounce of muscle or ability after his sophomore year.
I don't care how many kids we recruit and sign from the state of Ohio. I want the best we can get at each position and if that is not a player in Ohio, so be it.
I wish that we were an independent. I hate all of the conference bandwagon riding bitches here in the south and im tired of listening to conference bs about recruiting and the stigma attached to it. The Pac-10 sucked when USC was the best team in college football for 5 years and no one gave a shit then, but now its all about conference tv contracts that promote this trash.
I can give you all the coverage of Roundtree that you'll need this year. I'm not sold that he is a 5 star safety but i will let you know what i see. Local news said that he was pushing back his announcement date and that he was also going to play slot wr for his hs team this year. I think that he stays down south but we will see.
The next best answer to an eight team playoff. Unfortunately I think a team that is worthy of the playoff would still be susceptible to being left out because of perception.
8 Teams, 6 Conference Champions and 2 at-large bids. Shorten the regular season by a game or two and make it happen. It's too easy and I have no idea why anyone would argue with it. Higher seeds get the home game for the first round of the playoffs and rotate the former BCS Bowls for the remaining 3 games. I wouldnt need to see early season OOC games if we had an 8 team playoff to settle it at the end of the year. This makes the Conference Championship paramount on a yearly basis which makes the regular season just as important as ever. The only thing stopping this scenario is the $ lost by the former BCS bowls who would be left out of the first round games. They could get their names on it, they would just have to be willing to travel and coordinate the event on a year to year basis. The $ would be the same or better but they're too lazy to recreate the coordination required to put it on in a new location every year.
Offensive line will be our weakness this year especially in pass protection at the OT position. While I enjoy your optimism for Decker's ability at LT I have to disagree. IMO this is the one area Urban has been unable to raise the bar in recruiting talent. I firmly believe that the 2013 and 2014 classes will eclipse their predecessors at every position besides OT. I have no idea why we cant get a top 3 OT to OSU. If he has the frame, I know the coaches and Mick would make him a 1st round draft choice. I really like our interior OL and their grit when it comes to grinding it out. Obviously the OL is as much about playing as a unit as individual talent...until Jadaveon Clowney or that guy named Beasley from Clemson is doing a blow-by on your LT and blindsiding your QB. The LT position has to be filled by a stud athlete and right now we do not have one on the OL. I hope Decker and whoever plays RT prove me wrong but I am not close to being sold at this point.
NCAA relieving itself from a lot of liability is what it looks like to me. Let the bidding wars for recruits start. This is going to get ugly. I bet SMU is really pissed off right now.lol If only they could have waited 35 years or so.
You'll know why when your electricity goes out.
Sweet, now we can listen to more people crying about paying college athletes. Its going to be awesome!
If I didn't do anything wrong, then I'm not admitting, pleading or anything else. .008 is not enough to make that stick for alcohol. Believe what you want but I am inclined to believe that the drug test was bad.
No question the 96 and 98 teams were awesome and probably had the best chance
Make Troy Smith 6'4" or 6'5" and call it a day and its not even close. Krenzel won so he's in no matter what. Germaine was my next favorite signal caller but he was too short to see the entire field also. That.... and he played during the Cooper years and had to split time with Stanley Jackson.lol
I am excited about the defense and the WRs. I am hopeful for the OLine to come together. I am disappointed in Jalin's and Vonn's injuries. I am very disappointed to hear that Trey Johnson may not have prepared in the offseason and that EZE is still playing like a freshman. I am hoping that the EZE thing is just a physchological stab to stoke his fire.
The Defensive Line was without a doubt the strength of our defense. However, I would be very curious as to how many plays this defense was on the field compared to defenses of the past. Giving up more third and longs than any Buckeye defense in the past half century certainly creates more opportunities for sacks and tfl's. Fickel is ours, he isn't going anywhere but lets not act like the LB corps was any better in coverage than the secondary. The good news is that the defense will be drastically better or we wont have to argue about who gets fired. I seriously doubt Urban lets the defense lapse for another entire season before pulling the trigger on someone.
Exactly, fighting over whether or not drinking should be legal is irrelevant. The main problems are that he has an inability to make good decisions and obviously doesn't feel accountable to his teammates, coaches and the University. Those are much bigger problems IMO. I'd say that after you have been caught twice that you would be smart enough to either not do it anymore or much more realistic that you would be smart enough to do it in private and out of the public eye. Selfish and immature about sums it up for me.
He will keep his title as Co DC but they will hire someone as a Co DC who will actually call the shots and run the show. Urban wont hurt Fick's career and pocket by demoting him but he will lessen his actual responsibilities. Head Coaches want their assistants to go on to positions of greater responsibility even if they have to leave in order to do it. It makes it easy to hire the next up and coming assistant if you can show him a track record of all of your assistants getting promoted. That's the kind of guy I would want to work for.
That fact that he had to be forced out is the proof that he is self absorbed. This didn't happen over night. He was asked to step down and didn't want to do it. They had to threaten to fire him. Good Luck to whoever hires Mack as a HC. I wouldn't hire him.
I agree with both. I agree that Luke should be fired from his DC responsibilities but I also agree that single digit hours after the game is not the time. I think that far too many people defend Fickell because they either know him personally or they feel a sense of obligation due to the year he filled in as HC. I'm sure Luke is a great guy and I know for a fact that we all want him to succeed but at the end of the day Luke has failed to earn his paycheck. Anyone saying anything to the contrary is wearing scarlet colored glasses. Luke will be retained for his recruiting ability but he will be stripped of his DC duties even if he keeps the co DC title.
They don't have a top QB for the same reason Mack doesn't have a job. They don't spend the time required to evaluate talent before recruiting. Texas has so much talent and so many kids that grow up Longhorn fans that they don't really have to spend the time recruiting that other schools do, they basically accept commitments at Texas. If he was working as hard and going into as many living rooms as when he started, they'd have a QB and he'd have a job. No way you let that many top QBs walk out of your state on a year to year basis. They didn't even offer Johnny Football a scholarship. You see what he does to college defenses. Now, tell me that if you scouted him in high school that he wouldn't have looked better and warranted a scholly? C'mon, they didn't even scout him and he camped at UT. Mack and his staff got complacent. Without Vince Young Mack is already an after thought at Texas.
Mack is a self absorbed cry baby. All of these articles about "Mack Deserved Better" are BS. He could have went out like a king, took over the AD job and forever lived within the very well paid world of Longhorn Athletics. Instead his ego made them force him to resign. They even had the AD retire early so he could take over the position but that wasn't good enough for Mack. These guys get in those positions at traditional college football powers, have success or win a title and their heads swell to the point where they think that they aren't expendable or replaceable. Bowden's, Paterno's and Brown's programs all needed them to move out of the way for progress and none of their egos would allow it. This crap about a coach being able to leave when they want to is a bunch of crap. I can see it buying you an extra year or two but not getting it done is not getting it done. Now, Mack's sulking because his ego is hurt and he's trying to stir up a pity party and demand more than hes owed. "Hey Mack, if you want to get paid, see who else will hire you".
I'm over the loss, just not over the continuous lack of execution on the defensive side of the ball. How someone was not fired mid season is still a mystery to me.
Although beating scUM is of the upmost importance every year, I do not think that we should be using their program as a measuring stick for our teams success. We all know who and what teams are wearing the college football crown these days and it isn't scUM. We need to get those teams on the schedule and win in Bowl/Play Off games if we want to be considered successful. Beating up on scUM should be an expectation at this point. If and when scUM is able to beat college footballs elite, at least perform at a higher level vs top competition or we are able to ruin one of their undefeated seasons on the last conference game of the year, then and only then will I give them the respect they already think they are entitled to. Until then, they are part of the negative perception towards the B1G that we have no defense for when it comes to strength of schedule.
I don't want him practicing to run a 40, I want him practicing accuracy, reading defenses and speeding up his release.
Krenzel was a 4.6 guy IIRC so let's not pretend a reported 4.8 is close to an actual 4.6 because we all know that 4.8 is more like a 4.95. It wont matter though, because by the time he is here we will have so many athletes he will have the ball out of his hands in under 3 secs 90% of the time. I wouldn't worry as long as he keeps polishing his mechanics and accuracy. I want a tall QB who can see the field from behind 6'5" O Linemen. If he can run for some yards on broken plays then great if not, I don't really care as long as he gets it into the playmakers hands.