Brutus
---
Member since 12 October 2010 | Blog
Helmet Stickers: 4,105 | Leaderboard
Voting Record: 820 / 39
Recent Activity
Giggling right now like I just heard a fart.
Man, you can't unsee a thing like that.
What a geek.
I used to stack the deck so I could draw the huge diamond as a treasure. I think it was in the blue part of the dungeon. I forget much about how the game was played, but I vividly remember that diamond.
Was I the only geek who loved this game? It was nerdy but not quite full-nerd like Dungeons and Dragons.
I've said this for years, but raising a puppy is great practice for raising a kid. It teaches you the same patience and responsibility. But a puppy at this stage for you would be biting off a bit too much. Congrats and best of luck.
I'd be lost without my boy, Brutus. He's a big, sloppy black lab that loves anyone who gives him attention. So glad to see this ended well. I can't imagine what an incredible homecoming this was. Thanks for sharing.
You rang?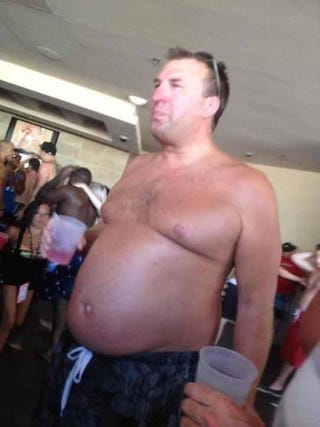 No, no, nothing like that. But my father was a real piece of work. He would womanize, he would drink. He would make outrageous claims like he invented the question mark. Sometimes he would accuse chestnuts of being lazy.
Laser hair removal is for the weak. There really is nothing quite like a shorn scrotum...it's breathtaking. I highly suggest you try it.
Meanwhile, the SECOND comment suffers from the MOST annoying writing "style" common to message boards...even our own...rANdom CapiTalizations and horrible PUNCTUATION! which for some "reason" leads the poster to BELIEVE he is profound. In a surprise to no one, the poster appears to be a TTUN fan.
No thank you Turkish, I'm sweet enough.
Has Pryor himself actually said he refuses to play another position? Serious question. It seems to me that if another team really wanted him to play WR or TE, they'd tell him and he'd give it a shot and we would have heard of it by now. I don't think this is a matter of Pryor being stubborn. Perhaps it's just not that easy to learn a new position at the professional level after probably at least 15 years of being a QB playing at a high level. And perhaps NFL teams don't want to invest the time and money just to have someone learn a position from scratch. I know Randle-El was able to make the transition (though QB at Indiana, especially at the time, probably wasn't the most demanding position). Cribbs too, though again from a small school. Who else has done it?
Cue Admiral Ackbar.
I'll believe it when Miller returns.
I have a feeling it will still be whether/where Miller is transferring.
Played for MSU, huh? He looks more like a Wisconsin prototype. Woof.
Hate to break it to all the proud droid users, but this exact same issue happened to my Galaxy S5 last week. Had to get it replaced. As far as I know, however, I didn't get this from a text. I think it came from an automatic OS update.
Brazzers? What's Brazzers?
I really appreciate the feedback 63. Thanks for taking the time to respond. I'm going to start doing some research on Jekyll Island right now.
Since we're on the topic of Hilton Head, for those that have been, would you recommend going with three kids 11 and under? I'm going to be in Charleston visiting family for several days and since we've never been to that part of the country, I thought we'd take a side trip for a few days. Is Hilton Head worth seeing? Perhaps a different resort town down that way (Jekyll Island)? I'm looking to avoid a Myrtle Beach type scene (apologies to the rednecks reading) if possible. I don't know what to expect down that way. East Bound and Down has me a bit jaded.
Apologies in advance for any input from the 11W community. I was planning on posting a separate forum topic as the travel date approaches but Braxton et al being there gave me an opening to ask here.