Brutus
---
Member since 12 October 2010 | Blog
Recent Activity
Great article. Had no idea Holmes was an Ohioan. The more you know...
I moved out here in 1998 to attend grad school at Stanford. I remember on my first day of orientation, I was driving down El Camino Real and stopped right in front of the Old Pro. There was a huge Ohio State flag flying out front and I knew right away that would end up being where I spent most of my Saturdays that season. Back then, Ohio State was on TV quite a bit but they didn't have the national coverage they do now so I would have missed a lot of the games without the Old Pro.
The Old Pro has since moved and I've never been to the downtown PA location, but you can rest assured that it will be open bright and early for all the 9 am kickoffs. As long as you like eggs with your beer, you'll be fine. Enjoy.
Scary thought. One wonders if their offspring might end up like: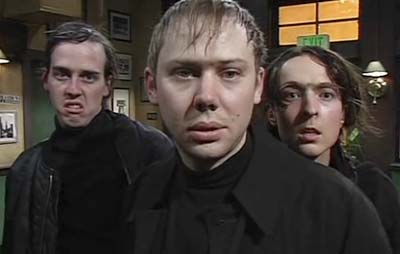 Interesting. That means he can hang around campus for the next four years and be like this guy:
Lucky bastard.
Two of my all time favorite movies, Bill Murray or otherwise. UV for you.
Shit, forgot about Jake Ruddock. Good catch. That kind of balances everything out then. I mean, he sucked at Iowa and then suddenly came to a Harbaugh coached team and sucked less so....
There's a dude in a M...igan hat walking by, without a clue to the world.
This statement is the opposite of an oxymoron, or for you English majors, a tautology.
Right on. Keep fighting the power.
Fitz, all our helmet stickers are belong to you. Well done good sir.
You never find out, till you're head over heels.
If we use TTUN's logic, then pretty much anyone who plays in the NFL was coached by Meyer. Seems legit.
Dear TTUN,
Eat a dick.
That is all.
This 43 year old is not impressed. I ran three miles yesterday and only stopped to walk twice. Looks like both Joey and I still have it.
So good to hear from you Baro. I'm with you. Read all the time, comment sparingly. For me it's not a toddler but three school age kids that have us running sideways. Don't blink my man. You'll be in this same boat before you know it. Looking forward to seeing you around these parts a lot more in the next few weeks. It's easy to get distracted from 11W by life, but all that goes out the window once football starts. 11W is like a mistress for four months out of the year.
I love these videos. Congrats to this kid. And how about the energy of that head coach.
When viewed through the optic of this having occurred in a Walmart parking lot, there is nothing about this story that doesn't make sense.
What an asshole.
There is nothing more American than cargo shorts
Yeah there is...jorts.
Not enough upvotes in the world. The internet never forgets and she never forgives.
Most people respond to my longer, more thoughtful posts with this, so I'm assuming it's complimentary.
Except ours looked more like a basketball score. Granted, it was like the score a high school team or Wisconsin would put up, but still.
So many questions, both about Four Loko and this video. First, what the hell is Four Loko? I've read DJ reference this mysterious drink for a few years now and everytime i pretend to get the joke, but I don't. It's like when someone writes IIRC before a post. No clue what that means either. Second, is Four Loko an alcoholic beverage? I thought not because it's colored like soda, but the dude in this video appears seriously f-ed up by the end of it. If it's just a caffeinated beverage, then caffeine, like cocaine, is a hell of a drug. Third, where the hell are the guys in this video from? I cannot place the accent. Sounds east coast but almost like a Canadian who grew up in New York. They talk ugly. Last, when the hell was this video made? That dude is still using a Blackberry. I'm ok with that because frankly I miss my Blackberry but I'm just surprised because either he's about seven generations behind in cell phone technology or Four Loko has been around a long time, thus making me feel even more lame for not knowing what it is.
Ummm, perhaps you haven't heard but Harbaugh transformed Andrew Luck from a blue chip prospect that was probably always going to be a top pick in the NFL draft into the top pick in the NFL draft. That's all the proof I and the entire TTUN fan base need that Harbaugh is a QB whisperer. Who he actually has on the roster is just details.