brunstar
---
from Kettering, OH
Member since 06 February 2013 | Blog
Favorites
SPORTS MOMENT: Running onto the field after we beat TTUN in 2002.
COLLEGE FOOTBALL PLAYER: Eddie George
COLLEGE BASKETBALL PLAYER: Greg Oden
NFL TEAM: Pittsburgh Steelers
NHL TEAM: Pittsburgh Penguins
SOCCER TEAM: USA
Recent Activity
It should be considered common sense not to dive into a 3 foot cement pond.
That's actually not a bad idea.
You can get the same deals online. I don't understand why anyone shops at an actual store on Black Friday any more. 1st world problems.
The play action handoff to Beanie followed by the Smith to Ginn pass was one of the most beautifully executed plays that I have ever seen.
Our potential OC can eat your potential OC.
I was there in the endzone opposite where Pittman scored the winning touchdown. I was in row 12 and ended up in row 9 after The Catch. The Ohio State fans chanted "scoreboard" after the extra point. I've never heard 100,000 scUM fans so quiet before. The only word to describe it was AWESOME.
This sucks, my thoughts and prayers go out to him and him family.
I know it's a medical question (HIPPA) but how did he go into cardiac arrest? Can we get our medical expert on this?
Norte Dame needs to just man up and join a conference.
I guess TTUN players are buying into Harbaugh's "strangeness."
I still don't know why the OC hasn't used screen passes and slants to get him the ball.
Unless the playoff field is expanded no conference should get 2 teams in it. Conference champions only IMO.
So for several years students jumped into Mirror Lake for Beat Xichigan week without serious injury and within 2 years of university interference somebody goes to the hospital with a serious medical condition. I hope that he's ok. Sounds like those wristbands and fences made it much safer.
Gotta love the A-10. It was pathetic how the Air Force tried to kill it because it wanted to conduct close air support missions with a single engine stealth fighter without a functioning gun. That's what happens when your organization is run by mostly fighter pilots (I'm an Air Force vet).
He can do so much better.
Just disappear and take a really long dump.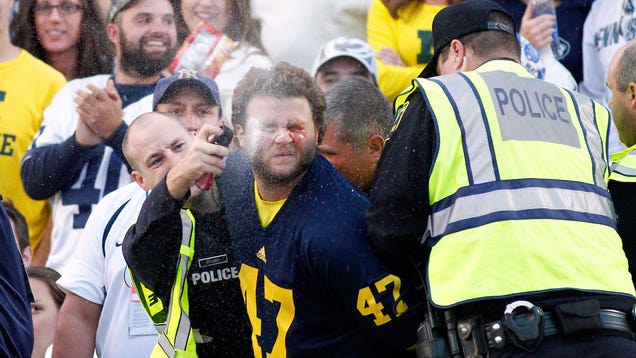 I took the M Frames with me to the desert every time. They work great in sand storms and during engine running offloads.
I just saw that the video surfaced because of TMZ. Screw TMZ. That is the most worthless organization on in the United States. It's just a glorified tabloid newspaper.
I can't believe this guy turned out to be a bad draft pick.
The same thing happened with Dontre
Wow, that's horrible. People from Texas take their state very seriously. I know, I married a Texan.
The first time I jumped in was before The Game in 2002. It was snowing. My roommate and I jumped in and ran back to Morrill Tower.