brunstar
---
from Kettering, OH
Member since 06 February 2013 | Blog
Helmet Stickers: 3,259 | Leaderboard
Voting Record: 2297 / 50
Favorites
SPORTS MOMENT: Running onto the field after we beat TTUN in 2002.
COLLEGE FOOTBALL PLAYER: Eddie George
COLLEGE BASKETBALL PLAYER: Greg Oden
NFL TEAM: Pittsburgh Steelers
NHL TEAM: Pittsburgh Penguins
SOCCER TEAM: USA
Recent Activity
I'd leave the wild animal alone before it ends up biting you.
I'm a Captain in the USAF currently stationed in Pensacola as an Instructor Combat Systems Officer (fancy word for navigator). Before I moved here I flew on C-130s and have over 100 combat missions logged throughout the Middle East and Central Asia. I will be transitioning out of the military very soon.
The NFL told the Dolphins that is wouldn't get another Super Bowl unless the stadium was upgraded. Add the fact that Miami just got suckered into a brand new stadium for the Marlins where the Orange Bowl was located (a $600K stadium that will cost over $2 billion when it's finally paid off) and you end up with a city too broke to build another new stadium. This was the Dolphins only option.
Knee injuries are the gift that keeps on giving. I've had 4 surgeries on my right knee since 2008 for meniscus tears from a USAF training injury.
I wish I was able to go to that game. I was getting ready for my 1st deployment at that time. We left in June the day after Game 7 of the Stanley Cup when Fleury blocked the last second shot to win the game.
Can you post a link to any published report regarding DNA?
You asked for a link and I gave you two, one link for each set of male DNA.
When SEC bias blows up in your face you have to find another way to make money.
Winston's accuser would have faced significant difficulty in any trial. She would have faced brutal cross-examination on her memory gaps, her drinking, and on the presence of her boyfriend's DNA on the night of the incident. Rape shield laws in all 50 states protect sexual assault victims from inquiry into their sexual histories, but the presence of two sets of DNA on the same night would have allowed cross examination on the details of what she did with her boyfriend.
http://espn.go.com/espn/otl/story/_/id/10084756/murky-facts-fsu-quarterback-jameis-winston-sex-assault-investigation-lead-clear-decision
State's Attorney Willie Meggs has said that there were two different sets of DNA found from two males at the purported crime scene. The attorney said that the accuser didn't really know Winston before the night of the alleged attack but likely knew the other male, who was not an FSU player. The accuser's boyfriend refused to be interviewed by the state's attorney, Meggs it was a "logical conclusion" that sex took place in the apartment that night that involved more than one male.
http://heavy.com/news/2013/12/jameis-winston-rape-accuser-drunk/
Can somebody remind me how many different guys' "DNA" we're found on her underwear again that night. I believe it was 2.
This is why college and professional athletes need to have a Dave Chappelle Love Contract with them at all times. Also, it's funny how she waited until Winston entered the draft. Definitely a money grab.
I'm honestly having a hard time trying to remember when they were Top 5 in the B1G for consecutive years.
We should all tweet Walker and tell him what a great job he's doing!
Also, I will leave this picture here. If there is anyone with picture editing skills and free time you know what you have to do.
Go ninja go ninja go!
*Inside Jim Delany's head: Awesome, Ohio State won the National Championship and B1G Football finally looks like a legitimate college football conference again for the first time since 2006. I wonder if there is a comment I can make to screw this up?
The way Title IX is implemented is a complete joke in terms of men's and women's athletic programs. The way it is written states that men and women should have a equal opportunity to earn a scholarship, so if there are 12 men's athletic teams there should be 12 women's athletic teams. However, universities cut the number of men's programs to match the women's programs because it makes more financial sense. This is has really taken a toll on collegiate wrestling teams, just ask Miami University (OH). So if a university has 12 men's programs and 10 women's programs, then cuts the number of men's programs to 10, how did that increase the the chance for a woman to get a scholarship? The answer is it didn't, it keep it the same while decreasing the chance for a man to get a scholarship. IMO, until Title IX is implemented correctly it shouldn't even touch freshman eligibility.
That movie ended the cold war
Showgirls 2:
Because it can't get any worse than the original.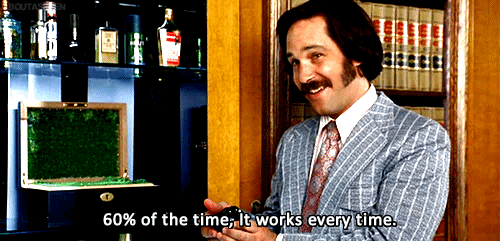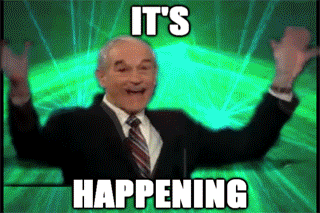 Everything looks normal to me.
Then a classy Tim Anderson comforts the crying Ken Dorsey.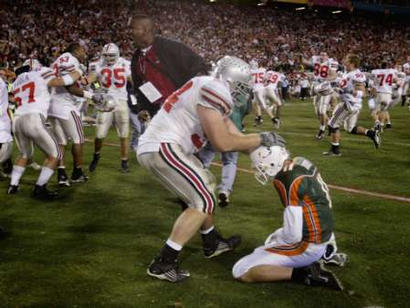 I'll never forget watching this happen live on TV and wondering why he was running across the field.
Somebody tweet this article to Mia and let her know that Braxton didn't want an STD.