brunstar
---
from Kettering, OH
Member since 06 February 2013 | Blog
Favorites
SPORTS MOMENT: Running onto the field after we beat TTUN in 2002.
COLLEGE FOOTBALL PLAYER: Eddie George
COLLEGE BASKETBALL PLAYER: Greg Oden
NFL TEAM: Pittsburgh Steelers
NHL TEAM: Pittsburgh Penguins
SOCCER TEAM: USA
Recent Activity
Criminals, and terrorists for that matter, like soft targets. If there's a chance your potential victim/s may be armed that's not a soft target. Which potential prey is a better target for a hungry predator, a rabbit or a porcupine?
Ask ISIS what happens when you try an attack in Texas. Didn't work out too well for the would be attackers at the drawing contest.
I wonder why they have more success in California....hmm....
I was disappointed with Mass Effect Andromeda. The game was fun, but it took about 8 hours before it was fun. I bought Skyrim, waiting a couple of week until I start that.
I'll give you +2 for taking one for the team.
I've decided recruiting is a lot like The Bachelor:
Your man card, hand it over, nice and slow.
/s Tom Loy just CB'd Mitchell to Notre Dame
That's a real logo, not fake.
6'4", that's a tall safety.
Get Chris Carter to call The Game!
That has to be code for something else like Mia Khalifa. I can't imagine fried chicken being that big of a recruiting tool.
#WeCouldHaveHiredArchieMiller
I hope Smith has an amazing basketball coach line up for next year.
.........there is Fire Thad.
Kim and Jimmy will use the pictures as proof that his older brother is insane. They will wait until his brother is on the witness stand and under oath to confront him about the pictures and the second tape. The second tape will show that his brother isn't all there mentally and that he was going to do whatever it took to get Jimmy disbarred. His brother will crack and show signs of his illness when the stress is added to the electrical currents other frequencies which hurt him physically.
Hingle McCringleberry if he had 1 more year of eligibility left.

I earned an Air Force ROTC scholarship my senior year of high school and was accepted at Ohio State. The first thing a new cadet has to do before he/she signs the contract for the scholarship is take a physical fitness test. I scheduled mine a couple of days before I moved into Stradley Hall for my freshman year. The day started out like any other day; I woke up around 0800, had breakfast, took a shower, then I grabbed my workout clothes and started driving to Columbus from Kettering (Dayton). I had one of those cassette tape player adapters which hooks up to a portable CD player, and I put on a CD before I left the house. I also needed gas so I stopped to fill up. While I was paying with cash, because I didn't have a debit card, I overheard the person in front of me talking to the cashier about an airplane hitting a building in New York City. I didn't think anything of it at the time, so I paid for the gas, got back in my car, and started the music again. A few minutes down I-675 something just didn't feel right. I decided to eject the adapter and listen to the radio. It was about 0920-0930. That's when I found out what was going on. The day I was scheduled to take a PFT and contract with the Air Force was September 11, 2001. I heard about how both of the Twin Towers were hit by airplanes, and that they were still on fire. I kept driving to Columbus as the Pentagon was hit, the Twin Towers collapsed, and the fate of flight 93 became known. I pulled off of I-70 at the Hilliard/New Rome exit just west of the loop. I was going to take the back roads to Lane Ave. that my high school wrestling coach showed me for the state tournament in March so I could avoid downtown. I got to the red light at the off ramp, I was pissed off and ready to fight the world. The light turned green and my car didn't budge. For a few seconds I thought an EMP went off and we were all about to die. Then I realized that the traffic light was still on, so I was just my car. With some help I pushed my car off onto the shoulder to get it off the road. There was a Bob Evans there at the exit just south of I-70 so I walked to it and called AFROTC Detachment 645 to tell them I was only 20 minutes away with a broken down car, if someone picked me up I could still take the PFT and contract with the Air Force. In fact, I wanted to take the PFT and contract with the Air Force right then and there. I talked to TSgt Gooden, who is now the civilian OSU employee at Det. 645, and he told me not too worry about it and come back another day. They closed down the Det. and campus for the rest of the day, so even if I had made it there I would've been sent home. Instead of taking the PFT I sat at the Bob Evans for about 3-4 hours waiting for my parents to pick me up. We had the car towed back to Dayton, luckily for only $90 thanks to AAA. I later found out that the transmission broke, so I wasn't going any where even if I wanted to. Two days later on September 13, 2001 I drove back to campus with a different car, took one really pissed off PFT, gave my oath to serve and protect the United States of America, and contracted with the Air Force. I drove back home (blew a tire on the way home), drove back to Columbus, and moved into Stradley Hall as an OWL that night.
The 2001 and 2002 freshmen classes were two of the biggest cadet classes in Det. 645 history. All of us knew that we were going to war. Nobody in those classes backed down or quit because of it

And then there was Peppers...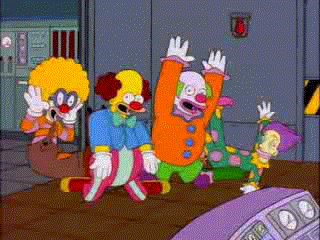 Back and to the left. Back and to the left.
I wonder if that guy wishes he picked Ohio State.
I wouldn't be surprised if Pittsburgh grabs him this round.