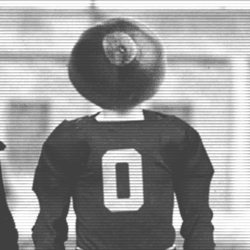 Brandon26841
---
Member since 15 August 2013 | Blog
Helmet Stickers: 615 | Leaderboard
Favorites
NFL TEAM: Bengals
MLB TEAM: Reds
Recent Activity
And do you think Sam Hubbard could see time at safety this year?
0% chance, IMO.
Well, they're down to 82 scholarships now.
Kinds tough for a young safety to see the field right now with the top 3 safeties all being sophomores and presumably will have those spots locked down for the next 2-3 years.
In recent years it was always the SAM LB that left the field in the nickel, but I'm assuming in this defense the WILL will leave.
I'm going to guess that when they go to nickel, Perry will slide over from WILL to MIKE, Grant leaves the field, and Reeves come in at NB.
What if he shows up at TT and never play's a snap? Maybe dude is a workout warrior and that's it!?
Wouldn't shock me one bit. The guy was RAW and I was always kind of weary of his game (just from watching his highschool film). His athletic testing numbers were intriguing, but I wouldn't be surprised if he never pans out. This isn't sour grapes either, I could dig up old posts of mine saying the same things right around when he committed.
I've only been filling them out for a few a years, but the only year I actually had the Buckeyes winning it all (and I was still hesitant) was the 2010-2011 team because I'd felt like they were legitimately the best team in the nation that year. Shame they couldn't get past Kentucky; just had a bad shooting game.
He's never had the luxury of a decent screen pass....THIS IS SURELY THE YEAR FOR IT
Really? It seems like about 75% of his completions last season were quick WR screens to the outside. He threw a ton of short, easy screen throws that inflated his completion %, but he also threw a bunch of inefficient deep throws that hurt his completion %. I'm just hoping there's SOME kind of intermediate passing game this season instead of 1. Quick Screen 2. Quick Screen 3. Deep ball.
If Elliott gained 25lb of muscle...WOW!
They must be referring to how much weight he's gained since his senior year of high school, because he was listed at 218 last season as a freshman.
Haha, obviously I realize that just because something isn't effective in NCAA 14 doesn't mean it won't work in real life, but what I was trying to say was... maybe it's just one of those formations that really doesn't add much more to an offense. It's just "getting cute" for no reason other than to spice things up and throw out a different look, when maybe strategically it doesn't really offer much. You can do a few different things with it (I know a lot of teams put a FB and a TE back there as the lead backs) but eh... it's probably just not worth the trouble to implement. This offense seems to be 3 WRs split out with a TE either in an H-back spot or in the slot 90% of the time and they can do pretty much anything they want to from that formation.
I still think he'll eventually end up as a flex TE. I just don't see the suddenness, speed or quickness for an elite outside WR, but then again... look at Anquan Boldin. I guess they are going to try him out at WR first so we'll see. He's an interesting guy.
Braxton isn't an elite straight-line speedster by any means, but he's definitely faster than Marshall. Marshall is more agile / quick than fast. He ran a 4.66 electronic 40 at a combine and he looks around there on tape. He's got enough speed, but he's not a burner. He doesn't need to be.
Bell and Powell will be the safeties, Grant and either Reeves / Conley will be the CBs (sounds like Apple is sort of down the depth chart and this won't be his year) and Burrows will be the nickel.
Probably because it just wasn't very effective in practice.
I remember being pretty pumped about that formation whenever it was added to NCAA football (the game), because let's face it... it just looks cool and it seems like there are a lot of different things you can do with it. But I hardly ever used it and it's really nothing more than an interesting look. Having Miller back there with Elliott, Wilson, Smith does sound intriguing, but if it was that effective we would had seen it last year.
I think there's zero chance Hubbard plays safety. There's a reason that there's probably only been 6 or 7 safeties over 6' 4" in college football over the last 5-8 years, and close to none in the pros (only ones I can think of are Pat Watkins, Robert Sands, (both out of the league) and George Illoka). The guy's athletic but he's not some uber-freak that could cover slot receivers or be a centerfield type free safety deep. He's a LB all the way and an intriguing one with that speed and length.
And speaking of Lee, if he's the best man for the job I'm all for it. I love when these unheralded 3-star recruits come in here and just surprise everyone by grabbing starting spots out of nowhere (Roby, Powell) early in their careers. Lee was mostly an afterthought. I'm excited to see him play.
It doesn't make sense that Shazier ran the 3-cone drill if his hamstring was actually bothering him. I can see doing a broad jump / vert with a bad hammy, but hell... doing the 3-cone would probably aggravate it worse than anything. He did the 20-yard short shuttle too. I guess he was just wanting to wait to run on that fast OSU track.
He would have either been close or had the fastest LB 40 time there (4.51).
I see those sites you're referring to that mention the 39 reps by Peterson but I'm still not buying that. And sorry man, I'm not trying to bust your balls or anything and I know it's totally off topic haha. But a 218-225 lb guy like Peterson isn't going to be throwing up 40+ reps of 225. Most guys that are 21-23 years old at the combine are pretty close to the max strength they'll ever have (especially with the training they receive) and you're not going to add that much strength without adding a ton of mass just because you're in a NFL strength and conditioning program.
http://nflcombineresults.com/nflcombinedata.php
Guys throwing up 37+ reps are extremely rare and most of them are lineman. Hyde just probably isn't a great bench presser, but the bench press at the combine is mainly just to see what a guy's work ethic / endurance is like more than just someone's general strength. It can help show how much time someone has spent in the weight room.
I don't see how Shazier makes it out of the 1st round and I've always felt that way. To me, he's the best player / prospect out of the all of the draftable OSU players.
As a track coach, I've become accustomed to guys feigning injury after a sub-par race or workout. I hate to say it, but watching the video, it looks like he might be faking it.
Wouldn't surprise me. That's what we'd call a business decision. Guys do it every single year at the combine.
I stil don't see him making it to the 3rd round, but I never thought he'd go in the first. No back in the class was going to get picked in the first.
Shazier with almost an 11 foot broad jump and a 42" vert? Geez. What a shame he didn't run the 40... he would have absolutely lit it up.
Well, they have to wait until the entire group (every single WR or every single RB) runs their 40's, so I'm pretty sure they have to have everyone's times to calculate the official times; they must compare them in some way.
What's interesting is that NFL teams pay no attention to the "official" times. It's really just for casual fans / a reference point. Teams usually always use their hand-times that they get themselves personally. It's weird... like with Taylor Mays a few years ago, he obviously ran a freakishly fast time and NFL Network had him hand-timed at 4.24, but the official time came out to being 4.43. After the combine, almost every single team said that clocked him at 4.30 - 4.33 and they all agreed that the 4.43 time was way off. NFLDraftScout.com is the best site to look at for accurate 40 times. http://www.nfldraftscout.com/ratings/dsprofile.php?pyid=65827&draftyear=2010&genpos=FS
considering AP (although the beasts of beast) can reportedly put up 225 44x,
Zero percent chance of that. He declined to bench at the combine because of that collarbone injury, but the only bench press number I see from him on the net is a 345 max, which would probably give him around 17-19 reps.
I wasn't really shocked though that Hyde only got 19 since he's really not that chiseled up in his upper body, but it's not a great number. Means next to nothing though for the most part; if he put up < 15 then that would be pretty concerning.
Looks like Shazier might not run tomorrow because of a hamstring issue. Damn, that'd be disappointing. I was really looking forward to watching him run.
Wasn't shocked at all by that. Besides Ginn and Chris Johnson, Archer is easily the fastest player I've ever seen in pads.
I can't really tell, but maybe Corey Smith?
Okay, that was fairly nice. A lot better than his other catch / video, haha.
Shazier weighed in at 237, which is exactly right around where I figured he'd be. I'm thinking a 4.47-4.52 40 time.