BPOSU
Hilliard, OH (via Westerville, OH)
Member since 05 February 2014 | Blog
Favorites
SPORTS MOMENT: 2014 National Championship
COLLEGE FOOTBALL PLAYER: Ted Ginn Jr
COLLEGE BASKETBALL PLAYER: Jon Diebler
NFL TEAM: Denver Broncos
NHL TEAM: Columbus Blue Jackets
NBA TEAM: Team LBJ
MLB TEAM: Cleveland Indians
SOCCER TEAM: Meh...Crew??
Recent Activity
At approximately 11am
With the way these things usually work, that probably means 11:45
The Gene Smith Strength and Conditioning Center
This comes off as a little self serving with him still the current AD... but by the time all of this is built, it will probably be about his time to retire anyway.
I'm an avid Common Man fan and have been for awhile. Gives me something hillarious to listen to on my way home to take my mind off of work stress. I really don't listen for the sports debate though, there are plenty of other programs that I can tune into for that. Outside of that though, I'm not too much of a fan of their programming. Tim and Beanie is alright, but I absolutely cannot stand Rothman. He gets annoyingly offended by everything. Mark the Shark is just flat out boring, which I assume is why they gave Tito the buckeye show and moved Shark to the "Substitute" role. Tito is alright but sometimes he tries too hard to give hot takes
Probably the largest employers in the Columbus area are
Nationwide
LBrands
Cardinal Health
JPMorgan Chase
Honda
Abbott Labs
One name I havn't seen thrown out there yet is Greg McDermott from Creighton.
I know his time at Iowa State wasn't fantastic, but he was great at Northern Iowa and he has had success at Creighton even after his son left.
Eleven Warriors requested that information four months ago.
What's the timeline requirement on requests like this, again? Isn't it something like 5 months? Aka... The length of the College Football season?
My dad. I'll show myself out...
"There is nowhere either close enough or big enough to hold the 10,000+ that regularly pack St. John for this" There is a building that holds about 19,000 that is a little more than a quarter mile from St John's... Wouldn't be quite ideal but wouldn't be that farfetched either.
This new portage (2) will also allow for competitive fishing on the muddy banks of the Olentangy.
Is it bad that I made it all the way to here before I knew for sure that this was satire?
Potentially one step closer to forcing cable companies to provide A La Cart channels!
The key is to be so subtle with the buckeye connection that your wife doesn't even realize the connection. This way she thinks you are doing something to make her happy, but in reality your getting your buckeye fandom name.
I look at this as Pass/Fail. You get above the threshold to not get sanctions, then who cares? 1,000 is the exact same as 930.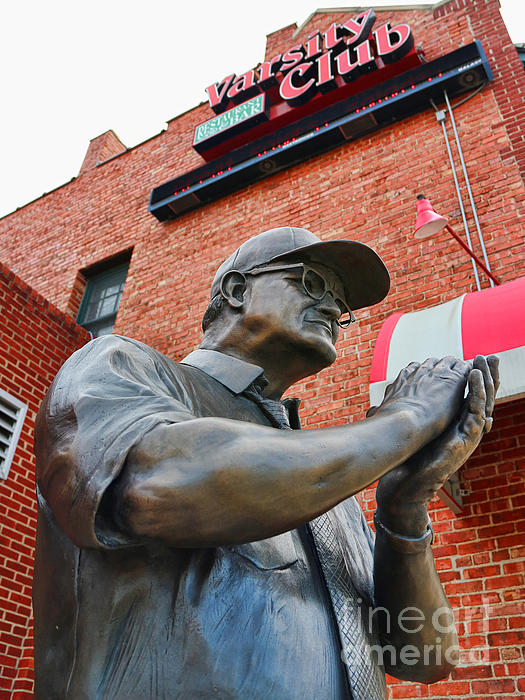 I mean there are already two in existence... One of which was funded by OSU...
The reach on the fundraiser hasn't hit the right people. Simply enough, 11W's reach through this site and social media isn't enough (Or if it is enough, it's going to take a long time to get there). Need someone with a larger reach, whether it be a TV/Radio station or a celebrity to promote it.
Just make it the same limitations as the Medical Redshirt requirements. Less than 30% of a season or whatever.
With most conferences having "Preseason" games at the beginning of the year and the SEC's "Chickenshit Saturday" it would be a perfect time to see what the younger guys have.
Plus with the increase in players that will be sitting out of bowl games to prepare for the draft, it would be easy way to replace those players to see what the Freshmen can do for next year
That's the way I looked at it. If the professors really cared, they would change the test.
That stealing the stats exam story makes me bring up another academic ethics/misconduct question...
Hypothetically speaking of course....
Professor gives exams in semester 1. Professor returns exams with grades on them. Student in semester 1 class gives their exams to a student taking the same class in semester 2. Professor doesn't change exams.
Would this be academic misconduct? Would it be considered cheating? This was a frequent argument between my roommates and I.
Buckeye Doug gave some great advice... Here's some links to where some area teaching jobs are posted.... https://ats2.searchsoft.net/ats/job_board_frame?refresh=Y&COMPANY_ID=00002915&separate=Y https://www.applitrack.com/duesc/onlineapp/default.aspx https://www.applitrack.com/columbus/onlineapp/_application.aspx If she's wanting to get a jump on the 2017-2018 school year she will need to get applying asap. I personally just got a hired at a new district a couple weeks ago, so that gives you an idea of the timeframe of hiring at the moment.
James Washington. Oklahoma State.
We want to throw the deep ball this year... He's the best guy in the country at tracking it. Think Devin Smith, only better
I actually thought I was on the under for how many years Urban stays, until I saw LCT's comment.
Think Urban has 4-5 more years left in him, which I don't know if Schiano would be willing to wait that long.
If that were to happen, I would imagine it would be even more than that.
Have to ask... How much money did you wind up spending on the replacement clothes that were on OSU's dime?
Welp...
This is really good news for Urban Meyer