Bourbon Meyer
---
from Dayton Ohio
Member since 18 August 2013 | Blog
I'm a Buckeye married to a Wolverine and living in Spartanland. Please someone help before I kill again.
Favorites
SPORTS MOMENT: Donnie Nickey knocking down the final pass on the final play of the 2003 Tostitos Fiesta Bowl.
COLLEGE FOOTBALL PLAYER: Archie Griffin
COLLEGE BASKETBALL PLAYER: Lawrence Funderburke
NFL TEAM: Dallas Cowboys
NHL TEAM: Detroit Red Wings
NBA TEAM: Cleveland Cavaliers
MLB TEAM: Cincinnati Reds
SOCCER TEAM: Manchester United
Recent Activity
Will Thad be able to catch his job before it hits the floor after this season?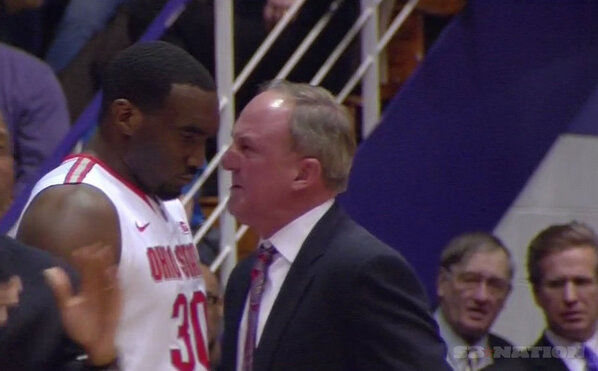 I predict PURPLE.
Tim Beck is to football what Jim O' Brien was to basketball. Fired for a shitty performance.
Forget Isiah Prince. Our whole O-Line is over matched.
The five players that need to step it up. Oh wait....there's a sixth: TYLER DURBIN!!!!
Where is THAT player now? Playing PS4 Madden 16 while eating Ramen noodles? Pizza can be expensive!
Pryor didn't just take his spot. I think it was that stupid interception in the USC game that pissed the Vest off so much he benched Boeckman. Todd was a piss poor quarterback. Let's be real here.
May the DPJ threads be laid to rest in the disapointment mausoleum where the Stephon Diggs, Taji Boyd, and Sentrel Henderson threads lay.
Yep. The clue was the blue shirt and the maize tie.
He always looks like that. So good seeing Devin on the field again. THANK GOD I'M A BUCKEYE!!!!
Happy for Weber, but I hope to see a little McCall in the CFP. Can you relate?
......and that picture of Saban looks like he's had a little too much Alabama moonshine at the podium. Bwahahahaha!
Yeah. Our offensive tempo is gone. Waiting on plays to be brought in, and as mentioned above, so many slow
developing plays last night. Where are the hot reads, the blitz-beaters? I can't stand the throws out to the flats
'cause those calls never seem to go anywhere, although I know that is our base offense. Don't mean to
beat it into the ground, but we are very predictable on offense, Urban.
.........and both teams had byes before they played us.
9 route, and his "factory of sadness" sock puppet army?
Excellent GIF choice. I can't stop chuckling.
You're confused. That's what Joey Bosa was doing LAST year.
A sad day. Was looking forward to finally seeing him in a Buckeyes uniform for at least two years. God, I hope Mark Dantonio isn't paying attention.
I resemble that remark. Urban shall from henceforth be known as "The Closer". He closes on the recruiting trail, and he closes out opponents on the gridiron. Thank you mister man, he said thanking them.
Here Sarky, Sarky, Sarky!
LOL KBonay. Nice. Does LSUFreek work for us now?
We gotta top Hairball. 80 points!!!
Did you see Rich Rod saying that on Gameday? Hilarious!