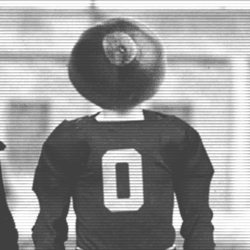 Bobcat04
---
Member since 25 September 2010 | Blog
Helmet Stickers: 234 | Leaderboard
First started watching OSU sports during the '90 football season, when I was about 12. Loved it, and transitioned right into OSU basketball as well. I can truly say that Jimmy Jackson was my first sports hero. Wore his jersey so much that it ended up being my nickname at that time, even though I was a short white kid. My love for all things Scarlet and Grey led to matriculation to OSU in fall '96. Had some fun, breathed some helium with Block O, got arrested at Sloopy's partying with the ski club, but ultimately this homesick guy needed a place a little closer, so I transferred to OU in Athens, hence my handle on here. Obviously have a lot of love for both schools, but I made the best move for me, and have never stopped loving my Buckeyes.
Recent Activity
Hell, we're going to lose.
Free throws and rebounding. Those are 2 things that it seems Matta has not been able to teach well for all his success. I think dudes like Sullinger and Oden came to Ohio State with those skills already. Oh, and we always make an absolute jobber look all B1G against us. Like this Newbill dude.
Taking PSU to overtime at home. Excellent. Oh, and Lenzelle will never be better than he is right now.
We beat that Nebraska team by 30 at home, then lost to them on the road. We would have beat this team by 20 a month ago. I just think we lost something somewhere, and are slumping badly.
I don't think we had potential past the sweet 16, but we were better than this. We lost something mentally.
I don't think we have been this bad all season. Something happened from that MSU game forward. Matta lost something with them. I have no idea what it is, but it sucks.
They just have nowhere to go on offense. Look like they have never played that side before.
We have a real chance to lose to Penn State at home. I have literally never seen a Matta team this bad.
Can it be 2015? I've never wished a year of my life away, but 2014 is easily the worst year of my life so far. Both for OSU's futility in the major sports, and other reasons.
Now I just hope Urban has the guts to roll a couple of heads on our defensive staff. That's what happens: A unit glaringly doesn't cut it, not show improvement, and changes are made. If Urbs stubbornly retains all besides Withers, Hoke has officially done more to improve his team in the offseason than Meyer.
Nebraska getting to the hoop easily. NEBRASKA. If we could just shut down their drives and rebound, we'd be up double digits.
I, too, have a bad feeling on this one. The difference between Sparty's defense and ours is the difference between a win and a loss. I just can't be confident in this (or next year's) team until the changes are made that will improve this defense. Till then, I believe that Boyd and Watkins will light us up. I hope I'm wrong.
I feel like in Rocky 3 when Mickey tells Rocky that the reason he is still winning is that his opponents have been cream puffs, hand-picked so he wins. Then he fights a real opponent and finds out that he doesn't stack up. That feeling that your victories were hollow is how Sparty has made me feel this year. They have guts on defense, and we don't. I have a bad feeling about Friday. Armani Reeves against Watkins? Sheesh...
Just makes me kind of sad to see a hard-hitting well-coached defense. Wish it was ours. Used to be ours. We're recruiting really well on that side of the ball, and I'd hate to see all of that talent go to waste over the next few years. You need a strong defense to win anything.
Looking good for us now. Hit the FTs down the stretch. Good road win to open the B1G!
WOW. open runout to blown opportunity.
Q hitting 2 helps big time.
Likewise, if we lose, it's because we've missed a boatload of free throws.
If we could rebound and hit FTs, this game would be out of reach.
As do I. Outback can do what they want to with their inventory, but I hope that whatever was left unconsumed was donated to a pantry or shelter.
Woo Hoo!! The door to a better defense is starting to open up!
It's still pretty raw for me. My Dad grew up in northern Michigan, and is a lifelong Sparty fan, so I've been happy for him that they have gotten the best of scUM lately, as it's a new thing for them. However, I never thought that we'd be clearly below them looking up in football. So, happy holidays to me.
Honestly, it's ranging between anger/depression/and apathy for me right now. I'm angry that our defensive staff can't seem to teach or make necessary adjustments with superior talent for going on 2 years now. I'll believe that we are moving forward when I see Urban start to swing the ax. I'm depressed, because the narrative is true to some point: We were not ready for the big stage, even a team from our own downtrodden conference. I think MSU's defense is the real deal, but that team is supremely beatable. Just not by us. Finally, the whole thing is making me apathetic towards the bowl game and the rest of the college football season in general. It's just hard to care. Maybe this is the product of being spoiled over the last 2 years, but I feel way worse about this one than 2010 in Wisconsin, and I hate Bielema and respect Dino. I'm just emotionally shot on OSU football for the year, and I hope the feeling goes away soon.
If y'all want to downvote, go ahead. I understand, I'm depressing. I'm not trying to be mean, I'm depressing because I'm depressed. I really do hope Urbs is able to marshal his feelings and make business-based decisions about the defensive staff, because it's true that we have way too much talent to look so unprepared on that side of the ball. Teams that are full of players we didn't offer look like the Steel Curtain in comparison. That IS on coaching. I don't want to see Bell, Burrows, Mitchell, Apple, etc., languish in an undeveloped hell, doing what they can on pure talent alone. That would be a crime.
I'd upvote this more than once if I could.
Well, we've shit the bed in the biggest game of the year before. Nothing new, I guess. Not near as many TVs on to see us shred Purdue.