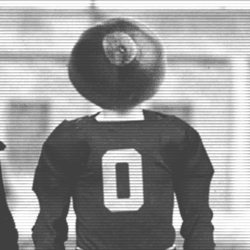 Bobcat04
---
Member since 25 September 2010 | Blog
Helmet Stickers: 265 | Leaderboard
First started watching OSU sports during the '90 football season, when I was about 12. Loved it, and transitioned right into OSU basketball as well. I can truly say that Jimmy Jackson was my first sports hero. Wore his jersey so much that it ended up being my nickname at that time, even though I was a short white kid. My love for all things Scarlet and Grey led to matriculation to OSU in fall '96. Had some fun, breathed some helium with Block O, got arrested at Sloopy's partying with the ski club, but ultimately this homesick guy needed a place a little closer, so I transferred to OU in Athens, hence my handle on here. Obviously have a lot of love for both schools, but I made the best move for me, and have never stopped loving my Buckeyes.
Recent Activity
Oh, and when I was a freshman, I got arrested for underage possession of alcohol at Sloopy's on High Street with the ski club. I had to sell what remained of my season tickets, which included Minnesota and Michigan. It was the Tai Streets to the house game, but I missed it nonetheless. Generating money to take care of my citation.
1. I won 20 bucks this last year betting against OSU in the B1G title game. I saw the defense get carved up pretty bad the previous 2 weeks, and I didn't think we had a chance against a good team. Hey, it's a confessional.
2. I am 0-4 watching OSU play Illinois at home. Was there when we lost in '92, '94, '01, and '07. I will not be going to the Illinois home game again.
I absolutely would. I am jealous as hell of PSU heading to Ireland for a game this year. My wife and I visited Ireland last year, and we had a blast. The people, the land, the history, all of it was fantastic. I would look at it as combining two of my favorite things - travel and watching the Bucks. It would be such a unique experience. I hope Gene is open to this idea in the future, if OSU is approached in any way about the possibility.
I'm from around the Portsmouth area, and I'm happy that Shawnee has something like that to hang their hat on. It's good that a smaller school in a small town has something to attract students interested in that field. Lord knows we could use more creative types here on the river. That said, SSU has no football team, and has never put anyone in the NFL. :-)
Yeah, I think that despite his line, JT has looked a lot better since settling in a bit.
If that was a beer, Baugh wouldn't have dropped it.
JT not looking great, but the Gray o line is playing awful.
Man, EZE has a hell of a bounce.
Looks like a few not participating. I've seen Elflein without pads. Noah Spence?
I thought EZE won initially until Kwon got chippy at the end.
JT Barrett got caked by Cardale.
Playing intramural basketball in HS, I made a three that was kind of like Chris' in the article. Was inbounded to me with a couple of seconds on the clock, I dribbled a little to get closer, and with 2 players closing fast, I hit the buzzer-beater from the left wing. And baby, the bank was OPEN. Totally meant to do it too. Not a huge mob scene, but a few friends rushed the court. Woo Hoo!
Freshman football against Portsmouth I took a pitch around the left end for 10-15 yards and met the safety on the goal line. I scored, and he was helped off the field. Not that I'm advocating putting people out of the game, but it made me feel like a badass for like a day or two.
Last one. As you can tell from the handle and my profile, I went to OU for undergrad. Took bowling for a class one quarter just for fun and a credit hour. It was on Tuesdays and Thursdays, and you played 2 on 2. Anyway, if there are any old farts from the 90's like me on here who spent any time in Athens back then, Wednesday was quarter draft night at the Cheese (Greenery). Got royally wasted one Weds, woke up in my bar clothes, struggled to bowling at 10 am. Reeking from the bar, still with the stamp on my hand, and without a partner for 2 on 2, I bowled the best 2 games of my life concurrently, and just buried the other 2 people. Was in a hungover zone. It was beautiful.
That's it for me too! Every year, I think of that. It was during the sweet 16 loss to St. John's and Malik Sealy. That was really the first year that I had my soul crushed by Ohio State in the tourney.
Hell, we're going to lose.
Free throws and rebounding. Those are 2 things that it seems Matta has not been able to teach well for all his success. I think dudes like Sullinger and Oden came to Ohio State with those skills already. Oh, and we always make an absolute jobber look all B1G against us. Like this Newbill dude.
Taking PSU to overtime at home. Excellent. Oh, and Lenzelle will never be better than he is right now.
We beat that Nebraska team by 30 at home, then lost to them on the road. We would have beat this team by 20 a month ago. I just think we lost something somewhere, and are slumping badly.
I don't think we had potential past the sweet 16, but we were better than this. We lost something mentally.
I don't think we have been this bad all season. Something happened from that MSU game forward. Matta lost something with them. I have no idea what it is, but it sucks.
They just have nowhere to go on offense. Look like they have never played that side before.
We have a real chance to lose to Penn State at home. I have literally never seen a Matta team this bad.
Can it be 2015? I've never wished a year of my life away, but 2014 is easily the worst year of my life so far. Both for OSU's futility in the major sports, and other reasons.
Now I just hope Urban has the guts to roll a couple of heads on our defensive staff. That's what happens: A unit glaringly doesn't cut it, not show improvement, and changes are made. If Urbs stubbornly retains all besides Withers, Hoke has officially done more to improve his team in the offseason than Meyer.
Nebraska getting to the hoop easily. NEBRASKA. If we could just shut down their drives and rebound, we'd be up double digits.