Bluke221
---
Member since 13 February 2012 | Blog
Favorites
SPORTS MOMENT: The entire 2002 football season which I got to enjoy as a sophomore on campus.
COLLEGE FOOTBALL PLAYER: Carlos Hyde
COLLEGE BASKETBALL PLAYER: Dyshawn Pierre
NFL TEAM: Cincinnati Bengals
NHL TEAM: Columbus Blue Jackets
MLB TEAM: Cincinnati Reds
Recent Activity
Choooooklahoma where big wins come few and far between!
I literally exclaimed "oh no!" out loud, about a sports writer for a website, whom i never met, moving on. I think thats a testiment to how good you are at your profession. Good luck and thanks!
Wow, you guys have really banded together to make these iron puns.
Everything in my post was made up. I was trying to channel my inner Onion, Guess I did it too well lol.
Excerpt from a Mike Bianchi article in the paper...
Rumors swirling out of Gainesville that a 2017 Florida recruit, Bruce Judson will be opening his recruitment back up. Speculation that Judson is interested in two schools, Alabama and Pitt. Trouble arose last week when Florida coaches were unable to remember the details of a family vacation Judson took when he was ten years old. A vacation he has long considered the best of his life.

"Its tough man you know. That was the trip of a lifetime and when something that important to you is apparently not important to people at Florida, it hurts." Judson was quoted as saying to the Orlando Sentinel.

This is now the second incident with forgetfulness that Judson has been involved in. It has been reported that he soured on Ohio State when Head Coach Satan Meyer foolishly forgot his name.

As for his current targets, both Bama and Pitt may just offer what Judson considers important from a school. Bama head coach Nick Saban reportedly made a phone call to Judson at his home to remind him that an elephant never forgets. As for Pitt, it seems Judson is impressed by former Pitt offensive lineman Mark May's inability to forget a crushing defeat he suffered at the hands of the Buckeyes back in the 80's.

"When I see May on TV" Judson said, "I'm impressed by his ability to hold onto the memory of that loss. You can see it in how he carries himself on TV. If Pitt players can have that kind of memory, then it might be the place for me."

Only time will tell where Judson ultimately ends up but this is one recruitment we're sure to not forget....anytime soon.


Insufferable. Only announcer that has ever caused me to deliberately not watch a game. I don't know how anybody can stand working with him.
I see it now! Reading comprehension failure on my part.
Im not the most fluent twitterer, but im not sure what, about his twitter, is giving you concern. Looks like all the of most recent stuff was on him signing his letter.
Agree with this wholeheartedly. Equally as annoying to have to sift through irrelevant posts calling out multiple threads as it is to sift through multiple threads.
Those coney's were BeauxGeaux....damn good deal.
Shamelessly commenting to receive completely unwarranted internet kudos.
Well done yesterday to all of the folks here at 11W.
My highschool here in Dayton had a series of motivational speakers attend during my senior year. One speaker was Todd Blackledge which was really cool. Another was Rudy. He had very slurred speech and was difficult to understand. He talked for about 15 minutes and then showed 30 minutes of clips from the movie and walked off the stage. It was horrible.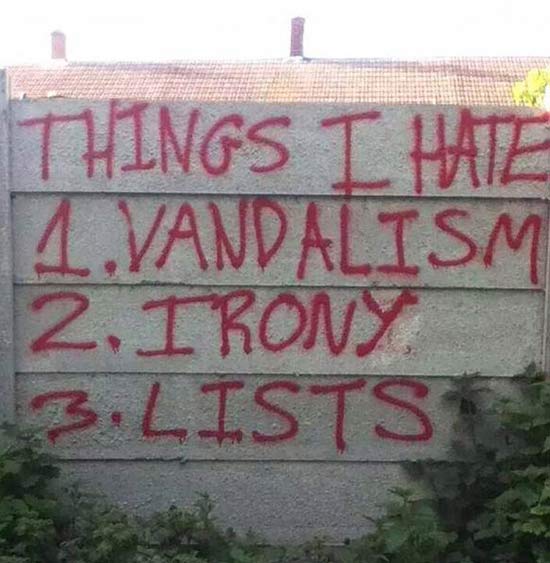 General Grievances
I hate thread hijackers (not just this site but all forums)
I hate memes. I hate memes that oppose my opinion and I hate memes that support my opinion. I hate that people think posting a meme is in anyway comparable to a rational thought.
I hate the whole "oh something is popular, let me tell you how much I don't like the popular phenomenon and you can see how cool and non conforming I am" See Facebook post "Am I the only one that doesn't care about Star Wars?!?"
Grievance of the Day
Reds fans who are bitching about the team trading their favorite players as if its some kind of personal attack. Said fans express almost zero understanding of the mechanics involved in building a competitive team as well as the current talent/financial situation of the club. This is bugging the shit out of me right now lol.
Had to watch with a Michigan die hard. Every catch Butt made..."That's a guy you guys need to watch out for all game." Halftime..."I'm happy so far. We played poorly and you guys played well. Will be a different story in the 2nd half." Fourth Quarter...."I thought we might lose but I never thought it would be this bad." End of game....."I'll say one thing, Harbaugh won't forget this. This will stick in his mind and he will come in pissed next year." (repeated about 10 times)
Fuck him.
Amber Rose in Dayton has amazing paprikash.
I have a source within the University that has close ties with the Environmental Sciences department that Zeke is quitting football to become an Entomologist.
From up on the banks of the Red Cedar
Comes a team with a limited leader
It won't matter much
Because the Buckeyes will punch
These bastards directly in the peter.
Ytown is having an egg salad sandwich that was made in a factory 3 weeks ago, cut diagonally, packaged in a white plastic container
With Barrett there is new look,
And this offense will start to cook.
We take home the illi-buck,
Because those Illini sure suck.
And exorcise the ghost of Ron Zook.
Highly recommend a visit to the Great Lakes Shipwreck Museum just north of Tahquamenon Falls and Paradise, Michigan. Yes yes, I know, its in Michigan, but once you get past West Branch on I75 its a completely different state and eventually you are further from Ann Arbor than we are here in Ohio.