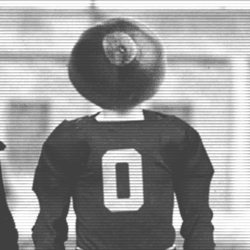 Bluke221
---
Member since 13 February 2012 | Blog
Helmet Stickers: 308 | Leaderboard
Favorites
SPORTS MOMENT: The entire 2002 football season which I got to enjoy as a sophomore on campus.
COLLEGE FOOTBALL PLAYER: Carlos Hyde
COLLEGE BASKETBALL PLAYER: Dyshawn Pierre
NFL TEAM: Cincinnati Bengals
NHL TEAM: Columbus Blue Jackets
MLB TEAM: Cincinnati Reds
Recent Activity
It's one or the other. He can only go in One Direction.
Lock him up and throw away the key! We can't have people who voluntarily eat Hot Pockets wondering our streets and influencing our children!!
I'm with ya. I hate to be the guy that claims a band "sold out" but I get that feeling with OAR. Not that I am not happy those guys are successful, they certainly deserve it. I think what I'm trying to say is more along the lines of them sacrificing some of their genuine creativity that was so prevalent in their first couple albums for a more radio friendly / generic sound. In fact maybe sold out is the wrong way to put as this is how you make money unfortunately. I saw them play at Riverbend last summer opening for DMB. I was really hoping to hear some stuff from The Wanderer and Soul's Aflame but they played mostly new stuff. No CGOP which I didn't expect. I remember seeing them live at The Newport or LC Pavillion when I was at OSU circa 01-04 and those are some of the best concerts I've been to.
Now that I have learned "slidden" my vocabulary has been embiggened.
@ Colerain To answer your questions. Dayton typically plays a man to man. I can't remember very many times they went into a zone this year. Maybe that's something they will try against Ohio State. Our two best defenders are pg Khari Price and g Kyle Davis. I would not call them lock down but I would consider them solid. We don't have any true rim protector but as a team we blocked alot more shots this year than I thought we would. Overall Dayton has been rather poor at times on defense. Recently they've been better. They really seem to struggle with not fouling on drives which OSU likes to do. I think OSU shooting poorly is just about the only way Dayton can win because beating teams down the floor in transition is one of our strengths. Like you said though, OSU has become very good at overcoming poor shooting to win games.
@Mh277907 I think it will be a low scoring game which plays into Ohio State's hands imo. I think Archie Miller would love this to be an 85-80 type game. Dayton has also performed well in the underdog role against BCS schools over the last few years. I could see it going either way. My heart says Dayton wins, maybe around 75-72, but my gut says its Ohio State closer to 65-55.
I'd imagine Dayton has as much to offer as any other town in the country around the same size. The big tourist attractions are pretty much limited to the Air Force Museum. Sports wise you have the Dragons, University of Dayton and Wright State basketball, and Columbus and Cincinnati are about an hour away.
Like Hodge said, the areas to check out Beavercreek, Centerville, and parts of Kettering. This is where the money is going right now. Other suburbs like Englewood, Vandalia, and Tipp City are still nice but they are north of town where there is far less to do. Yellow Springs is a cool little college town with some nice restaurants and bars. The craft beer trend is taking hold here as well as 11 new microbreweries have opened or are scheduled to open.
I think what really helps keep Dayton interesting is its close proximity to Columbus and Cincinnati. My friends and I often head down to Cincy for concerts, casinos, and sports. It's unfortunate to have to drive to another city for these things but I imagine if you live in a larger city and have to drive across town to get to attractions it probably takes about the same amount of time as it does to get from Dayton to Cincy. The hinterland between them is one of the fastest growing areas in the country. It wouldn't be crazy to shoot for a spot in between Dayton and Cincy and be about 20-30 minutes from either one.
Just because something is what you're supposed to do doesn't mean that it's always easy. Getting hit in the head/face tends to trigger a person's fight or flight mechanism and Carlos was able to keep it reeled in it looks like. Some athletes cough*Pacman*cough, could learn a thing from Carlos.