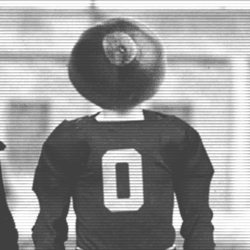 Bluke221
---
Member since 13 February 2012 | Blog
Helmet Stickers: 379 | Leaderboard
Favorites
SPORTS MOMENT: The entire 2002 football season which I got to enjoy as a sophomore on campus.
COLLEGE FOOTBALL PLAYER: Carlos Hyde
COLLEGE BASKETBALL PLAYER: Dyshawn Pierre
NFL TEAM: Cincinnati Bengals
NHL TEAM: Columbus Blue Jackets
MLB TEAM: Cincinnati Reds
Recent Activity
My favorite show! The Reykjavik Shore.
1) I will answer this question based off how I responded last World Cup. I will probably stop to watch a few minutes of an MLS game or two, instead of just skipping them over when they are on, for a few months. I will also pay somewhat close attention to the next season of Premier League play. Other than that soccer will most likely take a back seat until the early stages of World Cup Qualifying and Gold Cups start taking place down the road.
2) Yes I will most assuredly be watching the next world cup. The only question is whether or not it will be live. By that point I expect to have young kids, possibly even newborns. Maybe i'll take the late night/early morning shift and sneak in a game.
3) I will always be interested in any formal competition the USMNT is playing in.
Careful. Banana Peel jokes about an SEC school is a slippery slope.
Yeah with all of the duplicate threads going on over the last few days on these guys I thought I'd have a little fun. Commence normal operating procedures 11w.
Ginn and Jenkins.
Both came up huge time and time again. Both key components of title game runs.
Holy Buckeye is one of my all time favorite OSU memories and watching Ginn shift the field on his patented reverses was fun to watch.
While I'm a fan of night games in general, I'm not a fan of giving MSU this game at night for the obvious reasons.
I have been craving that pizza for years. Live too far away from C-bus or Cincy to justify driving for a pizza to satisfy my craving unfortunately.
Yeah it's tough not knowing if he's going to go in One Direction or another. As a casual NBA fan from Ohio I hope he goes to Cleveland.
I'll go with what I've seen in my lifetime (31 years old).
QB: Smith. Hands down the best quarterback OSU has had over the last three decades. Would be a school legend if they had beaten Florida in 2006.
RB: Eddie George. Another Heisman winner and arguably the second best OSU RB in history behind Archie (who is omitted from my list in this instance).
RB: Carlos Hyde. I thought of putting Beanie in here but I was always frustrated with his apparent fragility. Hyde is a man's man at RB, plowing through tacklers like a runaway train. Some could argue his stats were somewhat inflated due to the system he ran in his last two years but regardless of that I loved the way this kid ran the football.
WR: Joey Galloway. IMO the second best WR in OSU history behind Carter. He was a stud on teams filled with studs.
WR: Tedd Ginn Jr. Simply a difference maker. Wheels upon wheels. Every time he touched the ball there was an air of electricity in the stadium. Probably not the best pure technical WR but easily the most exciting.
Don't even get me started on the mercator projection....
Map of Napoleon's march on Moscow and subsequent retreat. The width of the line represents the amount of living troops in his army.
Thought this was someone trying to sell Browns tickets for the upcoming season.
It's one or the other. He can only go in One Direction.
Lock him up and throw away the key! We can't have people who voluntarily eat Hot Pockets wondering our streets and influencing our children!!
I'm with ya. I hate to be the guy that claims a band "sold out" but I get that feeling with OAR. Not that I am not happy those guys are successful, they certainly deserve it. I think what I'm trying to say is more along the lines of them sacrificing some of their genuine creativity that was so prevalent in their first couple albums for a more radio friendly / generic sound. In fact maybe sold out is the wrong way to put as this is how you make money unfortunately. I saw them play at Riverbend last summer opening for DMB. I was really hoping to hear some stuff from The Wanderer and Soul's Aflame but they played mostly new stuff. No CGOP which I didn't expect. I remember seeing them live at The Newport or LC Pavillion when I was at OSU circa 01-04 and those are some of the best concerts I've been to.
Now that I have learned "slidden" my vocabulary has been embiggened.