Bluke221
---
Member since 13 February 2012 | Blog
Helmet Stickers: 437 | Leaderboard
Favorites
SPORTS MOMENT: The entire 2002 football season which I got to enjoy as a sophomore on campus.
COLLEGE FOOTBALL PLAYER: Carlos Hyde
COLLEGE BASKETBALL PLAYER: Dyshawn Pierre
NFL TEAM: Cincinnati Bengals
NHL TEAM: Columbus Blue Jackets
MLB TEAM: Cincinnati Reds
Recent Activity
Yahoo is absolutely shitting itself for me right now. Anybody else able to get the draft loaded?
Depends on who is going to be available. That being said I'd rather have about 10 running backs, Manning/Brees/Rogers, and a couple WR's before Lynch.
Pretty much showdown with the card appearing after an ace being wild. Wild can change up to four times obviously. Can do 5 cards or 7.
Fiery Cross (may be what you call Criss Cross)
Acey/Duecy (Between the sheets)
Kings and Little Ones
Chase the Ace
Guts
Omaha High/Low (Chicago low/high?)
Baseball (probably midnight baseball?)
Non-poker variation: Canasta
So am I the only one who thinks that when Kevin Feder is playing, the offensive line becomes the Feder Line?
I bookmarked all of the articles linked in the original article. I have family that lives in Columbus and they absolutely hate Ohio State and idolize Bob Stoops and Oklahoma. The next time they run their mouth on Facebook or Twitter, which shouldn't take long, I'll have these bad boys ready to go to stick a big ole pin in their ego balloon.
Just give me a screw or two, and I won't fail you right out of school...
How does this compare to Chimay?
I've seen alot of Heady Topper and Zombie Dust mentions in this thread. Looks like i'll have to give those a try.
Awesome how fast this thread took off! I don't know if it has been mentioned yet but another unique style of beer that's worth trying are the ones using ancient recipes. My favorite is Midas Touch from Dogfish Head. Very similar to mead.
What part of the country are you guys getting Pliny? I've inquired about it at a couple locations in Dayton and was basically told good luck finding it.
I never got into Breaking Bad when it was first on tv. Didn't really think the premise was something I would like. Once it got popular I decided I wanted to watch it but I didn't want to come in mid series not knowing who was what and what had already happened. I also didn't want to ruin the episodes I had already missed by seeing who was still alive etc. Long story short I would actively avoid the final seasons of Breaking Bad with the intent to somehow watch the whole show later.
For whatever reason it took me awhile to finally decided to watch them (on Netflix) but once I started, which was on a sunday, I had finished all 62 episodes of the season by the next friday. It is that good and that interesting. I highly recommend going back and starting from the beginning. Just make sure you still have some semblance of a life unlike I did.
"Jarret "the bay" Guantanamo" - Beth Mowins
Weird having the Fiesta Bowl and the Orange Bowl on New Year's Eve.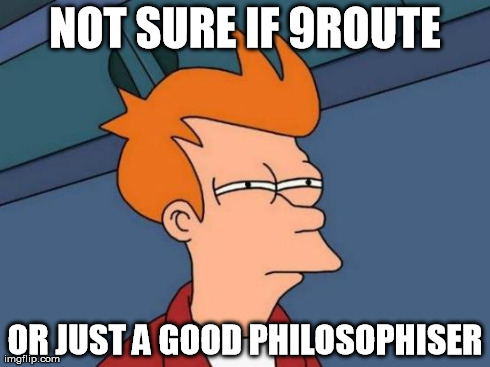 If you're looking for something to do mid day before you get too rowdy, check out Belterra Park for some horse racing and slots. They usually start around noon and go until 6. Do not go into Kentucky for any gentlemen's clubs. Stricter laws kind of eliminate the reason for wanting to go to such an establishment in the first place.
Also as a personal favor to a friend I would be remiss if I didn't mention The Littlefield in Northside. It's a newly opened bourbon bar with a cool selection of bourbons and craft beer, apps and smaller entrees, among other things. Really good stuff.
1) Pick of Navarre to end The Game in 02 and send us to the Fiesta Bowl
2) Chris Gamble pick six against Penn State in 02
3) Troy Smith scramble and bomb against Penn State in 06
4) Cie Grant singing Carmen Ohio in the snow during the Championship Celebration
I'd be interested in joining. I'm down for a bragging rights only or pay league though I probably wouldn't want to do more than 20-30 bucks if possible because I already have significant entry fees in other leagues. I can promise a full season's worth of participation.
Wow, wish I had read this two months ago. Would have saved some cash.
My favorite show! The Reykjavik Shore.
1) I will answer this question based off how I responded last World Cup. I will probably stop to watch a few minutes of an MLS game or two, instead of just skipping them over when they are on, for a few months. I will also pay somewhat close attention to the next season of Premier League play. Other than that soccer will most likely take a back seat until the early stages of World Cup Qualifying and Gold Cups start taking place down the road.
2) Yes I will most assuredly be watching the next world cup. The only question is whether or not it will be live. By that point I expect to have young kids, possibly even newborns. Maybe i'll take the late night/early morning shift and sneak in a game.
3) I will always be interested in any formal competition the USMNT is playing in.