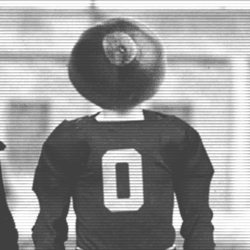 Bloombergl
---
Member since 08 December 2013 | Blog
Helmet Stickers: 41 | Leaderboard
Favorites
SPORTS MOMENT: Easy. Sitting in the stands in AZ watching the Bucks defeat The U for the crystal football.
COLLEGE FOOTBALL PLAYER: Chris Spielman
COLLEGE BASKETBALL PLAYER: Cal Cheney
NFL TEAM: Browns
NHL TEAM: Jackets
NBA TEAM: Cavs
MLB TEAM: Indians
SOCCER TEAM: Barcelona
Recent Activity
Got my tix. Plan to go to both Bucks games in MD this year!
Can't hurt with these guys to know the Bucks play in MD twice this year. Just bought my tix to the Navy game in Baltimore last night.
Bucks fans living in Bethesda. We're ecstatic for Navy and MD games. Great call on 11w tailgate for one or both!
Guapo's vision and uncanny ability to use his blockers perfectly are what sets him apart, in my opinion. His athletic abilities are obvious. But, I'm convinced it's what he's got going on above the shoulder pads that make him a steal as a draft choice.
Would love to see something great happen for Jordan Hall. Guy just was in the wrong place at the wrong time (glass underfoot and Guapo in the wings). He could be good, given the right situation.
As much as we'd all be thrilled to have another big time player in this class.... I'm inclined to say best of luck elsewhere, MM. I'll take a 3 star who'd give anything to be a Buckeye (like Slade committing before visiting) over a 5 star who's not got every ounce committed to bleeding S&G.
So, I do keep checking back and the anticipation is killin me! What's the latest on the day's visits? The silence is deafening. (You have spoiled us, Birm!)
Has anyone else wondered if those nike gloves brax puts on when the weather dips below maybe 50 degrees causes him to grip the ball differently and lose all sorts of accuracy? Whenever I see those gloves, I assume it'll be an off day in the passing game.
Anyone else hear Franklin's presser? "We're gonna own the state of Pennsylvania." This, I have to believe, would not help on that front for Coach F.
To the point about our WR productivity, for an 11W expert who can look at the film, I'd be very curious to know to what degree was the problem WRs not getting open versus Brax just not having the time (or vision) to find them. I've wondered this over the last several games as the passing has become increasingly inefficient. Is this a Brax issue or a WR issue?
We shouldn't be happy with the D. It's not silver bullet caliber. With Roby and Spence out versus a really good offense, I was fearful we'd give up 50+. We did yield a boatload of yards and a ton of them on screens. Hate that. BUT - the D actually put us in the position to win this thing. Some huge stops in the 2nd and 3rd (and at the end) kept us in it. But when the O goes three and out a bunch and turnovers leave the D with a short field, not sure the major "blame" goes to the D. Doesn't mean I'm happy with the D, though.
Run clock and keep the O on the field all day. Or just try to score 70.
With the D being suspect when healthy, and knowing that Spence, Roby and Grant are questionable, I'd bet we go with a whole lot of el Guapo. I'll bet we eat lots of clock to try to keep the Clemson O on the sideline. Best D is the proverbial good O. Not counting on Brax lighting it up through the air (until next year - for tOSU).
Let me start by saying, I absolutely love Coach M and would not change anything about who we are and the kids that are becoming Buckeyes (thank you 'kwon). I welcome change.
I was born and raised in Ohio. I'm a diehard Buckeye football fan, although I didn't actually attend tOSU. That said, I've always felt a bit of pride when hometown kids do world class things playing football for the Buckeyes. Under Coach Tress, as the stats prove, we had hometown kids doing just that - winning a crystal football (think Donny Nickey from Plain City). While I absolutely love what Urbz is bringing to our team, we must admit that times have changed. We're no longer the underdogs from Ohio facing the Goliath from "the U".
For example... Trust me, I'm as big a fan of RDS as you'll find. However, my favorite Buckeye of all time is Spiels, from Massillon.
I suppose my point is this.... let's acknowledge that times have changed. Let's be sure we still get the best kids from in-state. And, let's all be sure we educate the out-of-state Buckeyes what it feels like to be a Buckeye (I'll never forget ttun, literally, running out of the tunnel and over Mr and Mrs Bellisari as they walked out for Senior Day in the 'shoe - no class).