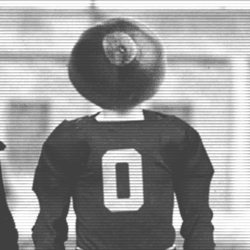 bleedscarlet
---
Member since 31 December 2013 | Blog
Helmet Stickers: 685 | Leaderboard
Favorites
SPORTS MOMENT: Has to be 02 title
COLLEGE FOOTBALL PLAYER: El Guapo
COLLEGE BASKETBALL PLAYER: Aaron Craft
NFL TEAM: whichever team is on that has Buckeyes on it
NHL TEAM: yuk
NBA TEAM: the underdog
MLB TEAM: yuk
SOCCER TEAM: yuk
Recent Activity
He can't play QB, he should just play WR.
Mariota is 6'4" 220lbs and runs like the wind, he has escapability and throws well on the run... that isn't a joke. Oregon's system makes judging him a little tough, he'll take 85 snaps but 20 of them will be while the D is still looking to the sideline to get the call. There's a lot of talk out there about him going high in the draft, but because Oregon's offense is so different than what NFL teams run, I'll believe it when a team puts their money where their mouth is.
I don't know about anyone else, but I'd have a hard time taking someone who told me that UNC is better than 10 of the 14 B1G teams seriously.
Ball control offense and disciplined defense is Oregon's kryptonite. With fall camp to prepare for that hurry up offense, Narduzzi and Dantonio will get it done.
I think they're being a little pessimistic on OSU's playoff chances, there aren't 4 teams out there with more talent and the schedule is respectable but no gauntlet. There are holes to fill, but this is college... who doesn't have holes.
That doesn't look good... looks like the motion someone would make if it was causing pain.
I've read that OSU's music dept. wanted control over the marching band, the more I read the more I'm convinced this is going to end up being one big black eye for OSU's administration.
I wonder if he was told his commitment was tentative depending on what other targets decide. Not saying he isn't worthy but it may be why he declared he's committed but still open.
A gift from Superman... said they were too big for him.
People calling out the away jersey at home makes me wonder if I've always been this dim (I would have never noticed) or if I've just partied too hard. I'm gonna go with the former because the latter would just be depressing. :p
~~"But left guard on offense. That's the one," said Meyer after the first day of fall camp.
"If I had to say, 'Where's all the focus?' To me, it's that left guard."
To me, that says... "yeah, we're pretty freakin' good"......
Miller's attitude this preseason reminds me of the cat that ate the canary, like he's got a secret and he's just dying to tell it....
Dline was as good or better as that Gator line LAST year, hell, Bosa matched McDonalds entire college career in just his freshman season. Losing Ginn, and the ability to take the top of a defense, made them look exponentially better than they were.
Hopefully he doesn't rush into his next commitment, maybe just hold off til NSD and be sure the next time. Plenty of time for OVs and such, just needs to step out of the whirlwind for awhile and get himself settled in.
and we know how all that turned out....
They can hate all they want, but I shudder to think where the B1G would have fallen to over the last decade and a half without the Buckeyes. I look back on OSU's last NC game and wonder how in the hell that team got there with only 7 returning starters, the answer is an easy one, of course.... no one stepped up to stop them. I was very irritated to here B1G coaches talk about being proud of B1G ball during media days. Just what in the hell are they so proud of, the BTN payday? Graduating the players is always a goal but if that's all they have to hang their hats on they've left the job half done. Hopefully UMs ticket problems will be a wake up call to those around the conference who have been sitting around not worrying about the perception because the money and the fans have still been rolling in.
I live in Delta, approximately 25 miles west of Toledo and all the stores are out even to the west of us. They were breaking down the cases and would only sell it per bottle. From what I'm hearing some gas stations were selling cases for over $20 :(
Pelini may be a rising star in the coaching ranks. He wears his heart on his sleeve and even though that's gotten him some bad pub it's also endearing. UN may be the competition, but I'd like to see them cement themselves as a national contender. He could be one more added to the list of all-time great coaches from Ohio. I'd also love to see them really start raiding the Texas recruiting cupboards just to rub it in their noses.
I wonder how much the year Coach Fick was Head Coach set the unit back....
I'm smellin' what you're sellin'... they should at least try it on one time and see how it fits.
Hyde's situation was pretty immature, look how he turned out...
Basically it boils down to him not leaving when told to, dumb move but not life altering dumb. I really hope that the rug isn't yanked just for this....