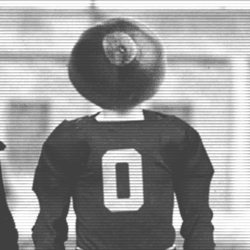 bleedscarlet
---
Member since 31 December 2013 | Blog
Helmet Stickers: 613 | Leaderboard
Favorites
SPORTS MOMENT: Has to be 02 title
COLLEGE FOOTBALL PLAYER: El Guapo
COLLEGE BASKETBALL PLAYER: Aaron Craft
NFL TEAM: whichever team is on that has Buckeyes on it
NHL TEAM: yuk
NBA TEAM: the underdog
MLB TEAM: yuk
SOCCER TEAM: yuk
Recent Activity
Don't give a shit what anyone says... Waters got hosed
I miss the 70s....
Today a man can be fired for letting adults flaunt their sexuality while parents buy their underage daughters skin tight yoga pants with "cutie" written across the ass. Somewhere along the way people have managed to get everything backwards.
I won't sign a petition because it's a pointless waste of time....
When Coach Meyer lands Harris, we'll have to change his nickname from "The Closer" to "The Savior".... not ours, Harris'. It would be a shame for all that talent to be wasted on UK.
I can understand missing Florida, the cold of winter can get to anybody, especially after you spend a few years away from it. She doesn't really champion the uber competitiveness of the sec as a reason for her missing Florida. In fact they talked their daughter into going to GT to avoid the harassment of students from the sec so I doubt she has much respect for that conference. It isn't the entire South that is so vile, just the ones that ESPN has convinced they are CFB royalty when they are really CFB's version of Joffery Baratheon.
After a visit to Volnation last night I have a new appreciation for 11W... that's a train wreck over there. The format seems generic, lacking in imagination and creativity. I also couldn't believe they had an entire page dedicated to recruits twitter handles, which can only encourage twitter trolling.
Always had the same problem. Even bought a new laptop but it's still the same. Eventually gave up and quit bothering to try.
The way I understand it over signing is a must, it's the amount and timing of attrition that has created the controversy. Signing 28 kids while only having 22 scholarships open and then magically having just the right amount of attrition between signing day and the day scholarships are counted (sometime in May I think) stinks of abuse. I would also point out that new coaching staffs would naturally have more players leaving than a staff that has been in place just because the players weren't recruited by the new coaches.
I like the B1G's chances... doubled right off the bat.
I like Wisky's chances against lsu.... Wisky can run, so they can control the clock, and lsu's offense is in rebuild mode. Plus I think Miles is average at best, if Dantonio has done more with less, Les has done less with more, and he's a poor clock manager. In a game that Wisky will surely be looking to control the time of possession that's going to be critical.
MSU's power run game and disciplined D will give them a good chance against Oregon.
When it comes to Ohio State... if records are identical, there are only a few teams that garner the respect that OSU does. It's easy to forget that sometimes, through all the haters, but all those at-large BCS invites speaks volumes.
I also like that the B12 plays one less game.... if all five conference champs have one loss, that 12-1 will look better than the 11-1.
I doubt we'll see that for a few years at least. The committee will be mindful that the playoff is seeking acceptance and leaving out 2 of the Power 5 and ND right off the bat would be a big hit to that. Dual conference teams in the playoff is probably coming, I just think they'll involve as much of the country as possible for awhile just to give it some traction by everybody getting a taste early.
If it was any other team heading west to play Oregon, I would agree. However, Oregon's niche is the up tempo, snap it b4 they're ready offense... I'm of the opinion that few, if any, coaches do a better job of having the D ready than Dantonio and Narduzzi. Oregon doesn't have a personnel edge, they've got some fast guys sure but they don't really have the elite athletes of a bama or fsu and if it comes down to coaching... MSU has the edge there. MSU also should have a nice mix of confidence and hunger.. hunger for national respect and the confidence from beating OSU and Stanford, that's a dangerous mix.
You know you're in Buckeye Country when a 3rd string TE and ST player's possible departure garners so much attention. Take note recruits.... that's love for our Buckeyes. Got his degree and a new baby at home, regardless what happens with his playing days... dudes gonna do alright for himself.
Well, I did say "apparently" :p.... Thx for the clear up. You would think a team spokesman would be the "go to guy" for info, never considered they'd mis-inform intentionally. Lesson learned...
If that's right, that's a helluva good call... would have never thought of that.. well done sir
.@jaxon_knife @brdispatch @11W Semantics. He might be on team, but definitely will not play.

— Dave Biddle (@davebiddle) July 17, 2014
I would think someone so adamant about getting his due credit would man up and take it on the chin when he's wrong, but....
Contrary to some Internet reports, #OSU senior TE J.T. Moore remains on team, team spokesman tells Dispatch.

— Bill Rabinowitz (@brdispatch) July 17, 2014
Apparently a false report.
The problem was always Withers... when the DBs weren't out of position, they'd get lost in coverage or miss a tackle or mis-play the ball just to watch it sail over their heads. I just don't think he was as dedicated to the team as a coach needs to be....just an assumption but when you ask a coach with head coach aspirations for a two year commitment he'll spend those two years with an eye to the future.
I assumed Baker was considered the top Ohio player because he has great value at LB and RB, where as Hilliard, as far as I know, plays strictly LB.
B1G recruiting is going to be better going forward. The conference footprint moving into the NE is a perfect marriage, it's extremely populated but with no good home for it's football talent... until now. I doubt the recruiting rankings will ever fall into B1G favor because recruiting analysts live at the camps and nobody camps like the South. The familiarity with the southern players will always breed a certain amount of favoritism, but there is more than enough talent in the Midwest and NE to make a few more B1G teams national powers and bring some of the bottom dwellers into respectability.
By all means, shy away from contact.... please.
As long as it's Meyer's fault it's not Muschump's... good recipe for continuing the spiral
What's left to do but hope he represents well? I'll be rooting for him to run roughshod over the sec....