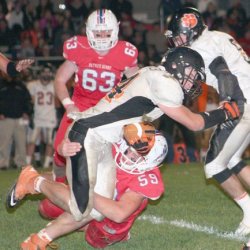 bleedscarlet
---
from Napoleon,Ohio
Member since 31 December 2013 | Blog
Favorites
SPORTS MOMENT: Has to be 02 title
COLLEGE FOOTBALL PLAYER: Darron Lee
COLLEGE BASKETBALL PLAYER: Aaron Craft
NFL TEAM: whichever team is on that has Buckeyes on it
NHL TEAM: not my thing
NBA TEAM: the underdog
MLB TEAM: yuk
SOCCER TEAM: yuk
Recent Activity
I can think of 3 other reasons he's 4th string
Because he's dropped some teaser tweets, which is different than taking his time.
He may just be trying to get his friend noticed. In case there are some here that aren't aware of it, there are many players that drag out their recruitment just for that purpose.
Illegal, but more effective than stealing a mascot...
I smell a turnover and a WR pass to make it 21-20 right before half... think I've seen that show before
Gone, over, done with. It's a new day. Time to put the past where it belongs and look forward.
That new B1G rule allowing them to come back and finish school is also probably part of the trend.
Always thought that was weak sauce until I heard Tomlin say that playing in the cold makes a difference for them when they are evaluating draftees.
Beck was with Warinner at Kansas.
Meyer's players ALWAYS make a jump when they hit the post season, even before tOSU (as if we need reminded). I've never noticed a big time flaw in Prince's game, he just has a staggering amount of plays where he blocks no one. He may be the most perfect candidate ever for that big jump, he just needs to find somebody to f#@k up.
Originally saying he wanted the competition of the sec. He'll finish his first season starting having played 6 top 10 teams and been on a 7th. I think he made the right choice :)
Context may not fit but Meyer has admitted to making shit up before so I'll roll with it... same with the Watson "I'm the best player in the country stuff". Almost time for yet another dejected Heisman candidate to be laid to waste.
Eleven B1G Bowl games... 9 vs ranked opponents... best buckle up B1G
Bama, Clemson, OSU, PSU. Temple is likely to be ranked and Iowa also after VT and Navy fall. UW may have the better record but PSU had better wins, more good wins, played a harder OOC and won a tougher conference. Not necessarily my top 4 but I think this is what's cookin' up.
then again, that scenario could just push Washington out
and Temple is looking to become a feather in their cap also