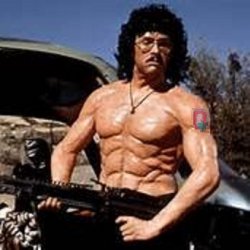 Blackbeards Delight
---
Member since 07 November 2013 | Blog
Helmet Stickers: 592 | Leaderboard
Favorites
SPORTS MOMENT: 2002 NCG/2010 ROSE BOWL
COLLEGE FOOTBALL PLAYER: EDDIE GEORGE
COLLEGE BASKETBALL PLAYER: Neon Boudeaux
NFL TEAM: Anyone who beats Dallas or Pittsburgh
NHL TEAM: Icy Black Hand of Death if they were a team
NBA TEAM: The Dream Team
MLB TEAM: I don't take naps
SOCCER TEAM: I like to use my hands
Recent Activity
Did John Simon get Tebow motivated for that motivational speech?
Cardale would ride a custom hog with a side car for Saban. They would travel the country, campus by campus discovering NCAA infractions. So they never really leave the south. Basically, they never leave Tuscalossa.
1) Bosa
2) Bennett
3) Washington
4) A. Miller
B. Frazier
Did we win? Did we win?
I-O!
Three down votes? Thats ironic.
Moderate.
If he can throw a jump pass,
High
"The Blackshirts?"
Nebraska's defense is not even black panty worthy.
He will probably donate it to the TLSP charity.
"The Little Sisters of the Poor."
So then, you're saying that was a "quality loss" for Chuck.
I'm just glad that "Team Up Nowhere" is the last game of the year. Who knows if the field turf will even be playable again, after they finish shanking it with a tent stake. BEAT SPARTY!
Hey Tom, time to shove that Mensa Card right up Spartys a$$.
And Michigan States salary cap is significantly lower than Mississippi States.
If conference championships are going to be a big factor, then shouldn't the top 5/6 be the perceived best team from each conference? It's just as subjective as all these other attempts to rank teams.
1 Miss State
2. FSU
3.Oregon
4. TCU
5. MSU
6. Notre Dame
If one of those teams lose, another one from the same conference takes it's place. Of course the pecking order can fluctuate based on perceived confrence strength/strength of schedule. One loss teams that play and win a conference championship would trump one loss teams that don't have a confrence championship game (ND/BIG12) or lost their CCG. Would resonate more with football fans outside of the south I presume.
If there are two teams from the sec in this playoff or any other conference (ha ha right) then it's a failure.
If Penn State can do that with two weeks to prepare. I'm not excited to see what MSU is going to do with two weeks to prepare?
White is not a color. Lions cry, not as often as wolverines.
All GREY. Not a fan of the black. At least not the ones in the leaked pic.
Dammit. Not the cover "who" defense again.
Just checked 247 and ESPN, he's not listed as "a top QB" at either site. I don't really care what number he is rated or position he's listed at, as long as he can ball. Hopefully he chooses to do so for OSU.
Don't follow recruiting very closely but I thought he was listed as the #1 athlete? Not the #1 QB.
"We got exposed a little bit..."
I think that phrase is reserved for maybe a nipple slip. Saturday was more like a performance at Cheetahs. I believe they will get this fixed, they have all the pieces to. Well except maybe another El Guapo.
Positives
They still make Bourbon.
As suspecious as the O line and coverage on third downs was they still could have beat that team. Missed opportunities cost them 13 points. It's not an excuse but a fact that this team is young, installing a new Defensive philosophy, and lost their starting QB. VA Tech balled out, congrads to them on the win. Now go get better.
Negatives
I have to wait till Saturday to watch The Buckeyes again
"Don't go chasing waterfalls."
Regroup and try to win the BIG. Well, win next week and we'll take it from there.
Well you can't use tight ends because they have to block. Can't use the running backs because they have to block. Hell, JT will be blocking if this isn't fixed.