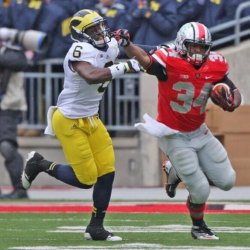 BigZ
---
Hilliard (via Worthington)
Member since 06 June 2014 | Blog
Helmet Stickers: 44 | Leaderboard
Favorites
SPORTS MOMENT: 2002 Championship
COLLEGE FOOTBALL PLAYER: Troy Smith
COLLEGE BASKETBALL PLAYER: Sully
NFL TEAM: Browns
NHL TEAM: Jackets
MLB TEAM: Reds
Recent Activity
Does Gibson become a 3* if he commits to the Buckeyes? Is that how it works?
Hopefully we can get him on campus, would be even better if he attended one of the night games this fall!
My biggest concern as of now is at kicker. I dont think we have a reliable guy right now, and forsee us going for it much more on 4th down this season. I would guess less than 10 attempts all season unless someone steps up, Urban wont use you if he doesnt trust you. I am honestly not worried about any other group, aside from Braxton getting injured. Overall I think this team will be much better than last, which is a scary thought.
I agree totally! Any show that can keep my interest and confuse the hell out of me at the same time will always be at the top of my list. Lost was maybe my favorite show ever, and I have been patiently waiting for something of that caliber since. Many other shows have tried, but I dont think one has got it just right. High hopes for this one!
The state of Michigan football recently has allowed apathy to seep into the fan base. The only reason they can claim that the MSU rivalry is on par with ours is that generally when they play MSU their season hasnt been ruined yet. By the time we play, their fan base has no fire left.
Loved me some Houndogs and Catfish Biffs, but Adriatico's is by far the best. Their thin crust is heavenly, and the deep dish is damn good too.
Im so out of touch these days, dont even know half the stuff you guys are mentioning lol
QB: Troy Smith RB: Eddie and Mo C, Beanie Wells and MoC are close, but Mo won me a NC (born in 80 so never got to see Archie, or else he would probably be on here) WR: Joey Galloway and Santonio Holmes (maybe my two fav Buckeyes, again too young to remember Chris Carter
Makes me wonder how much this coaching staff had to do with lifting Kenny G to the heights and performances he obtained by his senior year. Also makes me very excited to think that if they can mold him into that, what will a player like Braxton look like when they are done molding him!?
Howard deserves a medal for that performance
We got this!
As long as we keep up our winning traditions and continue to schedule quality home games, we will never have a problem filling the Shoe. That is why they can charge premium prices because of the demand being so high. I do agree that finding way to draw in crowds for games in 90 degree weather vs crap teams is going to be needed going forward.
So glad to see that this class is coming together beautifully and the dominoes are getting ready to start falling towards another top 5 class. Still cant believe how much some were freaking out a month ago, we have UFM on our side!!
After reading Russ' s awesome breakdowns of our offense, I do see the staff leaning a bit more on the short passing aspect of our offense, instead of the RB/QB power rushing game. However, with that being said, they are almost always going to turn to Braxton when they need a play, and ultimately it depends on what the defense give you. If they dont respect his short passing game then we will see his carries remain about the same. Overall, I expect a 10-15% drop in his carries.
I wish this site would stop crashing on me! What else am I supposed to do at work!!!
If he can stay healthy Braxton has BIG things ahead of him this season! Glad to see he is working hard this off season!
I need to forward this article to my Fiancé who tells me all the time how she cant have her dream fall wedding because I refuse to get married on a football Saturday. I have always loathed those who would do such a despicable thing to their guests, and no way in hell am I going to be that couple!
Please just get rid of 7 Nation Army, please! It was ok for a season or so, but it is just sooo played out. Just have the band play with some highlights on the screen, shoot off some fireworks, and take the field.
It is going to be hell for anyone to win this thing now, no more paper championships. As for the Bucks, we will basically have to go 3-0 in the same situation we went 0-2 last year, and probably go 12-0 in the regular season for the 3rd straight year on top of that. Although if we stay healthy, I think Urbs will get us where we need to be to take it all!
I can agree with that, I was thinking more BCS era and not as much BCS games specifically tho. I loved Pryor, but I would take My Boy Troy over him any day, in any situation. Well except maybe a stiff arm contest!
Very true! If he can figure out how and, more importantly, when to use touch on his throws then he will be close to unstoppable in this offense.
Troy Smith was by far the most outstanding Buckeye in the BCS era. It is sad really, as if he beats Florida in the championship game he probably goes down as the greatest Buckeye ever. But since he, and the whole team for that matter, laid an egg in that game he is more of just an after thought now. I hope one day he gets the respect and recognition he deserves around here.
OSU parking enforcement is brutal. I had to make many a trip over to Bevis Hall in my days at OSU. I feel your pain Jeff.
I agree with, and fully support, the steps the B1G is looking to make moving forward to bring college athletics into the modern area. Although I am totally against pay for play, I do believe that they need to allow these athletes to profit off of themselves. I do understand that this is a very slippery slope, but it can be "regulated" just like things are today.