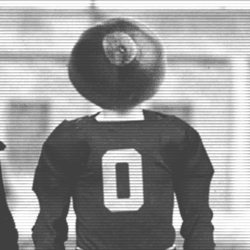 bigDbuck
---
Member since 04 February 2013 | Blog
Helmet Stickers: 468 | Leaderboard
Recent Activity
"Day by day by day...we pray"
The level of incompetence shown by 98 is beyond words.
Any commit from him now would only mean that school is in the top 3.
Is this really worth discussing?
Nice write up Kyle, thanks!
Just saw that bucknuts put a video together from Spring game. I'm not backing off 12-0!
Sorry didn't tag link, didn't know if would be against policy.
Being a glass half full guy, I believe the D will be light years better. A return of the silver bullets during the Heacock years. Give nothing on 1st/2nd down and all hell breaks loose on 3rd down. It's been four years since we've seen that but I used to enjoy watching the D as much as O. I believe that will return this year.
Also I wouldn't trade this team with JT under center for any other team in the BIG. Will MSU be a tough game, and could lose that game for sure. But that game will probably come down to the 4th qtr., so anyone's game.
Hopefully not season ending! Could manage 1st 6 games.
Awesome write up ziplock!! Thanks for the read and very valid points by you.
Talked to a guy last week who's company is going to lay thousands of feet of fiber optic lines in a few weeks. Will make wifi in shoe much faster.
Oh how the mighty (talking) fall. Took some of that shine of the dome. Be proud ND, you are now getting same caliber of athletes as scumbags in sec. Catholics AND Convicts got a new school!
Won't make nor break this class. Get on or get off pot
Thanks. Would be much better if they put names of competitors at bottom of screen.
I'd be pissed if I was Braxton and OSU doesn't do the same.
Coach mick made him blacker!! Now that's talent!
A lot of injured talent coming back. Some SEC think they will be champs.
Braxton crawls into hole latter in season when things get tough / game planned. And it's very obvious. But he has better tools than r Wilson, just about getting head straight.
I think primetime helped them make the video.
Very disrespectful of the conference to put signs everywhere pointing out how large of a man Brady is!
I can't say I completely disagree with you. Somewhat disappointing. We had an outstanding 13&14. And I still believe this year is going to be top 10. If we are to follow recruiting standings than we are FAR behind bama. And to be honest, that is all I care about (how are we doing vs the best of the best). But with that said I still like everyone of 14 players committed so far. Recruiting rankings aren't be all end all. And we will be in top 10 come February 6.