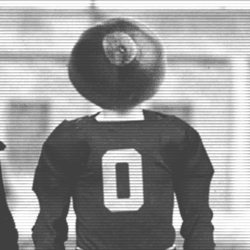 BigBuck623
---
Member since 11 July 2011 | Blog
Helmet Stickers: 64 | Leaderboard
Favorites
SPORTS MOMENT: My first game at the Shoe was the last time the goalposts were torn down - after OSU/Iowa in 1985. Even though I tore up [and preserved] part of the field after stomping Michigan in 2001, the 1985 game was the coolest thing I've ever seen!
Recent Activity
How much money does Jim Heacock want to come out of retirement?
The only part of that which worries me:
They need to play actual defense in Indianapolis or they will not have a chance against MSU. Assuming they're already in the title game brings back nightmares of the Troy Smith era.
The insane part about this story.. it's a glorified Upper Arlington slap fight. There is no point, and it was started by a woman.
Both of these children just lost over one million dollars.
For half that, you can hit me as hard as you want and I'll walk away laughing.
If the refs in college football wore 3-piece white tuxedos like the refs do in Aussie Rules football.. I have no idea how to finish that sentence, but it would be awesome.
I'd like to see a comparison of Saban's teams at LSU/Bama when the lines he's played have been equal in talent. Manziel had almost an unfair twosome at OT this year on the line, and Damontre Moore on defense.
Since the internets never lie, we can be sure unverified posts on an unsanctioned website will yield instant millions.
I'm not a lawyer, but I did sleep in a Holiday Inn Express last night.
I appreciate his clear professional approach towards practicing throwing off the mound before game day and 30,000 people at Comerica Park. "Professional" as defined by Allen Iverson, of course: "Practice?"
They beat Miami/Florida by 12, they're legit.
What happened to T.Y. this past year?
Great game! Who gets the title if Michigan loses to Indiana but OSU beats Illinois?
To be fair, if the article had contained nothing other than a picture of Bollman, I would still have smiled. Any time Bollman's on the other sideline, our chances to win increase.
Any and all success that OSU had was in spite of Bollman, not because of him.
He was nothing but terrible at OSU.. how does this guy fail upwards?
About 95% of the comments on that Scarborough thread are calling him an idiot and the kids undisciplined thugs who don't deserve to be at college.
I get to Fort Collins at least 4 times a year.. he'll love that town!
Even if Florida was at its max with everyone else they signed.. my guess is that when Clark flipped to OSU, Muschamp told Townsend he could have the scholly being held open for Clark.
David Lighty was a good but not great college player. Thompson has the potential to be great due to his athleticism, which this season has translated to defense and hopefully next season can help his offense move into the double digits.
Don't forget that even Eddie George was a role player his freshman season. Kids do improve.
Bielema's first play at Arkansas will use 4 TE's.
Boston College employed the Walrus in January 2012.
2011 BC rushing stats: 89th, 130.9 ypg.
2012 BC rushing stats: 117th, 90.5 ypg.
Well done, fat man. Well done.
Also: Someone who has the original audio track to a postgame Buckeye Swag.. please make that into a ringtone. I'd pay good money for that.
I'm completely in favor of running up the score on Nebraska after their deliberate disrespect of TBDBITL. Meyer should have let Simon leave the locker room early to tackle the kickers if they wouldn't leave the field. Hey, they're just kickers, they shouldn't mind.
Regarding Shatel's article:
One: It's not Tommie Frazier's trophy, it's Eddie George's. Using the same bizarro logic, Danny Wuerffel has Orlando Pace's trophy and Doug Flutie has Keith Byars' trophy. Or, we can go to the next tiebreaker: Which one of them had more yards in the NFL?
Two: "The way it almost dared the NCAA to" - Is Shatel a Republican speechwriter? What kind of post-fact nonsense is this crap? OSU didn't dare the NCAA to do anything - rather, we want the NCAA to make judgements based on actual facts instead of the manufactured lies of an SI columnist. And, apparently, Shatel.
Below is the screenshot of the pass interference call - I have it bookmarked forever on my phone for this conversation with people. I tried to talk about this over email with more than one ESPN personality but they refuse to call it anything other than a "controversy."
onegreatseason.com/home/2010/7/14/ohio-state-miami-yes-it-was-interference.html
Can't wait to see what punishment Emmert hands out to U Miami as a result of this year's ridiculous recruiting scandal. My bet is that the phrase "rebuilding its athletic culture" is only actually needed if a school is north of the Mason-Dixon line.