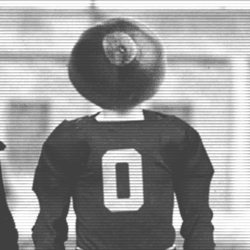 BiElEmAsDoUbLeChIn
---
Maumee, Ohio (via Toledo)
Member since 03 February 2012 | Blog
Helmet Stickers: 122 | Leaderboard
Favorites
NFL TEAM: San Francisco 49ers
NBA TEAM: San Antonio Spurs
MLB TEAM: Chicago White Sox
Recent Activity
Yes..and I highly suggest it if you can make it! Very cool atmosphere!
Just watching his demeanor in the pocket and his throwing motion he reminds me a lot of Alex smith!! Urban did wonders with him and he is a good nfl quarterback now! I'll take it!!
Well said rj--not gonna get everyone you want in recruiting anyways!! And at Ohio state at linebacker they better be ready to compete!! Just how it is!!
I know some wont like this but....he decides Florida then so be it!! I guarantee whatever person we use with this scholorship will be just as good if not better !! It's funny how a lot of people thought we wouldn't get Hilliard! Well we did with the added bonus of Cornell!! Hilliard>baker!! Baker might have been waiting to see what Hilliard was gonna do! Hilliard choosing the good guys makes baker go somewhere else! McMillan and Hilliard is tough composition! (Booker-burger-Connor) If he don't pick us it won't affect this class at all!!
A top 15 colleges for this dude at this point is as about as relivent as my top 10 favorite boxer shorts!!! His top 5 have already changed since he posted it I bet!! Lol!! Go BUCKS!!
We won't be number one souly on the fact we don't have the numbers!! Already too much talent in this team! People have to remember psu can offer immediate playing time almost at every position and haven't had great recruiting classes of late! Our class is gonna be sick! I bet our star rating average will be top 3 at the end if it all! It's the total number that fabricates overall team rankings! Hell Tennessee has like a 100 dudes last year and we were still ranked higher! Lol! But Good for penn state we need them to come back to revelence! I'm tired of hearing about the sec!! Great for the big ten!
This dude is Curtis Samuel 2.0!! He would be a huge get- out of Arizona no less -for the bucks!!
Up vote good sir!! Now I have to figure out how to save this on my phone! Have a feeling I can use this a few times a week in some fashion! Lol!
I'm guessing who ever it is will more than likely play football! To go even deeper..I'm thinking that he will be athletic also!!
Great write up Kyle...Just looking at the depth should make fans realize why Urban and company are being selective in recruiting this year! So much talent not many positions open...Go get 16 STUDS coach!!
Only for fans who are delusional and think like 8 yr olds!! Ridiculous to be upset in late April about a recruiting class that is not finalized for almost another 10 months!!
If urban and company don't want him neither do I! Peace out settle!
That I realize!! My point is that page wanted to be a buckeye in the worst way! To bad the staff at the time didn't-Plus page lived in holland not toledo so I guess it's a moot point! ;)
And some dude named Eric page who owns a couple records!!
Someone who impressed me was tyquan lewis! Dude was explosive and quick! Look out for this dude! UNDERATED!
It's basically a glorified practice! And how many got blocked of his last season? No worries!
Hey..if your tired of reading articles on the te position! There is an amazing article on Miley Cyrus! :/
Regardless of the outcome I'm loving the fact we are getting California prospects to visit...says a lot about how well our coaches are spreading the word in recruiting!!
DON'T LET THE DOOR HIT YA IN THE ASS ON THE WAY OUT BASS!!
Little off topic but here it goes...jäger bomb chilled or straight??
I love his size and his aggression!! We have been missing that of late in the secondary!! Bell, burrows, Conley, Apple!! I'm believing that our secondary is gonna go from weakest link to a definent strength!
Your aim wasn't very good!! I'm paralyzed now and just have to lay here and read worthless posts about worthless mindless shit!! Lol..but thank you anyways!!
Finally an interesting post with useful info!! Thanks bow this is something to keep an eye on! I'd up vote but my balls still haven't dropped yet!! Lol