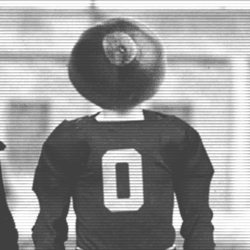 BHT
---
Member since 02 January 2014 | Blog
Helmet Stickers: 210 | Leaderboard
Favorites
SPORTS MOMENT: Braxton Miller's 40 yd Hail Mary to the end zone for a Touchdown vs. Wisconsin (2011)
COLLEGE FOOTBALL PLAYER: Braxton Miller
COLLEGE BASKETBALL PLAYER: Shannon Scott
NFL TEAM: Cincinnati Bengals
NBA TEAM: Miami Heat
MLB TEAM: St. Louis Cardinals
SOCCER TEAM: Bayern Munich
Recent Activity
Thanks. I though they do but I was not sure.
I was wondering, does Ohio State have an actual stadium for tennis? This question came up a few days ago with a friend of mine.
Congratulations to the tennis team. I hope this streak goes on forever.
I hope I am wrong. Ohio Stadium is the best stadium in land (based of of tradition and style-look at it; it is a horshoe). However, even now, it is starting to get old, and though I cannot see them building a new stadium in 5-10 years (or less), it is a realistic possibility 10-20 that they will start thinking about a new stadium. By 20-40, I think they might replace the stadium, maybe even a futuristic stadium. I hope this stadium stands for a long time, until it costs more to keep the current stadium than to build a new one. Most other stadiums are boring; they are bowls or oval shaped with no apparent style. The shoe is a horeshoe and I hope it stayes were it is, and how it is for a long time. I hope they continue to play football in it for a long time. The reality is though, it is starting to get old, and in 20-40 years, they might replace it.
I agree with the replica idea. I have a better idea though. Make the current stadium indestructible in some fashion.
I did not vote. I like Tressel and what he did for the university. He brought us Rose Bowls, Big Ten chapionships (Meyer has yet to win one), and almost brought us three National Championships (won 1/3). However, Meyer is a very good coach who even started 24-0 with a mediocre squad which eventually became what meyer called the best group of seniors (leadership) he has ever coached, and contued that with a squad full of National championship expectants. He is also recruiting very well. I cannot choose one, but I would certainly choose both If there was that option.
(I know Meyer could only win a B1G champ last year due to the bowl ban the previous year. Both of them did not win a championship in the first year they were eligible- Tressels first year and Meyer's second. Same goes for the National Championship.)
Only time will tell which is the better coach for the university. Both are great coaches and I would not trade either of them for the other, or any other coach in the land.
I think he was joking and forgot the sarcasm font. Sounded like it to me.
Come on Mr. Turner. We NEED you! (I know we have Lee and Thompson, but we need someone like Turner.)
I saw Amir jogging back and actually trying in a few of those highlights. Intresting...
Great video. Are you going to do this every Wednesday? I hope so.
The offseason is boring. Almost anything will suffice from the list above. I am going to watch baseball, but my interest lies in the Champions League and World Cup in soccer. I will watch the NBA playoffs too. But when will August 30 be here?
Thats great too. I meant football though.
Did anyone score?
Imagine Brutus and Perkins in those bubbles:
Its up to 53 UV and 0 DV. How about that record...
She is a buckeye fan?!? I am not sure how I feel about this.
There are only 229 days until The Game.
ONLY 229 days? That is a long time to wait to put the hammer on TTUN.
Thank you for all the time you spent with 11W. Thank you for all your posts; I enjoyed them all. Good luck on your future endeavors- We miss you already, but we are behind you all the way.
Throw the ball into triple coverage and we know who will catch it. On second thought, to be safe, don't throw it into triple coverage...
Ramzy is winning big, so good for him. Steve in Iowa's tweet is hilarious though.
I like it. Let's make this happen!
I am an aviation enthusiast.I love anything and everything about planes. SO it pains my to do this, but I vote for Owens. I am sorry Orville and Wilbur, without whom I may not have such a hobby for, but Owens is a special Buckeye, and a special Ohioan.
You need to have at least 100 helmet stickers to vote.
Thad Matta may have had his down years, and not so good recruiting classes, but I have never been on the fire Matta bandwagon. I one looks at all he has done in the last 10 years and compare it to before Thad Matta, it's clear he is the best coach, or second only to Fred Taylor, for Ohio State basketball. I have said it before and will say it now, I hope he stays until he retires and I hope he never retires. Good luck next season, and bring us the national championship. I know you will, coach Matta.
Let's go UCONN. Beat the SEC and those Wildcats.
I checked last night and Woody was winning 51% to 49%. Now Paterno is winning 53% to 47%. Let's vote again today. Woody must win the tournament. (I have voted 4 times on my computer.)
We wish him all the best in his quest.
You mean his quest to make more history, possibly losing every one of his games until he does not have another job? I'm with you on that; count me in!
That's how I have been playing 2048. That's the strategy to beating the game, or so I'm told.
I love the game but is there a way to get it on our phones like 2048? I like to play it throughout the day but I am usually not by a computer.