BGSUBucksFan
---
Member since 16 July 2013 | Blog
Helmet Stickers: 5,945 | Leaderboard
Voting Record: 573 / 25
Recent Activity
Agreed. I could do these ones that "leaked":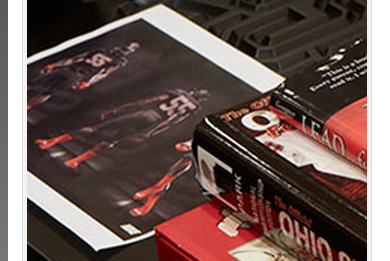 Uh yeah my thoughts exactly. Hey guys, let's reward the people who have already been rewarded for their tenure/comments with the same thing they were rewarded with: more upvotes!!!!!!!!
The Fong will always be with us. He has graced us with his return to the headlines.
Yeah be careful with this topic, these guys are as loyal to Powell as they are to their morning commode. I've always wanted to see Smith given a shot over Powell. Brought it up once and got shunned.
One thing I found interesting that sort of got swept under the rug last season was Powell mentioned in a post-game interview (of Indiana I believe) something along the lines of, "Coach said I could start next week if I got a pick and I came through." Not sure if that was a sign that the coaching staff was leaning towards starting someone else (presumably Smith), but it could also be Powell just messing around as he's known to do.
Well, also because he's white, too.
Thanks! I ended up booking a hotel in downtown Green Bay. It looks like there's some more options over that way. Thanks for the insight on the stadium area!
Nice! I was thinking about doing that game and taking my brother, who is a Cowboys fan. I opted for the warmer weather instead, but I'm sure I'll be back to experience the Frozen Tundra at some point!
I also read about Appleton. 40 minute drive on a non-game day/weekend means much longer than that realistically. Not a quick commute in my book, so I booked a hotel in downtown Green Bay. Eating and drinking I can do!
Let's hope he brings the boom like this other Pryor, first-round draft pick Calvin Pryor: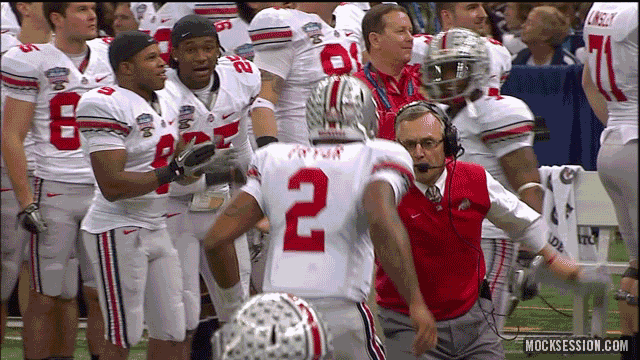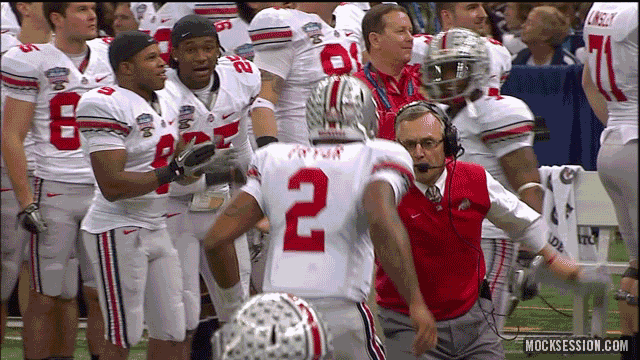 I didn't really start following recruiting until Urban came on board. I don't get high expectations for most recruits because I understand it's a whole new game at the college level and it doesn't click with everyone. I must admit, though, I had high expectations for Dontre Wilson after seeing his HS highlight reel and knowing he played against good competition in Texas. I'm talking Ginn/Harvin high expectations, so I've been let down with his development thus far. In general, though, I don't place such expectations on them even though I follow recruiting.
This should be on the list:
I don't think we land any of these guys, let alone a package deal of them, but if I had to choose I'd pick Mitchell and Gary just so we could land Gary. Gary is a position of need and continues to live up to his #1 overall rating.
Haven't heard much on Jordan Fuller lately. Is there still interest between both parties? Do you think the staff ramps up their efforts with Patrice Rene given his performance at FNL?
I think Birm has already touched on this in the Hurry-Up. He basically said Jackson could commit at the end of his trip (not sure if that is today or yesterday?). He didn't touch on the signing day thing, but I think it's safe to assume that if Jackson doesn't commit to OSU soon, that we'll be in it for the long haul.
Also interested in this. Doesn't seem like he's too interested or else I'm sure Birm and Eric would've mentioned it.