BGSUBucksFan
---
Member since 16 July 2013 | Blog
Helmet Stickers: 330 | Leaderboard
Recent Activity
Since I know which position I'm drafting in, I use it to gain some insight. Granted, no one mock draft is going to duplicate how the picks go in your draft, but it still gives you a general idea.
1. Positional Picks: If I go RB-RB-WR-WR, do I like the result? How about WR-RB-RB? How about QB-TE-RB?
2. Need-To-Have Sleepers: If I really need to have someone who I think is going to have a breakout year, I want to see how high this person is being drafted, and then draft them a round earlier in case anyone else wants the same guy. For example, I NEED to have Cordarrelle Patterson this year, I think he's going to have a Josh Gordon type breakout year. I also really want to pick up Carlos Hyde in the later rounds since I am in a keeper league and I think he will be the 9ers starting running back in the near future. It's nice to know when a good time to pick them up would be to guarantee they end up on my team.
On the flip side, if I don't know which position I'm drafting in, mock drafts allow you to pick any position you want and get a good feel for the same two points mentioned above. My draft strategy would probably be different if I'm drafting #1 vs. #10.
Plus, I like to engage in conversation with the other drafters to hear their takes on certain guys or draft styles.
Sorry, but I'm most definitely the type who gets annoyed when someone ruins a mock draft. By the time you join the draft and the picking actually starts, you've already wasted like 10 minutes. Dude picked Tim Tebow #1 overall the other day. There's a special place in hell (or would it be heaven?) for people like that.
Ah, so true. Well, that's much better!
Just bought a $32 pint glass. But damnit I love it.
Available at Champs online
http://www.champssports.com/product/model:217236/sku:54283016/nike-lunar-tr1-mens/
Maybe today's the day your kid decides to swallow a Lego block or your wife goes into labor.
Wife is due October 1st. Pray for me that the actual date doesn't fall on a game day.
Ah, I think you're right. I vaguely remember seeing that in a past article. Thanks for clarification.
The second cornerback position across the field from senior Doran Grant is between Eli Apple and Gareon Conley.
Interesting that Reeves isn't mentioned. He really frustrated me at times, even in the spring game, so this doesn't surprise me if true.
Agreed with above that EZE has the most to prove. Stepping into Hyde's massive shoes, and he always has the asterisk in every article mentioning his stats: "...BUT most of those yards came against FL A&M." Wilson is somewhat of a known commodity and has already proven himself to a certain extent (he's shown he's fast and can make people miss, that's what you're going to get more of this year). Mike Thomas would be my runner up since he has shown an enormous amount of potential, but nothing in game action thus far. He has a strong surrounding WR corps that makes him less needing to prove himself, though.
I imagine the odds won't be as drastic by then, but if they are, I'll keep you in mind!
Urban Meyer is the coach of a powerhouse with 50/1 odds. COME ON!!! I've never placed a Vegas bet in my life and I know I need in on this.
Nick Tensing
Remember him as being a walk-on. Is he with the squad?
Obviously Miller going down would be/is a huge loss and could mean no B1G/National championship this year (keyword: could). However, the future is bright. Urban will get us that championship, people, come on, and likely more than one. Look at all the talent that will be gaining experience along with Barrett while he's at the helm. Wilson (SO), Dixon (FR), Thomas (SO), Marshall (FR), Elliott (SO), Samuel (FR), etc. The chemistry these dudes will build should please for years to come. And, I'm a firm believer that defense still wins championships, and I'm not sure I need to list all the young studs ready to explode on the scene on that side of the ball. While Braxton's big play ability and highlight reel runs (that hesitation stutter-step, though!) will be sorely missed, his decision-making both in the read option and in the passing game were questionable at times and often overshadowed by his nifty running. Point being he isn't the end-all, be-all, but obviously I still love me some Braxton Miller. But, I think Urban has brought in enough playmakers to fill the void (long-term) of Braxton's absence. If the championship success doesn't happen this season, I have much confidence it will in the near future. Go Bucks!!!
I get new shoes about once every 5 years (about 3 pair at a time, though). Just so happens I'm due. SOLD
Guess I'll get it started. I prefer my beavers shaved, buuuut...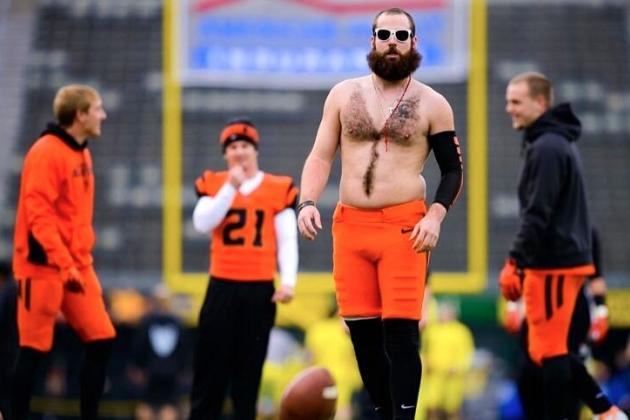 Ho Hum. Bright side: Numerous beaver jokes to be enjoyed in the future.
If you're ever in the Pittsburgh area, check out my buddy's new brewery, Grist House Brewing, in Millvale. Great beers, you won't regret the stop. My personal favorite is their American Red Ale, Camp Slap Red.
Bleacher Report giving high praise as well. It seems they need to simmer down a bit with all of the unknowns yet to undergo a live snap, but it's nice to see a number of media hopefuls. Go home, Mark May.
http://bleacherreport.com/articles/2152328-ohio-state-football-2014-complete-preview-of-buckeye-defense
Fair to say there was either a Michigan or Ohio State spammer involved, depending on how you look at it. What's up with Nevada, though??
This one is superb. Love the clips at the beginning to fuel that fire a little bit. Sorry Urbs, I know you said you shouldn't need to give extra motivation, but this one might come in handy.
Totally agree. Their talent is undeniable, but they weren't freshmen. A year and a half is a long time to prepare for an already naturally gifted athlete.