bethmowins
---
Member since 10 September 2013 | Blog
Helmet Stickers: 4,179 | Leaderboard
Voting Record: 150 / 11
Favorites
SPORTS MOMENT: 2002 OSU National Championship, Miami's last drive.
COLLEGE FOOTBALL PLAYER: Rod Jones
Recent Activity
I don't mind if they want to use some black alt. jersey, but not this design.
OSU could have scored 100 on FAMU if they wanted to. They didn't even attempt a single pass in the 2nd half.
Wonder who Gary Patterson and Nick Saban voted for?
Also, the guy that wrote this blog hasn't posted in a year. This was his second to last post:
Michigan sucks this year, I still try to be classy and half of you act like rude ass douchebags, and you wonder why more than half of the kids in MI are picking Sparty over UofM.

I'm done with this blog. While it often showcases the best and classiest of the Michigan fanbase, it really highlights those of you assholes that makes the tough time even tougher.

Fuck you and your bullshit attitudes of arrogance and being flat out mean.

Go blue

Fuck you guys

In your asses

I'm out:
Dying.
Everyone knows the spread won't work in the Big 10.

Meyer may mean taking OSU 9 times out of 10 to maybe 6 or 7.

We're only at the summit friends

Is he a better coach than Hoke? I doubt it
The presale only lasted about 5 minutes and none of the ticket locations were any good.
EDIT: I think they stop showing you tickets if you refresh too many times :) It's still happening.
For 1.2mil, not a bad deal.
IIRC the home team rotates between divisions each year. OSU was the home team last year so they should be on the away side of the field this year.
Not any time soon. The conference has a deal with Lucas Oil for the game to be there through 2021. Nothing further has been announced beyond that.
I went with alittle. PSU will field a better team than most on our schedule but I don't see this game being close.
Leaf and Tebow are scrubs
Urbs coached Ryan Leaf?! News to me.
The comments on MGo are hilarious if anyone is interested. Someone is predicting 24-12 Michigan because Harbaugh. Who in the actual fuck is going to keep OSU at 12 points this year?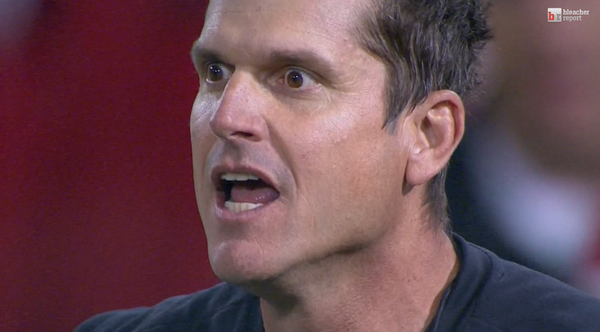 the GIFS are going to re-break everything so I will refrain
Richard Pryts
Andrew LeCounte
Yeah, I just called him KNKE.
That should put Walker as the only true RB in the class now.
I voted no TBH. I think his measurables are working against him and like JRAlvarez said, typically not many safeties in the first round.
Best Wins: Last 2 nattys, Bama and 06 Michigan are about tied
Worst Losses: Besides the other 2 nattys, 05 Texas still haunts me. I still look back and wonder how we didn't win that game. 09 USC is kinda the same but not as bad.
Other. Lewis ran with the ones and I think he holds in through the fall. Holmes and Hubbard are still going to see alot of reps though.
Word is he lost all his insider scoops once Urban took over