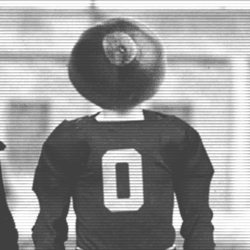 bergy22
Toledo (via Coldwater)
Member since 07 February 2012 | Blog
Helmet Stickers: 732 | Leaderboard
Favorites
NFL TEAM: Titans
MLB TEAM: Reds
Recent Activity
I guess he wanted to win.
As my old coach used to say "Let the fur fly." Let these kids play fast and instinctual. Defense will look a lot faster and more aggressive just based off of eliminating some of the playbook. We will have superior athletes in most games we play and by the time we play teams with equal athletic ability, the young guys will have plenty of experience and hopefully brimming with confidence.
Jayme Thompson took down a criminal in a Toledo Kroger parking lot. Hate to see him go. you know he could tackle.
Not shamed to admit I'm a Miley fan. Lifelong fan huh? Works for me.
Was at the game and saw the players come out. Spent a half minute talking to Jalin Marshall and Raekwon McMillan. Asked Raekwon how he likes Columbus, he just grinned and said loved it. Jalin said he's doing well. Not really note worthy but kinda cool.
You do make a point. But I don't rag on McDonald because although he isn't a very good player or hasn't developed he consistently shows effort. It takes absolutely zero talent to show effort. To me Id rather play without a center if that five show relentless effort. That's my knock on Amir. Yeah the bringing the ball below his chin for it to get stolen and the inability to score without having to take a dribble are frustrating but those are things I can deal with. Not playing hard is a different story.
So as a freshman in limited minutes he had averages similar to Amir as a JR. Plus he has a redshirt year before he comes into the B1G. Low risk high reward. At worst he's Amir and provides depth, at best he's a major contributor with 3 years of eligibility.
Which small school prospect could you see warranting an offer late in the year? Divisions 3, 4, 5, 6, or 7 in Ohio.
Kraemer grew up a UM fan. That isn't the school you are looking for... Jedi mind tricks. Works every time.
100% with you. Let TG have the opportunity to play QB right off the bat and say hey if you want to play right away as FR/SO and don't want to RS, move to wideout where he could be dynamic right off the bat just like Reuben Randle and Shepard at LSU who came in as ATH playing QB.
Im glad Urban is casting a wide net for QB in this class, really stinks we let Kyle Allen get away last year by slow playing for too long. Think he is taking a different approach this year by offering more QBs, letting them know we are interested but mainly focused on TG.
I wonder if Q even put himself into that equation? Like if he comes back how does the talent look like on this team. Seemingly we are just missing one piece which could be Lee. But instead of trying to elevate the team he wants the team to elevate him. Can't blame him for trying to make a living though. Best of luck, we hardly knew ye.
As long as he has a pulse I like him better than Amir. I kid I kid.
Kid is the real deal. LOVES DEFENSE?! Thad what are you waiting for?
The Ahrens kid is good. Broke his leg this year, and probably why we aren't hearing much. Rumor is he has twin younger brothers that are supposed to be better coming up in the program.
Younger brother Justin in class of 2018 (makes you feel old now huh). Not sure about the twin thing, rumor from people in town (Coldwater) of the MAC with Versailles.
I'm with you in regards of having a stronger passing game and try not to be so one dimensional especially late in the year. However a team like Auburn who was just as run heavy as we we're make the championship game. So I guess Just Win Baby!
That would be huge. Missed on Hood last year and that hurt more than we thought.
I think Esa Ahmed? (sp) has a chance to be a good player here if he were to get offered. Bragg would be nice.
We missed on a big time guy in Nigel Hayes by waiting too long. Let's hope that's not the case with Ahmed. Omari Spellman from North Royalton has a chance to get an offer as well. It would be nice to build up solid depth on the front line.
I trust Matta to get good wings and guards. Missed on a few recently with his frontline players. Go Bucks!
I don't care if we don't play a center at all next year. But If Bell gives us more energy for the same production I'm all in for him getting the lions share of PT at C. Maybe 3rd year is the charm for Amir but I can't imagine either McDonald or Amir are getting better playing against each other in practice. Not to be negative but I think that ship has sailed.
Rotation should be wide open for playing time next year. Excited to see what these guys can do!
I can guarantee we need him more than Kentucky does.
This team is/has been very frustrating. Lots of talent left on the roster for next year with really nice pieces coming in. As much as I'd like next years team to be better I think they'll perform very similarly. Losing Craft will hurt more than people think.
Big Ten will be wide open next year. I expect Michigan to be the favorites but behind them its WIDE OPEN. Sparty loses a lot, Nebraska and Wisconsin will be solid. Iowa could be good again. Interesting year.
John Legend must have been on the bubble

Is there a backup plan in the event Myles Turner does not come here? Any big guy that has the ability to catch and/or rebound or dunk without dribbling. At this point i'm not picky.
Call me strange but the team that we face that scares me the most is a team that plays us tough defensively. I have enough faith in our defense to hang with just about anyone come tournament time, but a team that really makes it difficult for us to score, as if it isn't hard enough already, will lead to an early exit. So I am hoping to play teams similar to Michigan that are better offensive teams than defensive teams.