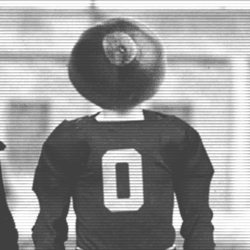 BenW
---
Member since 15 June 2013 | Blog
Helmet Stickers: 261 | Leaderboard
Favorites
NFL TEAM: Bengals
MLB TEAM: Reds
Recent Activity
If Michael Jordan makes a Seattle - exclusive shoe I don't think anyone says no.
the Queen City often forgets they're part of THE BUCKEYE STATE
This is so true. It's even worse when people in Cincinnati root for Kentucky because "it's right there." Umm, Ohio is right here...
So, when does the UC-PSU rivalry over who wants to be Ohio State's rival more start?
That article is terrific. Thanks for sharing.
To me, trash talk is on the field/court/whatever playing surface. It gets inside your opponent's head, rattles them, makes you feel confident, whatever. That's fine. It's usually funny. I don't see how yelling at a reporter and camera is trash talking. An expression of emotion, sure. But I don't think he was emotional about the game. He didn't seem happy, he seemed pissed off. He admitted it in his SI article that he was upset about something, but people are still trying to say stuff like "Oh, he's so smart he uses trash talk to manipulate the opponent, he's just creating a character."
Call it what it is, an emotional outburst about something other than the game. Applaud that, treat it with disdain, whatever.
That might be what the hype was from, but its not what it should have been. Dude is a freak. He had 8 sacks and 12 tfl as a freshman, followed it up with 13 and 23.5. Reportedly runs a 4.5 40. He's for real.
Looks like he deleted some. I remember a couple tweets talking about Chase Farris ribbing him for being a chicken, threatening to go hit on her himself. Good stuff in all. The wonderful world of Twitter.
Won't happen.
The Big House has turf, and the Grass Eater needs his mid-game snacks.
The bigger point is: how does any of this make the jump safer?
Good article about this: http://thelantern.com/2013/11/letter-editor-getting-wristbands-mirror-lake-jump-make-going-dmv-seem-like-trip-cedar-point/?utm_content=buffer41b5e&utm_source=buffer&utm_medium=twitter&utm_campaign=Buffer
Obviously this can be dangerous, so I don't have any problem with people being there to help people be safe, but how does wristbands make anything safer? It just makes sure that it's only current students jumping.
Also let's add a couple of Braxton interceptions because he isn't a good passer.
It was harmless in this case because he doesn't follow recruiting at all, but that's always good advice. It's a lot more dangerous in football though, for sure.
I love how the caller bashes Urban for running up the score and beating Morgan State 89-0...
Finebaum looks up where Morgan State is but doesn't correct the caller with the wrong sport and the wrong score in that sport.
The worst part of this is I trash talked to my Mormon buddy who goes to BYU when he committed...
Ah, good call. Boise State it is then.
It appears to be Toledo's 35 in a row from 1969-1971. Although they did have 3 consecutive Tangerine Bowl victories.


Am I the only one who was surprised that we're averaging 4th in the computers? Maybe our schedule won't hold us back as much as I thought...
Injury nomenclature is so weird. I sprain actually is a tear. What people normally think of as a "tear" is a complete rupture, or a Grade III sprain, where the ligament is completely in 2 pieces.
But that's beside the point. Glad Decker's injury isn't too serious!

http://bleacherreport.com/articles/1743040-a-sprain-is-a-tear-understanding-injury-speak

/steps off overzealous pre-med soapbox
Heartbreaking about Bogard. Wish him the best.
Even if we began to treat them as rivals, it would still be lopsided, because we would be their #1 rivals and they would be #2 or #3 or #4 for us (Wisky, Sparty?)
I like Kenny Bell, although I am admittedly swayed by his fantastic pompadour.
And also this:
Catching comes secondary when you have things like this going for you.
Damn, now someone has to go tell the 22 non-SEC defensive players drafted in the first 2 rounds last year that they weren't any good in college.
Not it!