Belliott
---
Portsmouth, ri (via Norwood, oh)
Member since 12 February 2013 | Blog
Helmet Stickers: 120 | Leaderboard
Favorites
SPORTS MOMENT: The first home run I ever hit in little league
NFL TEAM: Bengals
MLB TEAM: Reds
SOCCER TEAM: USMNT
Recent Activity
If I recall correctly, st. X doesn't allow kids to graduate early.
This is a family board, I don't think you should be talking about spreading the poisonous nut.
Seriously people. You do realize that the italics in the OP indicate sarcasm right? Not to mention the actual text of it called landers OVERACHIEVING, TALENTED, and UNDERRATED.
Eh. I think the OL is fine right now. It's just what happens when you have a lot of good players who graduate at once. I think the biggest weak spot is DL right now. At least going forward. Yes, they have a great player in bosa, but spence (obviously all year), Bennett and Washington are all gone after these next 2 games and they've had trouble pulling in DTs.
I was thinking the same thing, but couldn't OSU charter a plane to fly families? It would be different than actually paying for tickets. Honestly, OSU probably owns at least a jet or 2 so I don't see how the ncaa could punish them for using their own transportation to get families there. But then again this is the ncaa.
Do you think this was partly the staff realizing they have a ton of DBs or do you think they add another DB that they've been pursuing?
Whoever they'd play in the BIGCG would also be ranked. So that would help some too.
The best part was when they asked him to make his case:
"so if you want me to make a case, I guess just press play" (referencing tonight's game)
First offensive play is a play action deep pass.
Grew up in cincinnati before i moved to columbus to go to tOSU. Then i made my way to philly for a few years before ending up in Rhode Island.
Really looking forward to taking my 2 yr old son to the OSU/Boston College game up here in the 2020's.
He also said it last week during the game and jones proceeded to run for like 18 yards on the next play.
Narduzzi is one of the better coordinators out there and he coaches from the booth. I remember them saying last year that when OSU went on a roll, he came down to the sidelines for the last of the 4th qtr.
I think he meant the SEC east, which still might be hyperbole, but it's definitely weak.
267 because it's about the only 200-level number left.
I think jones is the most likely QB to leave. Oldest of the group and he didn't come to play school. Also didn't come to ride the bench. I hope it doesn't happen, but he makes the most sense to me.
These were similar but with better numbers and a helmet that looks less ornamental.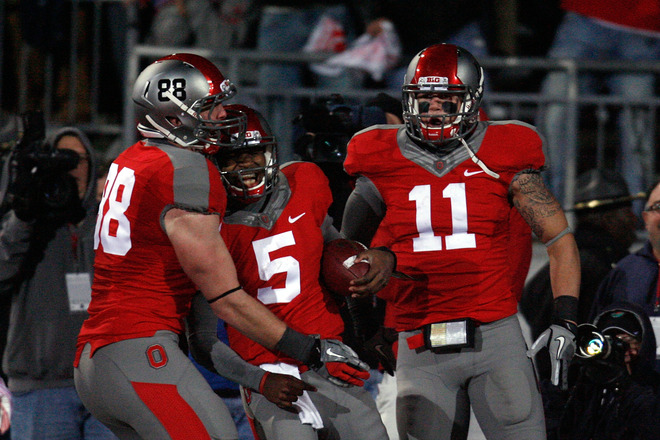 I liked these except for the font used in the numbering.
Do you think he could be Chris gamble-esque and do both or do you think that won't ever happen again with how specialized these kids have become.
Rose bowl is 2,3 I believe and sugar is 1,4
Hey Birm, I remember you mentioning something a while back (around FNL or the opening) about Calvin Ridley possibly making an official visiti at some point and if it did happen that could change things. If cager committed to bama, do you think that visit could happen?
Same as last year when they also had James white. Sell out to stop it. They don't have an abbredaris this year to burn anyone.
I don't know why people would want to play in the sugar bowl considering how many west coast games that have looked like OSU home games. Give me the rose bowl against Oregon, tcu/baylor, or bama.
But they will be the only champion not to play in a championship game. I think that hurts both of them.
No one knows what the committee will do in the end. They're supposed to value conference championships, which all things being equal, would give them something to use to put OSU in front of Baylor, tcu, and miss st.