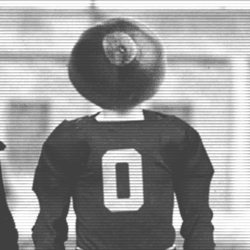 Becool12
---
Member since 21 October 2012 | Blog
Helmet Stickers: 973 | Leaderboard
Recent Activity
But.... Why when Kentucky is going to win the national championship this year?
I'm gonna have to say the offensive line with a definite 1.). After watching the spring game, we had potential starters struggling with our 2nd and 3rd team qbs. Only person who may be good is Decker. I think we are gonna see a lot of Braxton running for his life like 3 years ago
I think my heart may have exploded....
Ryan Timmons because without him, OSU is doomed
There is no way Braxton runs anything higher than a 4.55. I personally think he will run a 4.58 or a 4.59, but or maybe in the 4.6's. If you go back and look at the tapes, Braxton has never been that fast. He is very quick and agile but not fast.
Well, Crawford was a confused, he was a fan of one of the worst teams in the B1G during his lifetime. Hjate was a foreign exchange student, but the others we clearly lost on. But, like I said if we lose out on a couple of top players from Ohio but still are able to get other great players then I have no problems with that.
I think it was his relationship with Durkin. Durkin may have negatively recruited us, but in the end, Florida will likely have another terrible season (doubt its as bad as last year's), and staff will be fired. There is still a possibility that he may flip, he seemed a bit unsure about everything just after he committee. Even if he doesn't flip, i am perfectly fine with letting him go for another Florida stud that we will likely land in this class or next years's class
Well, I was a little upset by him picking Florida, but I had a change of perspective.
Was this before or after his bump of Coke?
I think once you see Tyquan Lewis and some of the other youngsters like Rashad Frazier you will have a change of heart. I have a lot of faith in our backups
Well I think level of competition plays are far bigger role for running backs than defensive linemen. Harris is by far the best running back in the nation, but running back is also something that is hard to project. Speed and vision isn't the only thing that makes a great running back(i.e. Maurice Wells). I think they want to see how Harris performs against top talent at the opening or at the All American game first. I think if he performs well there, he may be a top 3 player on all sites
You know, the funny thing is, Damon Webb was actually measured at 5'10 at one of the combines or bowl games or something.
Wow... Heroin is no joke. Idk if he intended on selling it, but regardles of the intent, this situation is horrible for Tracy, his family, and OSU football. I hope he is able to get some sort of help or rehab.
I believe both of them have great size, athleticism, and ability to be great players. But to be honest, Washington is the 4th best player on the line and his draft positon will stuggle because of that. If. Perry is able to take over for Shazier, he could possibly be a 3rd or 4th round this year
I will respectfully disagree and say only one who has a real chance of declaring would be Spence. He is the only prospect that would be a first day pick if he continues along the path he has been on. Diesel is good but he took a huge step back last year. He would have to have a great year to even be drafted. Same with Josh Perry and Tyvis Powell. Powell would have to have a good year because he isn't that athletic. He does have the height that many nfl teams want at safety.
The article said the waiter kept calling them boys and they felt insulted. They didn't even stay to watch the game. If a waiter insulted me several times, I would have done the same thing. You tip waiters and waitresses because of their service, not because you absolutely have to.
I believe Marshall will be a better H than Dontre. The position of the H really relies on speed, power, and vision. Dontre has speed and vision but doesn't have the power necessarily. Marshall is a little bit slower but a lot more powerful
I thought the BBC was a porn site
"Time Settle and Same Bruce" definitely like those names.
They pretty much play two entirely different positions. Kirk would take more of a role that Ryan Swope played a few years ago and Lodge would play more of the position that Mike Evans played.
They pretty much play two entirely different positions. Kirk would take more of a role that Ryan Swope played a few years ago and Lodge would play more of the position that Mike Evans played.
He can block, tackle, score the touchdown, snap the ball, hold the snap, and kick the extra point. Hell, the boy will fill up the gatorade cooler, walk the dog, and paint your back porch
He can block, tackle, score the touchdown, snap the ball, hold the snap, and kick the extra point. Hell, the boy will fill up the gatorade cooler, walk the dog, and paint your back porch