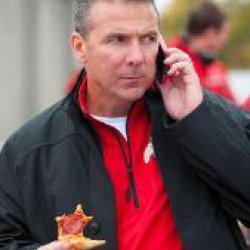 Beat Meatchicken
---
Member since 07 November 2012 | Blog
Helmet Stickers: 166 | Leaderboard
Favorites
SPORTS MOMENT: Anytime we beat meat chicken football or basketball

1 vs 2 battle

Evan Turner's buzzer beater to highlight a few.
COLLEGE FOOTBALL PLAYER: Ted Ginn Jr. Chris Gamble. Eddie George. Orlando Pace. Jack Tatum. To name a few.
COLLEGE BASKETBALL PLAYER: Aaron Craft. Hard to choose one
NFL TEAM: Browns
NHL TEAM: Jackets
NBA TEAM: Celtics
MLB TEAM: Go Tribe
SOCCER TEAM: No thanks
Recent Activity
I would rather attend my own funeral than see Jimmy T coach Meatchicken
I thought Muschump was the coach in waiting?? How happy is Texas they dodged that bullet ha!
Nathan's? Where's the Tony Packo's swag Toledo? Just kidding...you can't go wrong either way.
As I was scrolling the comments this one hit me. Might have to watch this alone the first time.
Nice Grandpa Simpson quote sir!
The ole Ohio State Meatchicken high noon banger. Where people are chipped tooth and pissed pants drunk by 3pm and it seems normal to everyone around haha.
Kiy Hester and also a four star wide receiver I believe.
Baylor is a great example. They came out of no where in both sports. Florida is still a solid basketball program. Eddie Munster is a good coach! (Billy Donovan)
Say this all the time but it is so hard to be top tier football and basketball at the same school. Most powerhouse basketball schools don't have a good football team and vice versa. Texas and Florida come to mind as a few but have dropped off a lot lately.
Wow this country fried rube is acting like a scorned lover. First happy birthday...then he opens the flood gates! He probably couldn't even punch his way out of a wet paper bag. You have to love how miserable Meatchicken fans are!
Throwing a grenade
Or he just ripped Tom Crean's heart from his chest
Why doesn't Gardner burn the hate mail like he did with his mail from The Ohio State University? 17 days!
Keep calm and boiler up. That video flat out sucked...turrible
I think the honey badger sent Les some baked goods...
How about big Vern Gholston? Watch him tear people's arms off and beat Chad Henne with them!
Great Read as always! Birm You are the man!
they can all kiss my ass out the f-----g door.
This is pure gold...What's the over/under on how many times I utter this phrase watching the game this weekend...WHAT A NUT BO IS!!!!
Rod Jones and Tyrone Pryor baby! Cracks me up! I still hear a lot of country fried rubes saying Urban Meyers! I guess not everyone is obsessed as the lot of us haha.