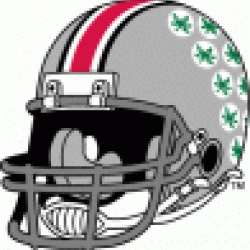 bdegroff
---
Member since 01 September 2010 | Blog
Helmet Stickers: 136 | Leaderboard
Favorites
SPORTS MOMENT: Being part of my high schools first ever playoff win last year against Bishop Watterson.
COLLEGE FOOTBALL PLAYER: Antoine Winfield
COLLEGE BASKETBALL PLAYER: Scoonie Penn
NFL TEAM: 49ers
NHL TEAM: Red Wings
NBA TEAM: Bulls
MLB TEAM: Indians
SOCCER TEAM: N/A
Recent Activity
Common sense strikes again!!
Well, I was going to ask who #5 was. However, after reading through the posts, its McMillain. He is huge! He already looks the part. Wonder if he'll play with the collar or just uses it during practices to lessen the stress on his shoulders. Hope to see him on the field this fall!
Love this drill! All about impact and leverage. Eze won both! Made better impact, allowing him to get lower, giving him all the leverage! Hopefully, the position coaches use this as bit of a coaching tool as well. A lot of fun to watch! Even better for players to learn from
As long as Matta sticks to his defense first mentality, there aren't going to be many freshman who see playing time. I understand there are nuances to playing D. Understanding screens, when to help, standing tall in the lane. Effort on D is huge as well. However, Matta has proven his way works. Just hoping the bucks find scorers who play D!
Louisville & Michigan St.?
Horrible draw. Dayton will play out of their minds. Syracuse has great length and athleticism. Haven't played great but athletes usually help a lot in the tourney. I don't think bucks get past orange
Bert no do offense does he?? Its to fast says he!!
Well, as a fan this sucks to hear about. However, not the end of the world. Or, his season. Plus, now the Bucks can get Burrows that much more reps at a new position. Also, MCL is easier to come back from than an ACL. So, Bell watching more film with Ash, and learning his keys as a safety is just as good. Prayers for a speedy recovery!
If Dixon is able to run fast crisp routes he could see the field right away. Getting off jams will be the key. I think defenses are going to stack the box and force the receivers to get off jams. Could be a lot of fun to watch
I think he's a sleeper recruit! Has a great first step off the line. Great motor! Seems to have decent instincts as he was smart enough to realize the O-line wasn't blocking him and read screen. Pad level gets high, however Coach J will fix that. Like this pick up by the bucks!
Was able to watch Smith and Lattimore in the D2 State game. Both can run and hit. Played both ways and were back for punt and KO returns. Neither were afraid to put there noses in and make hits.
Can we skip ahead to NSD? Will be surprised if the Bucks keep it under 15. The team lacks any enthusiasm to truly compete. I hope the Bucks pay attention to the Badgers play and take some notes. Bo Ryan doesn't always get top talent, but they are motivated, play hard, and show emotion!
At some point, a players pride should take over. It's their season and their legacy. Matta will have more great years and will always be a great coach. However, this season is a wash. I have nothing against Penn St. or Nebraska. Nevertheless, that should be 2 - 4 wins every year. Instead, the bucks are 1 - 3. As a coach its sitting time. If you're not performing, take a seat. The freshman shooter on the bench red-shirting is playing the rest of the way. And if Craft can't get along with the guys... Boo hoo! Grow a set and be a leader. The rosy cheeks aren't saving your season. Everyone knows you're an energy guy. It's not impressing anyone anymore! Do something different, like score. Or, slap around Williams once in awhile. Smith needs a few as well.
Anyway, could we get a gray box or something positive??
I would be worried if they get an 8 or 9 seed. Those are usually very competitive games and OSU could easily bow out in the first round.
However, a good run to finish the season and a decent run in the tourney will get them a 5 - 7. Have a lot of work to do before tourney time.
hey!! We got one, its a good day!!
What division does Bishop Ready play in?
Where did Taylor play high school football? Its just personal opinion, but I think some players get over looked do to lack of attention. They may have played at high schools that aren't considered big time schools. I have no idea where the 3 star players mentioned above played their high school ball, but I think many of them have "5 star syndrome". They were over looked, or under valued and played with a chip on their shoulder. I enjoyed and enjoy watching these guys become studs. If Taylor jumps on board, I will look forward to seeing him mature and hopefully dominate in the near future!
I believe James Laurinaitis was a 3 star, M. Jenkins as well.
Just curious to know how many spots the Bucks have left to fill. Are they looking to try and land 3 - 5 more recruits?
I agree. The db's look lost most of the time. They do not play man coverage well. The Bucks have recruited very well in the secondary, however I think coaching and play calling is holding them back
Well, that's two defensive coaches out the door. I hope the best to both of them! It will be interesting to see if any others are 'poached' and who Meyer is looking at to fill in the positions.
Wouldn't it be fun to ponder what Hyde would have done with another 3 games! Due to an unfortunate event before the season started, Meyer's hand was forced. Even though Hyde was cleared, if Meyer doesn't suspend him it looks horrible. 1500 yards later and 15 Td's, add in the 3 games he didn't play, Hyde's pushing 2000 yards and 20 td's! To me, there is no question who the offensive player of the year is for OSU. What bothers me, and it seems everyone else, is why wasn't he getting more carries? He should have easily averaged 25 touches/game! He was 7 carries a game short. His average of 7 yards a carry, and that's 49 yards more a game. almost 5 first downs a game. That changes a lot for the offense and especially the defense. In my opinion Hyde carried OSU this year, Miller was along for the ride. IMHO, Miller will never be a better than average passer. His ability to understand when to make a certain throw is well below average. Until he learns how to be a passer, he'll just be a great athlete playing QB.