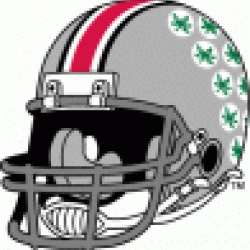 bdegroff
---
Member since 01 September 2010 | Blog
Helmet Stickers: 162 | Leaderboard
Favorites
SPORTS MOMENT: Being part of my high schools first ever playoff win last year against Bishop Watterson.
COLLEGE FOOTBALL PLAYER: Antoine Winfield
COLLEGE BASKETBALL PLAYER: Scoonie Penn
NFL TEAM: 49ers
NHL TEAM: Red Wings
NBA TEAM: Bulls
MLB TEAM: Indians
SOCCER TEAM: N/A
Recent Activity
I'm going with the Tinker Bell themed book bag
I'm tired of seeing all the bitchin about OSU's secondary. They are starting two new safeties. One a true sophomore with 5 games experience. Oh, and he is learning a new scheme. Which takes more than 4 games. One corner; Grant, is a work in progress, who as a senior is learning a new scheme. New rules, new reads. It won't happen over night. The other corner is on spin cycle. Seems like the Ash is trying to figure out who the other guy is going to be. Yes, poor tackling is annoying. Something that truly needs fixing. I'm pretty sure the coaches know that as well. Let's be happy that the OSU offense racked up 45 first downs and 700 yds.
At what point in time, can we question someone's intelligence? And at what point do we question the leadership in the locker room? And it doesn't stop at the coaches. Players need to keep players accountable. I think it is pretty obvious now, that Mr. Spence has an issue... I hope he gets the help he needs, however he wouldn't play the rest of the year. This truly is a sad story.
Navy runs the triple option better than any other team running it. They'll average 370+ yards a game. Just like always. We can sit on our couches and talk about assignment football, but unless you have actually played against it, you have no clue. And neither do I. Why do you think McMillan didn't play? There was probably a lot of film watch and note taking during the last month. But, there isn't a team with a scout offense that will run it effectively. Missed tackles are fixable. Angles are fixable. We won't see this offense again, it's better to leave it be.
Well, 1st half wasn't pretty. However, good signs from the D. The Bucks weren't going to stop Navy's run game. No one does. Diesel had a great game. Bennett had a great game. There were some great hits by the d! I think the D is definitely the strength this year. The O took a bit. 4 new lineman does that. Barrett looked like a redshirt freshman. Otherwise, great game. Doesn't run like Braxton, however, I think he is a much better passer. Bring on Va. Tech! Great atmosphere at the Shoe! I think the D looks much better! Can't wait
I thought his last pass was the best of the clip. Otherwise, his receivers were wide open. Its good its early, the defense looked lost. The corner route was good, he led the receiver to the open spot (which was everywhere). Once he learns to keep his throwing arm higher, his accuracy will improve. Looks like a solid recruit!
Will it cost him millions? Could drop in draft. Sad really.
Didn't 11w have a story about two months ago concerning EGW and an incident? Another thing, why did the other kid want to fight him? I'll be interested to see what the whole story is. But right now, I'm losing interest in this kid. At some point HE needs to realize the opportunity he has and do what he can to avoid the BS of high school.
Yeah, and just think, he's only a sophomore...
Common sense strikes again!!
Well, I was going to ask who #5 was. However, after reading through the posts, its McMillain. He is huge! He already looks the part. Wonder if he'll play with the collar or just uses it during practices to lessen the stress on his shoulders. Hope to see him on the field this fall!
Love this drill! All about impact and leverage. Eze won both! Made better impact, allowing him to get lower, giving him all the leverage! Hopefully, the position coaches use this as bit of a coaching tool as well. A lot of fun to watch! Even better for players to learn from
As long as Matta sticks to his defense first mentality, there aren't going to be many freshman who see playing time. I understand there are nuances to playing D. Understanding screens, when to help, standing tall in the lane. Effort on D is huge as well. However, Matta has proven his way works. Just hoping the bucks find scorers who play D!
Louisville & Michigan St.?
Horrible draw. Dayton will play out of their minds. Syracuse has great length and athleticism. Haven't played great but athletes usually help a lot in the tourney. I don't think bucks get past orange
Bert no do offense does he?? Its to fast says he!!
Well, as a fan this sucks to hear about. However, not the end of the world. Or, his season. Plus, now the Bucks can get Burrows that much more reps at a new position. Also, MCL is easier to come back from than an ACL. So, Bell watching more film with Ash, and learning his keys as a safety is just as good. Prayers for a speedy recovery!
If Dixon is able to run fast crisp routes he could see the field right away. Getting off jams will be the key. I think defenses are going to stack the box and force the receivers to get off jams. Could be a lot of fun to watch
I think he's a sleeper recruit! Has a great first step off the line. Great motor! Seems to have decent instincts as he was smart enough to realize the O-line wasn't blocking him and read screen. Pad level gets high, however Coach J will fix that. Like this pick up by the bucks!
Was able to watch Smith and Lattimore in the D2 State game. Both can run and hit. Played both ways and were back for punt and KO returns. Neither were afraid to put there noses in and make hits.
Can we skip ahead to NSD? Will be surprised if the Bucks keep it under 15. The team lacks any enthusiasm to truly compete. I hope the Bucks pay attention to the Badgers play and take some notes. Bo Ryan doesn't always get top talent, but they are motivated, play hard, and show emotion!