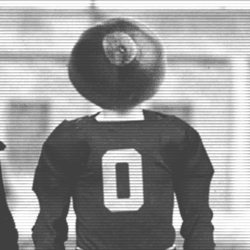 bcarp87
---
Member since 24 September 2012 | Blog
Helmet Stickers: 233 | Leaderboard
Favorites
NFL TEAM: Browns
NBA TEAM: Cavs
MLB TEAM: Indians
Recent Activity
yeah what's with the capital E??
That's my point Knight. Dayton is Dayton to us, but them beating us is like us beating Florida. Even that is probably understated.
oh those financially burdenings...
Any halfway decent coach would know you don't leave 15 seconds on the clock for the other team on the last possession if you are down one.
You can and should when down 1. Get the last shot
We have been ducking UD, Xavier, UC for years. I understand why (no upside, lots of downside), but today's game really makes us want to play UD again during a good (by Matta standards) year.
Really? Obnoxious?
A little embarrassed that this website takes a cheering fan personal these days. I think I'd be pretty pumped right now if I were a UD fan. Get over it
Really? We are thinking about if we miss in that situation?
Really you think they did this on purpose and are hoping no one noticed?
You should put another layer of tin foil on your head...
I mean, have you seen their HIGH SCHOOL HIGHLIGHT TAPES???!??!?!?!??!?!?!?!

You think a closeted gay player has never gone through the Draft process? I have never heard of scouts "outting" someone.
They are bad people because they don't believe their locker room can handle an openly gay player? I have heard of people saying you are a bad person because you don't support homosexuality (which I don't agree with either), but this takes it to another level. We are not allowed to even acknowledge that other people might have a problem with it.
Also, please stop comparing sexuality to race, it does not say in The Bible being black is a sin.
All that said, kudos to Michael Sam for making a brave decision. As a Christian I will love him and not judge him
I don't know if 11W had some inside info, but from the article they quoted the other day it didn't really read like they wanted him to leave the state. They just wanted him to consider all his options before committing... that's how I read it.
Are you serious? Have you ever watched an SEC game on CBS? They are 100x worse than ESPN
This is only part of what people are talking about when they say OSU is overrated. They claim we are overrated all season long (because we don't play anyone). Hence in week 8 when we are 7-0 and ranked #2 or #3 or whatever, they think other undefeated teams below us are better. I think a good indication of underrated / overrated is the points spread. Vegas sets points spreads in a manner that encourages as much "action" (money bet) on the game as possible. For famous teams like OSU, they tend to sway the spread a half point or so in their direction since most average people are more likely to bet on a team they know or have heard of. So it is really a good indication of how good "people think they are" if you will. OSU was 6-7-1 against the spread this year (this can vary slightly depending on the service you use). Which is obviously very close to average.
IMO, we are not really overrated by smart people, we just have a bunch of fans because of the huge alumni base, and if you have a bunch of vans a certain % of those are going to be blatant homers. Blatant homers make people chant overrated in games and make fans of other teams talk crap to us randomly.
90% of 247's predictions are OSU
*windchills in the negative 30s and 40s. Huge difference
WHY DOES THIS BOTHER YOU SO MUCH????
So you are saying if an offense does not score 41 points it's their fault if they lose? Turnovers do not factor into who wins or loses, points do. How can you blame an offense that averaged over 40 for the two times all season they can't bail the defense out? When did the defense win a game? We saw last night - when great teams need it their defense is able to step up. Both Auburn and FSU stepped up and got stops when they needed to.
The bottom line is we have a ton of talent on this team and they have not performed or mad adjustments. The same things killed us against Clemson that killed us against Cal.
I am not saying we need to fire the whole staff but I am sick of people trying to said the defense wasn't that bad! Or they come up with a bunch of excuses. Every team has injuries! Every team has some young players, they should get better throughout the year. This defense started our mediocre and finished mediocre. I do not know what the solution is but something has to change - I do not know of any acceptable reason why we finished the season the way we did. Not lack of talent, not injuries, obviously not quality of offenses.
Didn't you just say "no crying in football"? Aren't you crying because he said it was an F effort?
Completely agree with you. I have heard that comment or similar a few times and am confused every time. I remember during Tressel's first few years, everyone said the same thing. What true freshman over the last two years has seen significant playing time? Spence is the only one I can think of and defensive line is one of the less challenging mentally (not saying it's easy).
Imagine if he was suspended for the national championship game. This still sucks for him but at least he's not missing that.
I get what you are saying Johnboy.. but I think you are misinformed, don't mean that in a negative way - real info about Maurice is not accessible by google, all you get is media portrayal. The guy has told his story and visited my church multiple times. He is using his testimony as a way to change other people's lives and giving them hope. I am not saying you don't know a bunch of people better than him, but he is a genuinely inspirational person. I think more people would see that if the media didn't censor the faith part of his message and story.
That said I upvoted you because I get your point, I do not like when the media glorifies people for no longer being a criminal. I am normally very skeptical when I see stories like this.