BayCountyBuck
---
Member since 16 July 2014 | Blog
Recent Activity
Get well wishes to Bryant for a speedy recovery, man I hate bye weeks
Love this group, glad to hear they are having fun, I know a lot was made last year of it being less fun with the expectations weighing heavy. So far, so good, keep up the great work Bucks.
Wish the Mrs. and I lived closer, party on Columbus!
I think it's a numbers rumor, if Hines and Browning commit do they have room for Simmons?
Went by the WHAC earlier this summer and it was open, the video room is incredible. On the gameday must do, make sure you don't waste too much time between skull session and getting into the stadium, the ramp entrance is worth an early arrival, probably even better with a beer in hand.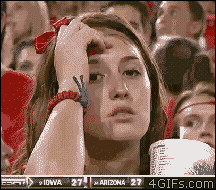 At the rate he is putting quality guys in the League, the current makeup of the team and new names committed for 17', I think there will be plenty of talented players who want to buy in. Loving that we got Urban 2.0, a healthy and better balanced version, thank you Ms. Shelley and Meyer family.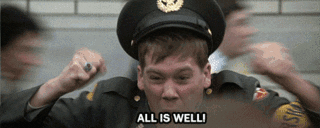 Agreed, I was surprised they didn't get the flag and a review too. Every other play seems to get a second look lately.
Exactly! To be able to deliver that blow when running full speed at a moving target seems like an incredible combination of coaching and athletic ability.
The Silver Bullets were de-cleating guys but most impressive to me was the fundamentally sound way the shots were delivered. No launching, no crown of helmet, clean slobber knocking defense.
They have had a history of missteps with the wagon besides those noted on the trail...Wikipedia says:
1985 Orange Bowl the wagon got stuck in a muddy patch of field, OU got a 15 yd unsportsmanlike and the re-kick was blocked by Washington. OU went on to lose the game.
Another incident that drew national attention occurred in 1993 during a game against Colorado. In celebration of a FG, the wagon took a corner too sharply and tipped over, spilling the driver.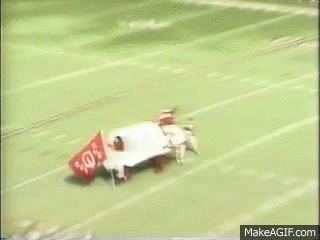 Not sure they ever mentioned after he walked to the locker room. I was watching Birm's twitter feed after the injury and he reported that the return was unlikely but nothing serious which thankfully Urban confirmed postgame.
Could not ask for more after 3 weeks with a bye ahead.
Great game Noah and thank you Tim, Eric & 11W staff, terrific coverage as always.
I was worried with all the uncertainty about a young team, on the road, Oklahoma "needing" this more. Could not be happier to be completely wrong. Excellent game Buckeyes and keep grinding, thank you for another damn good day to be a Bucks fan.
Best damn fans in the land
Great to have you back Noah, what a playmaker for #zone6
Jesus someone put a hat on a hat and make a tackle on special teams
Boston butt is smoking away, homemade slaw, bourbon and a few cold ones later on. Had a Bloody Mary this morning but otherwise following Skull session's day drinking advice and taking it nice and easy.
Please tell me he's not on the cover...
Parents and third uncles who Urban holds in highest regard
Video team bringing the juice, excellent as always.