BayCountyBuck
---
Member since 16 July 2014 | Blog
Recent Activity
Horrible news, condolences to his family, friends and teammates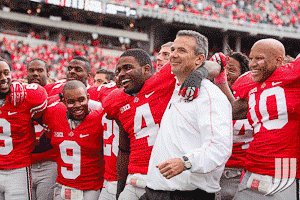 I was at Nippert Stadium waiting for a UC game to kickoff, let's just say they weren't nearly as thrilled with Nuuuuug as I was. I loved Tress but my lord my heart aged with white knuckle special teams heavy play.
We already have a logo and despite its female anatomically inspired design, she looks good in the WHAC. I give double Marcus Hall's to Desmond and his pose.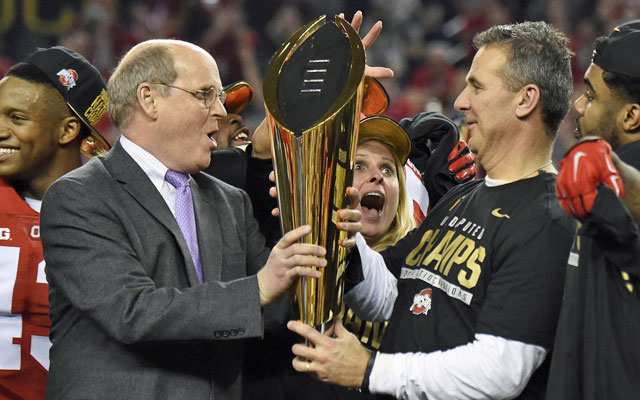 Both are pretty damn sweet to have seen in a lifetime, let alone over the span of 2 years and neither is necessarily diminished or "greater" than the other
Agree 100%, although Miami's first title in 2006 was pretty insane. I was living down there at the time and the images I will remember are entire neighborhoods including little old elderly women coming outside and banging pots and pans together to make noise for their Heat. I so wish I could have been in Cleveland this week, still in a state of shock.
Most fans of any team or town that hasn't been spoiled the riches of multiple championships over multiple decades should enjoy this story.
JPF, I don't disagree with any of the above but when all of it is tabulated Cleveland was feeling fate was against us. To illustrate, I spent most of the 4th quarter last night walking my dogs because I couldn't bear the thought of of another "next year."
No, there was no guarantee that any of the above famous incidents would have ended in a championship. The Browns remain only one of four who've never played in let alone won one. Combine that with "The Move" and Art raising the Lombardi trophy in Baltimore and our Sadness quotient is remarkably high.
Also be sure to add 1954 Willie Mays' iconic "Catch" against...Cleveland. There were also the bone head trade(s) of Rocky Colavito, sending him out in his prime and then trading Tommie John, (yes that one) to bring him back when he was basically done.
Although today none of that matters, the sun came up and Cleveland is a World Champion.
Born in 80, old enough to remember the Drive, the Fumble, the Shot, 95' & 97' World Series. My claim to fame was seeing Lebron play in high school and knowing he was special. He is now an Ohio Legend. My dad was 13 when they won the 64' world championship and he's getting up in years. I only wish I could have shared this day with he and my brother and be in Ohio with them and many of you. Happy Father's Day Buckeye Dads, you and your kids will remember this forever
So where's Mrs. Curry? Can she take over for #CryingJordan?
Thank you Cavs, Thank you Lebron and Thank you Ohio, Best Damn Fans in the Land. 52 years and WE ARE CHAMPIONS
I haven't been here long but quickly came to appreciate the hurry up. It was always informative and honest, even if that meant taking a step back from the ledge of fandom. Best wishes Birm, we will all miss you
Do teenagers get that excited over grown men having pissing matches on Twitter? I've never tweeted so I don't really get it.
I guess the bright side for him is that he had a heads up well in advance of signing day. I hate seeing guys get strung along and then dropped late as spots just happen to fill up at the same position. Best of luck to him at Pitt, he is class young man who will hopefully have a big time career over there.
"Be the best player on your team, the rest takes care of itself." Another coach who won some gold pants before becoming a hero to those rivals up north, made very similar remarks about the importance of the team being first, about how after college the allure of contracts and paychecks will mean more than the team. Urban is right, the advice is proven and time tested, not yet 100 years but still damn right.
100% correct, they are hosting High School Camp 1 the 15-17th and a Lineman/7-7 camp on the 18th
He claims he decided to decommit when Urban didn't know his name/recognize him. Not sure if this is actual "trust it" or an attempt at sarcasm, I don't tweet fluently enough to know so I turn it over to those who might
The facial gesticulations between these two will be epic.
I trust this guy to deconstruct any of the lingering "entitlement" that comes with being a 5*. Once you enter the dojo everything seems to be earned by all those involved and it becomes the player's job to buy in or they recruit right on by your former 5* rating
Quiet summer you said, don't get our hopes you said, Lord of Whispers is a very sly dog indeed
Thoughts and continued prayers with his family, fellow Blue Angels & all those who serve. Living in the gulf coast has given me the immense honor of getting to know many as we are situated between several large bases here and to echo Hove, we should all be humbled by their sacrifice.
Good luck to him, cannot imagine how much stuff he and his family are being fed and then trying to make the best and biggest decision of his young life. Now everyone hurry up and tweet him so he knows how awesome we are as fans
I am trying to be open minded and really hope that OSU and the various law enforcement agencies involved on Saturdays have had lengthy discussions on the topic. So long as "we" the mostly adult and rational fans police ourselves and don't allow the knuckle dragging booger eaters to ruin it for everyone it should be a great option for those who wish to partake.