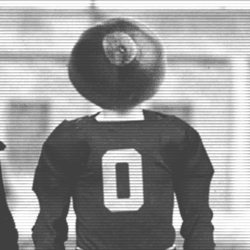 Bamabucknut
---
Member since 25 March 2013 | Blog
Helmet Stickers: 279 | Leaderboard
Recent Activity
I just can't take watching the basketball team any more.
Life
Football
is about competition
Get Used To It.
Facilitating the destruction of other peoples lives by selling them drugs is one of the worst crimes I can think of.
Why is it so hard to find out the Basketball game info ?
What channel ? What time ? Neither of which appear when you go to the game schedule....like in the old web site ?
Some of the worst defense in OSU history over the last three years ......and who has had the overall responsibility for that defense......Fickell.
Where can I find a job...perform in the bottom 10 percentile of pass defense......have my defense shredded in the last three games of the season.... and get paid over $500k?
I just don't like the new site layout.I'm seeing stories I don't want to see, and having to dig to make sure I didn't miss others.
So far...I prefer the old site.
This is my favorite Buckeye site.......but.
But but it's for the children !
I don't know what the decision making reality(of who plays and who doesn't) was.I don't know. My gut says Fickell comes from the school of thought that juniors and seniors see the field unless he stumbles across a potential all American like Bosa. Urban practically publicly commanded him to play some freshmen in the Orange Bowl...or he wouldn't have done it .
My 2 cents.
Fire Fox is my browser of choice.
The game is NOT on BTN....and that is a good thing.
The new site is nice....
but for me its the fabulous content, and the quality and knowledge of the people who come here that continues to shine with a silvery glow.
I hope NOT the same person who made the decision about who played last year.
What a great game.Really fun to watch.
Unless Fickelll's role is minimized to coaching linebackers...and certainly having nothing to do with the defensive scheme and play calling we are going to have more of what we have had for THREE YEARS of thee worse defensive football in OSU history.
IMO he should have been fired.Urban wouldn't let an under performing player play.Why should a coach be any different.
I have been following Buckeye sports for many years.This by far the best site I have found.I've made it my home page so I can sip my coffee and read the latest,first thing ,every day.
Thank you for helping all us Ohio Staters enjoy more fully what It means to be a Buckeye.
McLaurin's senior season highlights
Watching that was fun !
We have juniors and senior starters......and we saw how badly they played against Nebraska.I think there is something going on internally with the team.Some players like Craft are actually regressing.
I'm concerned about our coaching ....... their teaching and recruiting
-we cannot recruit 5 star players that want to stay for more than one basketball season(not even a full school year)
-we have a starting squad of junior and seniors(which we have not had for some time) that has not continued to advance their skills .
Every team has their up years and down years. This I believe.....will unfortunately be far from an up year.
yes...I'm really tired of being so negative.
A very nice gesture and something very special.
I certainly have concerns about the past and the future.Thats what this column is about.
WELL DONE BUCKEYES !
What a fine young man.I wish you the best Brady.
Agree.
The real question for me......who is calling the shots for the overall defense ? So far the answer to the answer is being purposely hidden.
Don't think they will make it to the BIG DANCE.(hope I'm wrong).
We need an outside offensive threat.....and an INSIDE offensive threat.Right now I see little of either.
Don't get be started on the rebounding battles we regularly loose.