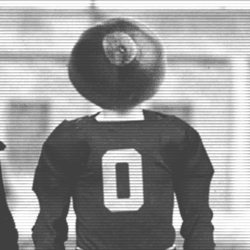 Bamabucknut
---
Member since 25 March 2013 | Blog
Helmet Stickers: 355 | Leaderboard
Recent Activity
Thank you for a great article.

Nice to see a young man who is smart enough to take full advantage of his scholarship...walk away with a degree and the best shot at making the NFL.
No NBA draftee's........ matches the failure to win the Big 10 conference for the last several years.
I have to say...seeing some of these college football and basketball players throw away a college degree(in this very touch economy)....all tuition and expenses paid...and competing on one of the best football/basketball teams in the country just for a CHANCE to make pro money is upsetting. College is such a special,and very limited, time in your life.You are in such a very special position as a student athlete at a top school. Then you look at the fate of so many who left early....and didn't make it to the pro's. Why why why would you leave ?
Ross is trying to sell himself from a position of weakness not strength. This can be an unfortunate thing to watch....and it didn't need to be this way.
I like the idea of rotation. One key reason is injury. Your first stringer goes down and the gap between first and 2nd string should be smaller with #2 getting more reps. Hurry up can really gas a line and it shows up late.Rotation help your defense hold up late in the game.Lastly you may see a #2 because they are in the game more...continue to grow and possibly become a #1.
You said it all.....we haven't won the Big 10 the past four years !!! Why would the OSU administrators ever want to kill this golden goose that has not beaten a high ranked team in years, or it's conference.
Money drives the Big 10.Money drives OSU decision making. As in "DUNE" where the spice must flow......so does the Big 10 and OSU money flow. The argument that would have a chance for OSU to consider changing must be about how much more M O N E Y the university would make. Currently....stadium ticket prices are soaring with no end in sight.The stadium is being filled.Moneys from the BTN continue to flow.
OSU in a mediocre conference playing weak teams is a non issue, unless it affects the money flow.So far fans are willing to accept playing and winning against mainly mediocre teams.
The only thing that will change the status quo. MONEY.
Not our football team playing better competition and becoming a better football team. MORE MONEY.
I think like our previous qb...OSU has an athlete who wants to play qb.He is a great runner.....but when forced to win games with his arm....against strong competition....his passing accuracy weakness shows.Michigan State knows this.Clemson knew this.Both were strong enough to do something about it.
You said it all. Ash joins the coaching staff and the basic coverage scheme changes over night.Combine that with Urban saying more freshmen will play on defense(and not red shirting half the class....again).
I would like to see use of the OSU colors
SCARLET* not red
GREY not white
* Scarlet is a bright red with a slightly orange tinge.[2][3] In the spectrum of visible light, and on the traditional color wheel, it is one-fourth of the way between red and orange, slightly less orange than vermilion.[4]
There may have been a dearth of linebacker talent but there has also been a lack of coaches willing to let younger players play.The number of red shirts last year was shocking. Luckily Urban has flat out said, that won't be allowed to happen again.

After the trauma of watching the horrendous performance of our defense last year it will take playing and solidly beating some top 15 teams to convince me things have changed.

You said it better than I could .
When you haven't even won your conference...in how many years or a bowl game in ...how many years ? It suggests to me the "bloom is off the rose".
When you red shirt the high number of freshmen we did last year....and you are recruiting the crem de crem...who want to play as a freshman......how do you expect recruits to say "yeah..I want some of that".
CHRIS
Great article.
Thank you
Start by winning the BIG 10.We haven't done that for tooooo long. Then win your bowl,
I do all that I can to avoid watching BTN.They have added an unwanted expense to my Buckeye viewing.
I would think the number of players we just sent to the NFL would be powerful recruiting tool.
Yes,
Urban was hired with an expectation of winning. Winning ....A LOT.
Starting with the Big 10.
It's time.
Have some of the decision makers forgotten that the school colors are scarlet and G R A Y
and not scarlet and white ?
My best to you Tress. You have a chance to continue your mission.
I don't understand why they would have such recruiting success.
-school sex scandal
-no bowl games to be played.......scholarship number sanctions
-no history of performance in the conference
-new unproven (in the Big 10) coach
-member of the Big 10 (a conference with a lack luster reputation )
Must be the coach the young men are responding to..... that overcomes all of the above.