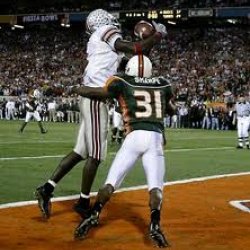 Bailey458
---
from Columbus
Member since 03 January 2014 | Blog
Helmet Stickers: 124 | Leaderboard
Favorites
SPORTS MOMENT: 2003 Ohio State v. Miami
NFL TEAM: Cincinnati Bengals
NHL TEAM: Columbus Blue Jackets
MLB TEAM: Cincinnati Reds
Recent Activity
Will Smith vs. Will Smith (dressed as Fresh Prince)
It's a formidable scent...it stings the nostrils, in a good way...I've gotta tell you that smells like pure gasoline.
ha, love it
I prefer Dr. K, 4 12 packs for 9 dollars, can't beat that price. Dr. K should sponsor the college playoff.
He did not have an undefeated season with Florida. 2008 they lost to Ole Miss, 2006 they lost to Auburn.
really tough schedule going forward. If you look to the strength of schedule, like Woody Paige does, then we have our work cut out for us. Fingers crossed.
Unfortunately that was the first. Diesel Washington...an infamous beginning to having the upvote responsibility
This game is definitely badder than old king kong meaner than a junkyard dog
Jim Croce tunes and being tired, I got multiple Tressels, but I'm getting frustrated
i wish that was a different first upvote, ugh
hey seattle I can upvote now, here you go! haha
That Diesel Washington link was dirty pool. I had no idea who you were referring to so I clicked the link and yikes. April fools on me
Too many drum majors, they just keep coming. AHHHHH!
I love the comment "he might still be there." Perhaps they just laid new sod right over top of him. Jokingly it did look like he just jumped off a ten story building and landed there, kersplat. And oh my goodness the RIP gravestone next to him, who made this? I don't know if I would appreciate a kid having made this because of his unique and in tune perspective on the situation or some cantankerous elderly fellow like myself (north of 27 yrs old) who just stinks at graphic design (I know ms paint is tough and I can't do any better, plus I'm not that clever). I just love this all around.
Gardner did play a helluva game though, but when it mattered Tyvis Powell > Devin Gardner
So much of this debate centers around the notion that incoming freshman trying to decide on a school cannot account for which players will leave early and schools don't know what players will become. Nobody was complaining when we got Shannon Scott, he was a great talent, he may be a world beater next year. Amir was a high school AA just like Scott. If every team in the country would have whiffed on the same player (and I don't think Amir is anywhere near the lost cause everyone else thinks he is, he just needs a ping pong paddle to hand transplant) then how can Matta be held accountable for that. Throw in your Adreian Paynes and Trae Jacksons (guys I'm pretty sure never would have been Buckeyes anyways) and it's obvious that recruiting is such an inexact science. Maybe Fred Taylor should've recruited Oscar Robertson harder. Maybe we should've recruited Gordon Hayward or Norris Cole or Russ Smith or whomever.
You hope for the best prepare for the worst. But mainly you have to get a little lucky sometime. Do you guys really think Thad and Urban won't bring us a NC in the next five years? Haven't we been just a good bounce or two away the last few years (what if Noah and Horford leave a year early and Oden Conley doesn't have to play them, what if West Virginia doesn't lose to woeful Pitt in 07 and we face them instead of LSU for the NC, or Turner or Sullinger comes back one more year et al.)
To address road game ticket buying I have always done well waiting for the season to play out a bit. My general rule is if selling tickets sell them before the season starts when people are planning trips and every team has delusions of grandeur. If you want to buy tickets, wait for some of those teams to lose a game and if possible wait until the week of the game to purchase when people have to offload them or eat the ticket.
Thank you, much appreciated. I guess its true what they say that the first 100 is the hardest to make.
Still can't upvote, short on stickers. But you are dead on balls accurate. Williams, Lee and McDonald should spend as much waking time as possible playing hand ball, juggling, catching passes from Stephen Collier (just being stationary targets don't want to mess Collier up), learning harlem globetrotter ball tricks, judo or karate or hitting a boxing speed bag, catching tennis balls thrown at them with one hand, playing darts, catching darts, catching rain drops on their tongues.
That's good stats and a great comparison. Another way to consider it, does the one great day/night (i.e. Ohio State v. Miami Fiesta Bowl) make up for many rough losses and years of frustration to the point of apathy that happened at a place like Ga Tech? Without the fiesta bowl win and everything else being exactly the same would Buckeye fan consider trading Tressel for Larry Coker (giving Tressel no NCs 0-3 in BCS championships but a great record in the B1G and sCUM, and Coker 2 NCs, wow that sounds weird)? I absolutely know I wouldn't trade Tressel for anything, but it can't be unanimous.
Perhaps a place with a lesser tradition would take their NCs and run. But I think here at TOSU sustained goodness (even if failing to reach the ultimate prize) is the preferred option because there were enough seasons where expectations were high enough to keep the fan base excited. As a Buckeye fan I will only truly be satisfied when the whole country gets down on their knees and acknowledges we are the best and can't even debate it, SEC, Scum, USC, Texas all them. Georgia Tech will never be able to accomplish that feat, maybe the Bucks can.
Don't be pissed at me 11w, I'm just carried away with the hypothetical and feeling good about being a Buckeye because 1 championship doesn't make a program, men like Tressel, Hayes etc do. It sometimes has as much to do with character and personality than winning. But you can't be a loser.
I'm not suggesting Dayton is going to win it all by a long shot, just hypothetically what is the answer, a guy with a great 20 years but no NC or a guy with just a few years and a NC who otherwise toils in ambiguity, who should be more revered?
I absolutely agree with you, however Miller wins 3 more games and a NC and Dayton becomes the lowest seed to ever win the tournament there could be some debate (extreme extreme long shot). It's an interesting question, longevity and sustained success or a bright burning defining moment. Who as a fan would you rather have had for their careers Jim Harrick or Gene Keady?
Couple thoughts. One, Saturday I have no choice but to root for them over Florida for bracket reasons (boy I don't like either of those teams). But winning a bracket takes precedent.
Two, chances of Archie Miller leaving for a bigger payday and a school with more resources after this year have to be 95%. Then we will get to see how Dayton fans really are. Will they turn on the guy that brought them to these heights? Have misgivings about their own importance in the landscape of basketball and chastise him for leaving? It will be interesting, and a true test of character to go from unparalleled highs for them to massive uncertainty and a potential major blow to their psyche. Is it safe to say Archie Miller is one of the best, if not the best, thing ever to happen to Dayton Basketball, I hope they appreciate him, I know he just signed an extension (in February before this run started if I read correctly) but what if a big name program contacts him, can he say no to a power conference team like Boston College, Marquette, Wake Forest, Coppin State (or any other big name that hasn't fired their coach yet).
I hate to see all the ragging on this team so I am going to just be positive and posit a few quick thoughts. McDonald is not an NBA caliber player most likely but compared to what he was last year (unusable) and where he was this year I thought he deserved a C+. The guy actually is capable enough of playing some backup minutes (admittedly 10 max), not killing us defensively and he plays like he cares. Plus his handles have gotten a little better and he can make some shots around the rim.
I think these grades should be based on improvement as much as comparison to an average player, this isn't fantasy college basketball, WAR is irrelevant. Its all about cohesive play, interchangeable parts and guys picking up the slack for others. Some of our guys in my mind did take big steps forward (Scott, Thompson, McDonald), heck even Craft by the end of the year learned his forte offensively by becoming an effective and consistent driver of the basketball. Any of you who didn't enjoy watching Craft hit a seemingly impossible layup and slide half way off the court for the and one is totally buckin nuts.
Q should be praying every night he has Robert Horry's career. Can you imagine Q being called Big Shot Ross and having a handful of championship rings? He's got a ways to go.
But the NBA is very developmental, Q has the talent and teams draft on talent and ceilings all the time (see Bennett, Anthony Brown, Kwame Vesely, Jan I could name twenty more but I'm tired)
I think its pretty simple. Since it's his decision (and I respect and appreciate him either way) I think it comes down to a little money (comparatively, it'd be a lot to me) right now or maybe a lot of money later. He could prove so much next year if he came back and had a better more balanced team around him to help him focus on his strengths, practice to become a better defender and learn to protect the ball when he is driving or posting up.